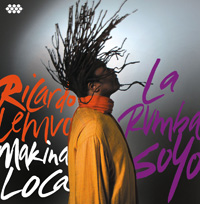 RICARDO LEMVO & MAKINA LOCA
LA RUMBA SOY YO (Cumbancha CD31)
Here's another well-crafted set of danceable music from Ricardo Lemvo & his crazy kinsmen. It's their first new album in 7 years and shows why they are an in-demand live band with international appeal. Like Sam Mangwana, Lemvo is of Angolan parentage and he too grew up in Congo. His music is also classic Congolese -- rumba and soukous -- and on this album he also explores zouk, merengue and some Angolan styles, like semba and kizombo, to great effect. However, unlike old-time Congolese rumba which approximated Cuban music, Makina Loca actually gets deep in the pocket on son montuno ("Kari Kuyété") and salsa tracks, thanks in part to pianist "Baby Jesus" Perez. As a bonus there's real Latinos playing the Latin horn parts! The other secret weapon in Makina Loca's arsenal is guitarist Nseka Huit Kilos who started out in Orchestre Macchi with Dindo Yogo (later of Viva la Musica) and Lovy Longomba, then for years fronted Rochereau's l'Afrisa International until an American tour left him, fortuitously, in Los Angeles. His sweet licks and bell-tones ring throughout. There's even the intermittent accordeon. The mood is uptempo and effervescent until the bolero half an hour in which slows the pace nicely and we hear moody solos on guitar and muted trumpet (Arturo Solar). But there's barely time to cool down before we launch into a wild salsa whirl on "El Caburnacho." There are a couple of cover songs on here, which Lemvo has made his own, and he reprises "Samba Luka Samba" because it has evolved in performance into a stronger number than the take on Ay Valeria! Makina Loca are not only dependable, they go from strength to strength.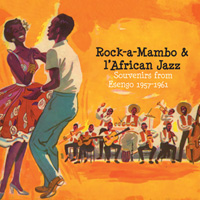 ROCK-A-MAMBO & L'AFRICAN JAZZ
SOUVENIRS FROM ESENGO 1957-61 (Planet Ilunga 2XLP)
The legendary Congolese studio band known as Orchestre Rock-a-Mambo (though they played rumbas, cha chas and merengues, I don't know if they ever recorded a mambo) finally gets a reissue. Gary Stewart explains the origin of the name in his book Rumba on the River: it is a pun on the Ki-Kongo word rocamambu, one who looks for trouble. It comes from an African folk tale about a prodigal son who is considered a good-for-nothing, leaves home and works hard to return a success. For his second vinyl reissue, Bart of Planet Ilunga has found some truly rare Rock-a-Mambo and African Jazz sides that were issued on 78 rpm shellac discs in the Congo in the years before Independence (and then reissued, some of them, on Pathé Marconi, like African Memories of 1976 or Columbia EPs, such as Congo Latino, in the 60s and 70s). This music was inspired by early Cuban recordings reintroduced into Africa. When the Africans heard it they recognized the essential truth of it and took it to heart, even adapting simplified or nonsense Spanish lyrics ("Ay yi yi mi nina"). They then took the metronomic clave beat of Cuba and added latitude to it. Over the years I've made my own compilations of this wonderful sound. John Storm Roberts sent me a cassette of some 78s he owned and that got me going on a quest to find more Rock-a-Mambo. You may see my own webpage about them here. Though it's essentially Cuban you'll hear "Lon-dee lon-dee li" from a 50s New Orleans pop song (in "Babalou"), even a quote from "Theme from a Summer Place" (Not on this set but quoted by OK Jazz on "Ah, bolingo pasi" and Les Bantous on "Yaka na Ekala"). [Aside: the famous "lum dee lum dee laa" lyric comes from "Mickey's Monkey" by Smokey Robinson & the Miracles in 1963 -- later than this Rock-a-Mambo version. So who did the original?] There are 14 tracks each from the two featured bands, though the players often broke into smaller groups or brought in a different singer for a session. Nino Malapet and Jean Serge Essous, both horn players, were the mainstays of Rock-a-Mambo, and both left later to form Les Bantous de la Capitale. The clarinet and alto sax entwined with jazz guitar are irresistible. The moody "Baila," the first hit of the group, introduced them with the lyrics, "El nuevo ritmo cha cha cha, la musica bella Mexicana, Santa Maria, ... ritmo Rock-a-mambo, musica Africana, ritmo Mexicano, saca la cabeza"(!) The horns are the lead instrument instead of a singer, there is a chorus, the piano part has been transposed to electric guitars which skitter about. Congas, electric bass and maracas fill out the pulsing beat. This and three other tracks here were included on the rare African Retro vol 5, a great Rock-a-Mambo collection from Pathé in 1977. "Oyé Jacquy," another hit, tells you to to "Oïga Rock-a-mambo, Kalle, oïga cha cha!" "Oye Jacquy" is one of my all-time favorites with its spare pulsing acoustic bass and simple congas and maraca percussion, around which the guitar dances, with the horns punctuating it briefly. Various other persons are enjoined to listen. That's it: "listen to this,"over a throbbing seductive beat. This is the cleanest I've heard these recordings and also the first time I've heard several of them.
"Baila (Dance)," was a cha cha written by Essous and members of African Jazz were brought in on the session. So the first recordings featured the voices of Joseph Kabaselle and Lando Rossignol, later joined by Joseph "Mujos" Mulamba; Nino Malapet played sax alongside Essous' distinctive & unique clarinet, and African Jazz's guitarists Nicolas Kassanda and Tino Baroza played with Roitelet on bass. These members all get name-checked in the songs. The formation of Rock-a-Mambo seems to have been for fun and to indulge a shared passion for Latin music. They wrote Spanish lyrics without much effort ("Yo me muero, ay, yo te quiero" -- yes, really), but every groove exudes joie-de-vivre, or esengo. Eugène Ngoyi ("Gogène") and Papa Noel also played guitar for the band as needed, and the pool of musicians included veteran Honoré Liengo on acoustic bass and "Saturnin" Pandi on congas, as well as Léon Nzambe ("Sathan"), Alphonse Epayo (guitar), Lucie Eyenga (vox), and Maproco (sax). Their first recordings included "Toca mi" (included here), and "Ya Mouele" (which appears to be lost, but may be the origin of the Joe Arroyo song). The young fans thought of them as a continuation of Negro-Jazz, a group that had specialized in popular Cuban dance rhythms. First time reissues here include "Lily Germaine" b/w "Pesa ngai..." (Esengo 4A/B), "Toca mi" (Esengo 11B), "Siempre mi" b/w "Rosignol Cantador" (Esengo 12A/B) and "Mioto ya likolo" (Esengo 131A).
The second disc focuses on African Jazz. I was a little dismissive of Bart's first release of African Jazz on Planet Ilunga since it had all been available on Sonodisc CDs, but for those who prefer vinyl it was a good collection and this time around he has included obscurities that make this worth delving into. Two of the tracks were on Grand Kalle vol 5, which I found on the excellent Worldservice website. While others may be familiar it's great to have a fresh take on this timeless music. I should say they are familiar to me, but may not be as familiar to you! Again we kick off with a namecheck, in the classic "Chauffez African Jazz," and get a nice dose of Docteur Nico's early work on "Leo se Leo" (a real rarity) and "his "Tembe nie" (previously on African Memories). The fourth side includes four cuts by African Rock, yet another formation of some of the same artists on Esengo, including singers Charles Kibongue and Lucie Eyenga.
There are only 500 sets of the vinyl double album. If there's enough demand a digital or CD release may come along. Curiously I looked up Rock-a-mambo on EBay and there's a copy of the Congo Latino EP (which has two songs by Rock-a-Mambo and two by Negro Band) for the same price as Planet Ilunga's double LP. But there's no guarantee that when an EBay seller says record is VG++ that it is anything better than thrashed! So grab this while you can.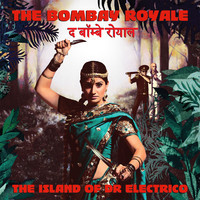 THE BOMBAY ROYALE
THE ISLAND OF DR ELECTRICO (Hope Street)
Another dose of Bollywood-inspired fun from the Bombay Royale for those of you who wore out your Bombay the Hard Way CD. It's intense, wild, electric, and yes you can check it out on their website here, so you can decide for yourself. Come on you loved Slumdog Millionaire, particularly its soundtrack, didn't you? And the best parts of spaghetti westerns and James Bond action films are always the soundtracks too. Starting from the premise that anything goes in Bollywood, from funk to surf to disco to "dil cheez," this group of Australian fans give you a soundtrack to whet your imagination. Beautiful sari-clad maidens lost in the jungle? Right here, calling out to Bobby in the psychedelirious "Wild Stallion Mountain," which also has a Sergio Leone-sounding theme as the outtro. The lead-off single "Henna Henna", also with hints of "Good, Bad and Ugly" horns, and coconut/horseshoe percussion, has a matching video to show you what the band are thinking while playing their music. But it's better to ignore that and let your own imagination loose.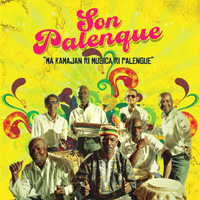 SON PALENQUE
KAMAJANES DE LA MUSICA PALENQUERA (Palenque)
I am really hooked on this hard-to-find disc of traditional drumming & African-influenced song & dance from the Central Highlands of Colombia, near their Caribbean coast. It starts with the same track as the recent VampiSoul reissue from the band, "Adios Batata," in which Son Palenque say goodbye to Batata, one of the great figures of this music. That track you can hear on YouTube or even Soundcloud. Son Palenque keep the traditional Afro-Colombian scene vital. Hearing the imported African records that young Colombians were digging, Batata (Paulino Salgado) had the brilliant idea of inviting Rigo Star from Congo to jam and the Champeta Criollo explosion hit (check out his Radio Bakongo disc on Network Medien). There are also elements of Konpas and Zouk from Haiti and Martinique in the mix. And by "Zamba," track 3 of this explosive album, we are deep in the groove. Sax and percussion are used sparingly. Then the "big boss radio" sound comes in to introduce "Ita Cole," and we are in the home stretch, with bright soukous guitar and horns, trap drums galloping giddily into a konpas beat.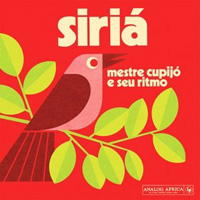 MESTRE CUPIJO E SEU RITMO
SIRIA (Analog Africa)
Another album from Analog Africa signals another direction for the label and another discovery, this time from the Amazonian rainforest. A lot of labels are throwing out Brazilian music to coincide with the World Cup there this summer, but other than the excellent Dona Onete, it has been mostly tired reruns. Not so this energetic mix drawn from Cupijó's six albums. Raised by his musician father to play dance band music that consisted of waltzes, chachas and boleros, young Cupijó was drawn to the black music of Pará. Siriá is a type of music created by the meeting of the Amazon natives with Quilombolas (or maroons), who were runaway African slaves who sought the shelter of the jungle as their refuge. The northeast of Brazil is close enough to the Caribbean to be inundated with the airwaves of Colombia, Dominican Republic and Cuba, and those musical currents are strongly felt in its own music. So, musically Siriá sounds a bit like cumbia and merengue: the recordings have a live energy and are almost frenetic, with the lead instrument being alto sax bouncing off a driving wall of guitar, horns and percussion. It also reminds me of the speedy excitement of Haitian music. Cupijó began to score hits right from the outset with rudimentary recordings captured in dance halls. By his third album he was a huge favorite among party-goers and carnaval attendees and starting from word-of-mouth went on to register massive hits with a string of songs included here.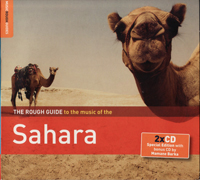 ROUGH GUIDE TO THE MUSIC OF THE SAHARA (RGNET 1325)
While it's not as irritatingly pervasive as Afrobeat, Desert Blues has certainly reached saturation level. It's the nature of the music industry (what's left of it) to spot trends and jump on bandwagons, so when there was a flower power wave you suddenly had a zillion second-rate flower power bands, same with "indie rock," "German techno," "Peruvian Cumbia," the aforementioned "Afrobeat," you name it. But then I looked at the playlist for this set and didn't see Bombino, Inerane, Toumast, Tartit, or other familiar names. My first thought was it was licensing issues, then I played it and realized it's a fresh take on desert music and covers not just the Sahara but the Nubian desert sounds of Egypt and Sudan and even gets to Libya and Mauretania. The great desert is unlike anywhere else and being in it is mind-blowing and often surreal. You can lie on the sand and go to sleep with no fear because there are no insects or bugs there. My strongest memories of the African desert are of silence and the night sky (and being lost one day and coming across a valley full of bright green stones that I took to be malachite, scattered everywhere). It's remote and inaccessible which is why we have not plundered its resources yet, and why its traditions have remained vital. Etran Finatawa, who are a known quantity, kick off with "Kel Tamasheck," (confusingly, the title of an album by another guitar band, Terakaft), but we don't dally long in the Western Sahara, because, after a trip to Mali with Samba Touré we get the lush Egyptian arrangement of Ali Hassan Kuban and "Mabruk," and a bit later the more folkloric and heavily percussive Mahmoud Fadl. The Toureg on here (Toureg de Fewet) are not electrified Hendrix wannabees but traditional performers, with lutes, krakrebs and handclaps. You can check out their Musique Du Monde album, from which "Chetma," included here is taken, at this site. There's a smoking hot new track from Anansy Cissé whose Mali Overdrive I reviewed only last month. Rounding out the main disc is Salamat, again featuring percussionist Mahmoud Fadl, with some lively horns playing a round.
The bonus disc is by Mamane Barka and features him on the biram, a five-stringed lute played on the shores of Lake Chad in Eastern Niger by the Boudouma people. This was almost a lost sound, but Barka, a scholar and teacher (who had mastered a different instrument, the ngurumi), met the last surviving player and got him to hand down the tradition. He learned the old master's repertoire and received his blessing (and own instrument) before his teacher Boukar Tar, passed away. Backed by a percussionist, Barka rocks out on the large acoustic instrument.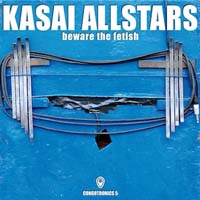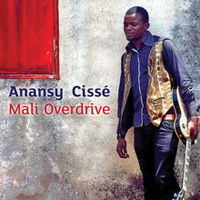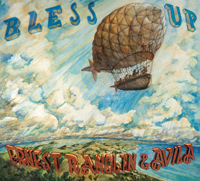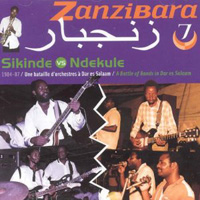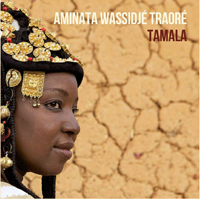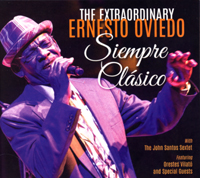 most recent reviews:
(click on maps at the top of the page to get to continent of choice)
June 2014
Kasai Allstars' Beware the Fetish is filed in Congo part 3
Dexter Johnson & Le Super Star Live à L'Etoile is filed in Senegal part 2
Bio Ritmo are docketed under Salsa, for want of a better place
Oumar Konate's Addoh can be found under Mali part 2
Dona Onete's Feitico Cabloco is filed in Brasil part 2
May 2014
Moreno's second reissue on Stern's is filed in Kenya part 2
Anansy Cissé's Mali Overdrive is filed in Mali part 2
Rough Guide to Psychedelic Cambodia is filed in Asia
Youlou Mabiala's 18 disc reissue can be found in Congo part 3
April 2014
Ernie Ranglin's latest Bless Up is filed in Jamaica part 3
Adnan Joubran's Borders Behind can be found in the Arabia section
That's where you'll find my review of Hassan Hakmoun's latest also
Ani Cordero is in Mexico
The Max Massengo reissue is filed in Congo part 3
March 2014
Zanzibara 7: Sindike vs Ndekule is found in Tanzania part 2
Aziza Brahim from Algeria is filed under Arabia
Atash's Everything is Music is filed under USA
New version of the Rough Guide to Mali is filed in Mali part 2
Thomas Blondet's Future World can be found in Old World misc section
February 2014
Alejandro Almenares' Casa de Trova is filed in Cuba part 4
as is Ernesto Oviedo's Siempre Clasico
Studio One Rocksteady can be seen in Jamaica part 3
Charles King's Champeta Fever is filed under Colombia
Tiecoro Sissoko's Keme Borama went to Mali part 2
as did Aminata Traore's Tamala
The Rough Guide to the Best African Music You've Never Heard is filed under Africa Miscellany
Jaako Laitinen & Väärä Raha's Lapland-Balkan can be found in Old World Miscellany
My Top 12 of 2013, with best reissues, etc, is online HERE.
My Top Twelve of 2012 is HERE.
My Top Ten of 2011 can be found HERE.
My Top 9 of 2010 is online HERE
Click HERE for my top 10 of 2009
Click HERE for my top 9 of 2008
Click HERE for my top 10 of 2007
Click HERE for my top 11 of 2006
MY BEST-SELLING BOOK!
"Essential reference guide to the Congo guitar king" -- SONGLINES 64 **** (four stars)
"I do not know anybody who has such immense knowledge of African music. Congratulations." -- Gerhard G (a purchaser)
BACK IN PRINT (Second edition, November 2012)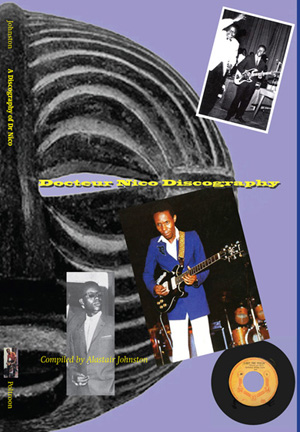 A DISCOGRAPHY OF DOCTEUR NICO
By Alastair Johnston
Poltroon Press, 2012, expanded to 88 pages; list price $19.95.
Available now. Click here for details.