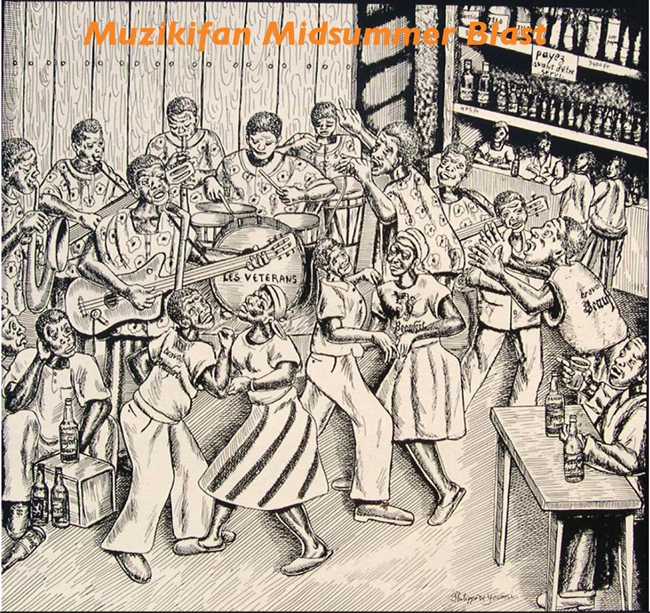 The muzikifan podcast has been updated with a midsummer mix, featuring Money Chicha, Viceroys, John Holt, Bana Ngenge, Bembeya Jazz National, Bo Diddley & others
Video distraction
When life gets you down, try this loving tribute to Guanajuato by Yaxeni and Ricardo a.k.a.
Los Luzeros de Rioverde (she's only 9 and plays accordion, he is only 6 and plays bajo
quinto); and the first single "The Descendant" from their forthcoming album, about immigration.
Watch out Trump (aka Cheeto Jesus), they are here to stay.
If you speak Spanish, here they explain why they felt those facing deportation needed a voice.
Greetings, Platterbugs!
Gigs
Les Mangelepa are on a European tour :
1 July Brussel Recyclart - Brussels, Belgium
2 July Amsterdam Roots - Amsterdam, Netherlands
3 July Hertme Afrika Festival - Hertme, Netherlands
6 July Berlin Urban Spree - Berlin, Germany
7 July Pardon - Warsaw, Poland
10 July Lausanne Festival de La Cité - Lausanne, Switzerland
11 July Geneve Ecoutes Au Vert - Geneva, Switzerland


King Sunny Ade North American tour: skipping the Bay Area, the curse of Bill Graham Productions lives on?
3 July free concert in New York City
18 July Millennium Park, Chicago, IL
20 July Cedar Cultural Center - Global Roots, Minneapolis, MN
5 Aug Pendarvis Farm, Happy Valley, OR
9 Aug Star Theater, Portland, OR
14 Aug The Regent Theater, Los Angeles, CA
15 Aug Music Theater, Musical Instrument Museum, Phoenix, AZ


From Haiti, Lakou Mizik are still on the road:
Jul 08 Future Routes, Toronto, Canada
Jul 13 Ohio City Stages Summer Series, Cleveland, OH
Jul 14 Nectar Lounge, Seattle, WA
Jul 15 Vancouver Folk Festival, Vancouver, Canada
Jul 21 WOW Hall, Eugene, OR
Jul 22 Alberta Rose Theatre, Portland, OR
Jul 30 Festival of Fools, Burlington, VT
Jul 31 Festival Haiti en Folie, Montreal, Canada

Brasil festival at the Horniman Museum London, with Dona Onete (reviewed below) and others performing free on July 3
Culture
Excellent interview (with samples) with Samy Ben Redjeb of Analog Africa records talking music and projects

Free event in LA: "Turntables and Traditional Music: Exploring Multiculturalism through Vinyl Records." Join us for some light refreshments, a lively discussion and an "all-vinyl" sharing event. Bring your favorite record to share! with Glenn Red (AfroFunké/Ecléctica/La Junta), Rani D (Soul in the Park/Radio Afrique), Arshia Haq (Discostan), Reyes (Ecléctica/Trópico de Nopal) on July 14, 7 pm at Trópico de Nopal Gallery Art-Space, 1665 Beverly Blvd. Los Angeles, CA 90026
End of days
We don't want to have a permanent Obit column on here, but it's getting inevitable. In June Amjad, one of the Sabri Brothers was murdered by Wahabi-backed talib gunmen in Pakistan. (In case you need a reminder the Taliban are backed by our good friends the Saudis, to whom we keep giving armaments.)
Still, we will celebrate the birthdays of Dr Nico (July 5) and Franco (July 6) in the first week of July, as always.