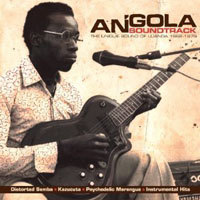 ANGOLA SOUNDTRACK
Special Sounds from Luanda 1965-78 (Analog Africa AACD069)
Before its civil war that lasted for the last quarter of the twentieth century, Angola had a thriving music scene. Despite the strife, bands recorded some great tracks as evidenced by the 5-disc series ANGOLA 60s, 70s, 80s, 90s on Buda Musique. There is also the out-of-print Soul of Angola (on Lusafrica: see my Africa Top 50), a double disc that celebrated the decade from 1965 to 75, the period under consideration again here. Os Kiezos, Os Bongos, Jovens do Prenda, David Zee are the artists who return for this new look. The big names, Carlos Lamartine, Ruy Mingas, are not here, but there are no disappointments (Teta Lando shows up singing in the last track with Africa Show). This is a fine set & it's safe to say that all the tracks are rarities. There are pachangas and other Cuban styles, Congolese touches on the guitar, as well as Semba, Rebenta and home-cooked carnaval music. The only track I had heard before was the storming instrumental "Kazucuta" by Os Bongos which was on Angola 74-78. As usual with Analog Africa a download doesn't suffice because there's a deluxe booklet with photos, sleeves and other ephemera to engage while you enjoy the music. It also details Samy Ben Redjeb's difficult journey to bring back the music -- not all of it from Angola. In fact he was in Barranquilla, Colombia when he heard "Tira Sapato" and realised the importance of this music (that has strong Caribbean currents like merengue) to those of us in the New World. But more than just a narrative of Samy's bouts with food poisoning and record buying there is a history of each singer and song presented. Ben Redjeb spent his time in Angola well, meeting the artists and recording their memories. In the case of Vaté Costa of Os Kiezos, this was his last interview. Consequently this booklet is an important document. The sequence is great and if you were not fortunate enough to get the Angola 60s-90s CDs from Buda (now out of print) you should do yourself a favour and check this out.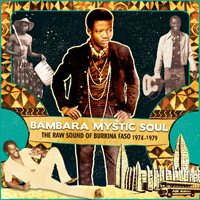 BAMBARA MYSTIC SOUL
THE RAW SOUND OF BURKINA FASO 1974-9 (Analog Africa AACD 070)
For his tenth release, Samy Ben Redjeb has well and truly staked his claim to Burkina Faso. This was an obscure area of Africa with even more obscure music until Savannahphone licensed tracks for a double album two years ago. As we know Ben Redjeb went to Benin and found the Poly-Rythmo guys. Now they are re-established, he's working on neighbouring Burkina Faso (ex-Upper Volta), also home to the Voodoo cults which came to the New World. Upper Volta was something of a leftover country. Though occupied by the French, the colonizers didn't create any government bureaucracy, preferring to send in civil servants from Senegal and Mali, and similarly the music industry sprang up by accident, with no state support, no radio station (until 1959), no recording studios (until the 80s), and only occasional influences from outside such as a 1962 tour by Franco & OK Jazz which made all the local musicians envious of Fender guitars. At the end of the sixties two bands, Volta Jazz and Harmonie Voltaique, went to Cote d'Ivoire to record. By the 80s a succession of military coups returned the country to darkness, so their golden era essentially spanned the late 70s. Bambara Mystic Soul starts off with an old friend, "Bar konou moussou," by Amadou Balaké this artist's work runs like a leitmotif throughout the recording, cropping up every few tracks to reenergize the set. The opening cut comes from his Volume 2 album on the Lassissi label, released in Abidjan. (This is one of my treasures: it came out in 1978 and in 1992 it turned up in a box of "dead stock" in Stern's basement on Whitfield St in London with a bunch of other Sacodis vinyl in mint condition that I obtained.) While the first track does suggest "Mystic Soul," the album is not as raw as the subtitle implies. After three funky outings we get into a more contemplative Islamic strain. The fourth track, "Renouveau" by Balaké backed by the 5 Consuls, is an example of that dreamy Sahelian late-night blues that seems to go on endlessly, weaving a silvery trail into the translucent night sky. Their Latin number "Baden Djougou" is another stand out track (It was also included on Savannahphone's 2009 album Ouaga Affair, a gem of a compilation despite sonic problems, now out of print). Coulibaly Tidiane stands out also, and "Kabendo" by Mangue Konde et le Super Mand'e9 has a brilliant drum break. Super Volta back Amadou Balaké on "Oye ka bara kignan," another song that was included on Ouaga Affair. The album is well sequenced and ends on a light note, floating off on "Tond Yambramba" by Sandwidi Pierre & Super Volta.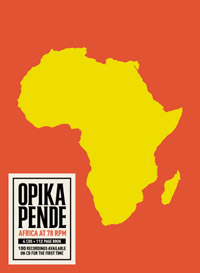 One thing is certain, as many sages from St Matthew to George Harrison have said, everything is transient. The compact disc seems destined for a quick exit & may have a shorter lifespan than 78 rpm shellac discs, though I doubt anyone will be collecting CDs in future the way collectors search to acquire vintage recordings made on the old technology. Even cassette tapes will in the long run be more durable than CDs. The problem with MP3 music, which is posited as the replacement for the CD, is organization and evanescence. If I download an album it may end up in my iTunes folder as Track01, Track02, etc, and then I have no idea what or where it is. I can burn it to CD but then I am back where I started with unstable media. The difference is between virtual music and visceral music. What is an MP3 after all? It's like radio waves, floating by. But drop the needle on a spinning disc and you are suddenly in a whole different relationship to the music. And, with LPs, the gatefold album was a joy: big art, easy-to-read text, and of course a perfect place to roll a joint. The 78 rpm disc was important to Africa because it didn't require electricity and, despite people constantly signaling its imminent demise, African music thrives and evolves as it always has. In 1928 Erich von Hornbostel wrote: "As yet we hardly know what African music is. If we do not hasten to collect it systematically and to record it by means of the phonograph, we shall not even learn what it was." But quite apart from ethnomusicological concerns, Africans were already recording and enjoying popular music then. This compilation has all the advantages of the gatefold album: It's a 4-disc set and comes with a lavish 6 x 8 112-page book in legible 12-point type (black on white paper: what a novelty!). It's a lovely package and contains almost 5 hours of rare popular recordings from Africa that span the continent and half of the twentieth century.
Dust-to-Digital has embarked on a series of "Excavated Shellac" (perhaps familiar to you from the blog of the same name) and this is their latest entry: Opika Pende, which is Lingala for "Stand Firm." Jonathan Ward is the compiler of this flawless effort. Clearly he has put a lot of effort into making this a brilliant, seamless tour from the Cape to Cairo and from Senegal to the Seychelles. The sound on the old recordings is remarkable, nearly all of them crystal clear; the booklet has lots of photos of picture sleeves, old snapshots of the locales and information on individual tracks. Disc One, Arabic North Africa, shows that traditions have not changed much: the Algerian and Moroccan selections could have been recorded this year. Sassi, from Algeria, welcomes everyone with his mandole. He was part of the Judeo-Arabic tradition known as Al-Andalus music and was prolific in the 15 years after 1924. Fatimah Bent Meddah and Kouider turn in a magical droning piece, "Adhouh, Adhouh (Gimme, gimme)" from the rough part of Oran, 1924, that is only the 3-minute- & 22-second "A" side of this disc but hits a stone groove that wont quit.
Banjo, brass band and thumb piano begin to pop up on the second disc, which is a tour of West Africa. The Greek-run Ngoma studio in Leopoldville may be well-known to readers of this column for the many rare and wonderful early Congolese tunes they waxed. However they also ventured into the field, and the recording of "Ngwop" by the Bamileké of Western Cameroun is a real gem. The first sighting of the "Peanut Vendor" ("Ma-ni!") occurs in the Jolly Orchestra's pennywhistle and guitar ditty "Egberun Buso." We sense the continuity of tradition in the early Black Beats' piece, "De Ehuo," from Ghana, featuring King Bruce on trumpet, as HighLife takes flight. The item that appears next is intriguing -- "Kurungu" by Onana Mbosa Isidore from Cameroun -- it's a percussion jam, but then legendary guitarist Tino Baroza jumps in playing Solovox organ, and there's a Congolese bassist too, on this novelty item from the Opika label. The mbira and drum solo that follows has no documentation: it's a French field recording from Yaoundé, 1950, & is also a head-banger's delight.
Disc Three moves into the area of Africa covered by Hugh Tracey in his musical peregrinations. We can almost hear him introducing the groups in his dry tone: "The mosquitos were as thick as Kamau's ugali porridge as we settled down to hear these gentle folk pluck their nyatitis..." But Dr Tracey would have stopped the tape before letting the Kiko Kids loose on "Tom Tom," a paean to their label: it's a weird highlife calypso sung in very bad Swahili, redeemed by a long smouldering sax solo. Ward completes the trifecta of great Congolese labels with a smash hit from Esengo: "Titi" by African Jazz, featuring Joseph Kabasele. Then he dives back into the bush with a nyatiti piece from the Luo of Western Kenya, followed by a moody Tanzanian piece by Pancras Mkwawa (two other numbers by this artist, also recorded by Hugh Tracey, can be found on Tanzania Instruments [Sharp Wood 022]). But Hugh Tracey was not solely responsible for preserving the great music of East Africa at this time: Peter Colmore commissioned hundreds of recordings and the guitar and Fanta bottle piece here is wonderful, suggesting a whole area of unknown early work to be explored. Ward is right in calling these recordings cultural artifacts because the discs themselves have label information and stories that are interwoven with the histories of colonialism and independence of each of these nations. The "Comic sketch" of Mbarak Talsum took me aback: I was immediately reminded of British music-hall numbers by Harry Lauder from twenty years earlier! Hugh Tracey doubted anyone would enjoy the manic fiddle piece from Uganda, played on the ndingidi: I love it, and it perfectly sets up the pristine clarity of "Masanga" by Jean Bosco Mwenda, the one track on here you surely know. This is magic: it would do credit to Johann S. Bach himself if he had written it.
The final part of this monumental tour is through the lower quarter of the continent. The opening track, an unidentified flute solo from Madagascar is sublime. It reminded me of Satyajit Ray soundtracks: immediately conjuring up deserted stone buildings on the edge of the desert, haunted by bats! An Mbaqanga number reminds us of the longevity of the 78 format; a crisp mbira recording by Tracey is superb, but also showcases his incredible skill as a sound engineer. This set, in fact, doubles as a great alternative sampler of some fine Hugh Tracey discoveries. If you like George Sibanda you are gonna love Josaya Hadebe, also from Zimbabwe, and his purring delivery. There's another Tracey alumnus, Americo Valenti (aka Feliciano Gomes) playing his guitar and singing in Tsonga, a language of Mozambique, among a flush of great Southern African guitar players on the last disc. There is a great variety of stuff on here, some of it may not appeal to you, but no matter, there is a wide spectrum of music that opens a window onto the past, and many undoubted pleasures you would otherwise have missed.