MUSIC OF MALI live
OUMOU SANGARE
Berkeley, 25 October 2022

Oumou Sangaré is on tour promoting her latest album, Timbuktu. I did not want to pay the exorbitant $70 cover for Berkeley's Freight & Salvage but a friend decided not to go and gave me her ticket. I have not been to a concert in over a year, I think the last time was Cheikh Lo, also at the Freight. I got there an hour early and got a seat in the middle of the fourth row. The mostly agèd white crowd found their seats, ready to rattle their jewelry. Oumou came on to rapturous applause and my first impression was a reminder of Celia Cruz, a stately figure with an afro, and also wearing one of those bright tight dresses that flare out at the knee. She had massive gold jewelry on (earrings and a signet ring that covered half of her left hand), a long bib of cowrie shells and blue lipstick! On her left were two energetic backup singers and dancers who caught your eye throughout. One of them, who looked like she could be Sangaré's daughter, had amazing facial gestures and moves to match, though both were in sync throughout the 90 minute set. To the singer's right were two kamele n'goni players: one of them Mamadou Sidibé who has been the singer's friend since childhood. However, he had technical problems with his instrument and left the stage. Then during the blazing R&B number "Sira," the guitarist broke a string, so it was more of a dub version as the keyboard, bass and drums carried on while he replaced the broken string. The backline were her non-Malian band members but for once they integrated perfectly into her sound, especially the keening sound of the slide guitar. She did not introduce the band, but brought back Mamadou Sidibé to explain his involvement in the production of the album, giving him most of the credit. Apparently, sick of the festival circuit, she flew to New York in 2020 to find everything locked down. She spent three months pretty much alone, and then called Mamadou in Baltimore and asked him what he was doing. — Nothing much. So she then spent three months in Baltimore with him writing music, morning noon and night, she explained. The band were tight and mostly drowned out the vocals, except for the slow numbers and when Sangaré chose to really belt it out in the climax of some numbers. She got everyone on their feet, but there is no dance floor at the Freight, so everyone clung to their chairs and swayed to the beat.

BKO
Addison Street Fair, Berkeley, 22 Sept 2018

On their first North American tour, BKO Stopped in Berkeley for a free afternoon show downtown. This band was formed 5 years ago in Bamako, Mali during the emergency caused by the influx of Islamic fundamentalists driven out across the desert from Libya and surrounding countries. The quintet, unusually, combines stringed instruments from two different traditions. There's the big hunter's harp, the Donso ngoni, and the small griot's ax, the Djeli ngoni. Abdoulaye Kone plays the latter with a set of effects pedals to create an expansive sound more like a guitar. The lead singer Fassara Sacko, also plays a metal bell and a big dunun khassonke, which he hits with a curved drumstick. Some lead vocals were taken by Nfaly Diakité who also plays the Donso ngoni, dancing wildly as he does so. There is a traditional trap drum set (Aymeric Krol) and the group's founder, Ibrahima Sarr, another percussionist who mainly plays djembe. Their hour-long set was varied, going from lyrical to intense and always ending with a rave-up. At one point we heard this:

Singer: Everybody say "Bere bere ba chinois"
Crowd: "Bere bere ba chinois"
Singer: Again! "Bere bere ba chinois"
Crowd: "Bere bere ba chinois"
Drummer: You know what means "Bere bere ba chinois"?
Crowd: No
Drummer: Just as well...
The crowd were into it, even "dashing" the band with money that seemed to be left-over from a trip to West Africa. One woman rushed up and did the "ventilator," a well-known Senegalese dance. A large woman with curly hair balanced her rift valley bag on top of her head and swayed in front of the stage. I noticed she was wearing socks without shoes. Another woman danced forward and presented a large bottle of some local brew to the front of the stage. As is typical in Berkeley, the band was being entertained by the crowd as much as the reverse.
I managed to film one number, "Salia" from their latest album, about mid-way through the show (they were under a tree and backlit so the lighting is not good, but the sound is great).

Rokia Traore in concert photos Copyright © 2013 Grace T. Gomez, used with permission
ROKIA TRAORE IN CONCERT
Nourse Auditorium, San Francisco, 22 November 2013
Rokia has gone from strength to strength as a performing artist. Her earliest shows were already quite remarkable, when she brought a group of traditional musicians, on balafon, dueling ngonis and calabash, from the arid Malian countryside to tour and back her stylish and urbane delivery. But she has grown in sophistication and after over ten years of touring says she now feels like an artist and believes she can support herself and her band with her music for at least another decade. The confidence radiates from the diminutive songstress, dwarfed by her hollow-bodied Gretsch guitar, her thin muscular legs coming out of a black designer dress that sticks out like a hoop skirt in a Velasquez portrait.

The venue was the under-reconstruction Nourse Auditorium in San Francisco's Civic Center, a fine early twentieth century building with Italianate details in the architecture, across from Davies Symphony Hall. (Opened as a high school auditorium in 1927, the building has been unused since the 1950s.) The promoters were the California Institute for Integral Studies whose goal is personal and social transformation. One of the ways of achieving this, or at least to raise awareness, is to bring artists from Mali on tour, and Rokia's visit was the first in a protracted series of four that will also bring Habib Koité (Feb 1, 2014), Fatoumata Diawara (April 18, 2014) and Tinariwen (April 19, 2014) to town to showcase the diverse musical traditions of the great embattled nation.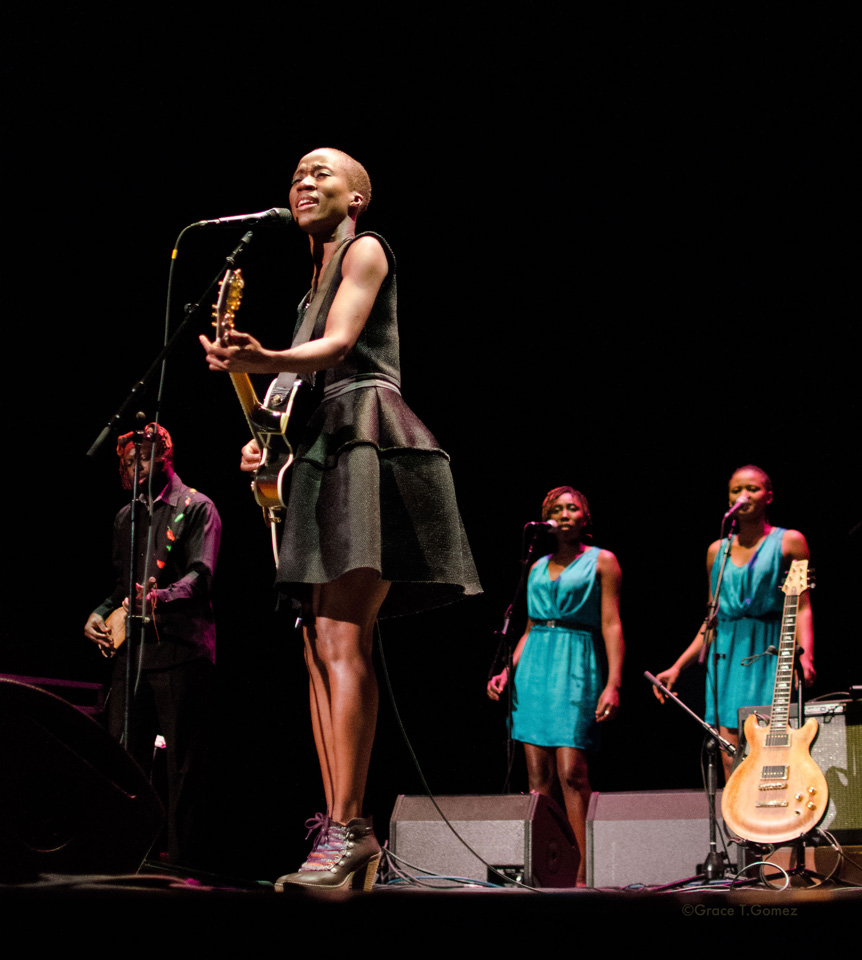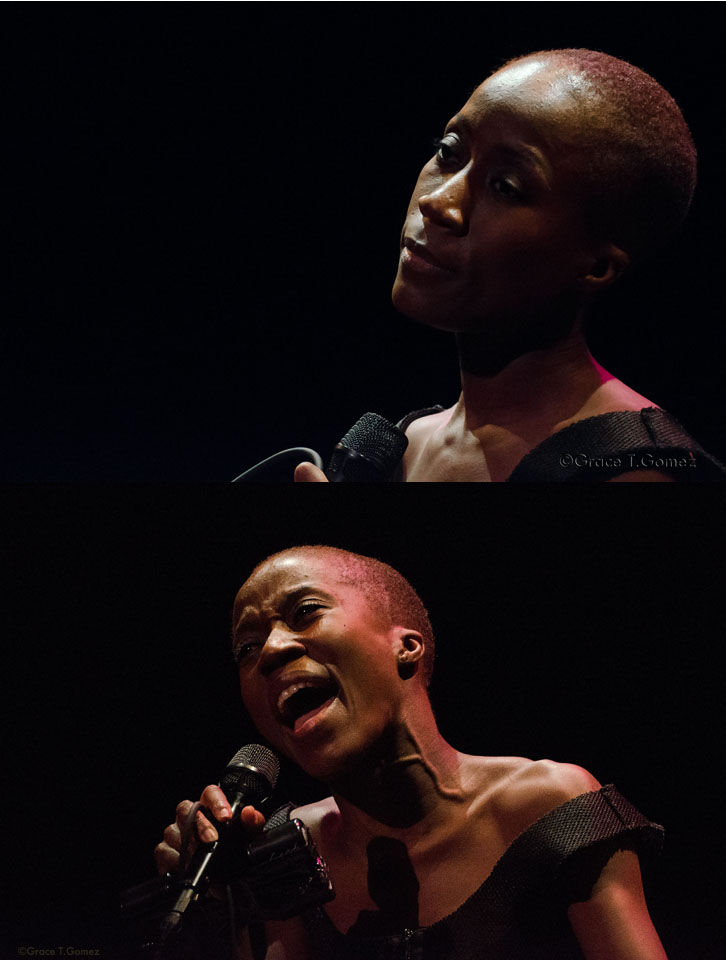 Rokia's band has evolved into a more Western notion of a rock band. She now has a sole ngoni player, Mamah Diabaté, who has been with her through three albums, and I was pressed at times to hear him in the mix. (The ngoni player on her first albums, Andra Kouyaté has gone on to stardom himself, with the excellent Segu Blu and Saro albums.) She then has three European rockers, possibly French or Italians, on lead guitar, bass and western drum kit, who are new to the band (and different from the musicians on her latest album). Backing her vocals (in Bambara, French and English) are two Malian women singers from Bamako. The back-up singers wore turquoise dresses otherwise everyone was in all black which was a nice theatrical touch. The two women also did Motown-to-Dakar backing choreography which erupted at the end into a demonstration of Senegalese Sabar dancing. So the band mix is four Africans and three Europeans, but also four women and three men, as the bassist is also female. I am sure that keeps the banter on the bus more civil. The lead guitarist, Giovanni Ferrario, worked hard all night, sometimes churning a rhythm, other times adding atmospherics and occasionally showing he could rip out a bluesy solo. I remember Ali Farka Touré coyly denying he had ever heard of American blues but there is an entire generation who grew up on it, some of whom can get in the spirit musically and Ferrarrio is one. So the American blues component has been reabsorbed fully into Malian music, through European rock, rather than sons of the Mississippi delta. While I don't doubt there are American bluesmen who could have performed the role, I wonder whether any of them would have been willing to be an anonymous bandmember in an African woman's entourage.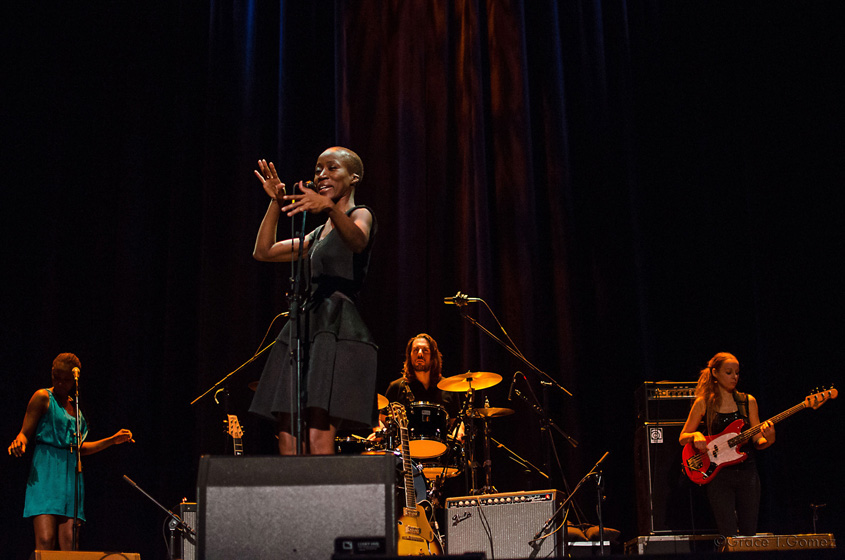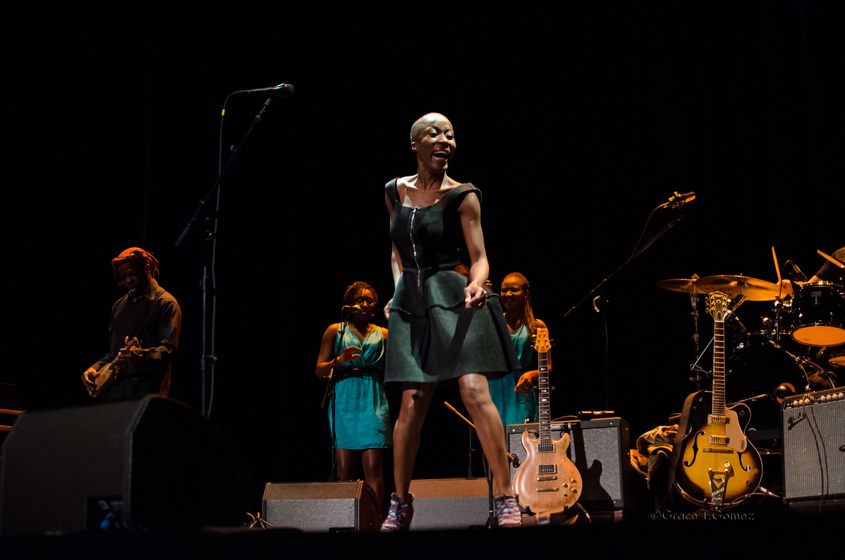 The star, Rokia, was poised and professional. While her CDs are what I would call chamber music, essentially intimate experiences, she has adapted well to projecting from a stage and often takes the "Stairway to Heaven" approach of a long acoustic intro then cranking it up for a rocking outtro. She opened with an atmospheric epic about Soundiata Keita, the thirteenth-century Manding king who founded the Empire of Mali. It builds to a scorcher. Her originally slow number, "Zen" was completely transformed. The title cut of her new album "Beautiful Africa," turned into an R&B rave-up with an insistent chugging riff, as if she had given the band freedom to play "Train kept a-rollin." She has a beautiful voice and has added expressive and expansive dance moves to her onstage persona. Tracks from her latest album were interspersed throughout. Her new single, "Mélancolie," was better live. Towards the end of the show she slowed down and made speeches in English, that were essentially her lyric concerns explained. "We are all insignificant and going to die," she says, translating the lyrics to "Lalla," the lead-off song from Beautiful Africa. "We don't know when that time will be but that reduces us all to the same level, so let's make whatever effort we can to improve the planet while we are alive." I find her to be better in person than on record. Perhaps she is too cautious and perfectionist in the studio and this inhibits the creativity and spontaneity that comes out in a live show. Her charisma also has to be experienced live. After a thundering medley of the title song from "Beautiful Africa" and "Sarama" she came back out for an encore, singing Billie Holiday's "Gloomy Sunday" to the delight of the crowd, who by then had stormed the front of the stage.

Rokia Traore in Concert, Stanford University, 4 Feb 2009

I asked John McCord if he was going to hear Rokia at Stanford. Why doesn't she play someplace there are people? he asked. The Duchess & I arrived early and strolled around the campus noticing the appointments, lots of ATMs for those wealthy students to withdraw their parents' cash, plus supersleek bikes and skateboards. Rokia opened her concert with "Dianfa" from her new album, which starts gently, but it was clear from the moment the band kicked in that this was going to be rock and roll. Stanford, like other university arts programs, has a wide range of performances from ballet to the Kronos Quartet, and from Chinese acrobats to the Kronos Quartet. Such calendars invariably have the world music regulars, flamenco and fado, and once in a lifetime you get to see Les Ballets Africains or Musafir, but in general you don't see rock and roll with the bass and drums channeling heavy metal even to the point of leaping off the bandstand at the last power chord of a song. The greyhairs who generally support such venues through season tickets took it well and although the 600-seat Dinkelspiel auditorium was not full, only a few snuck out. There is the "exotic" appeal: she sings in Bambara, a language not well-known outside Africa, and, according to the programme, this was a bold new venture incorporating Western instruments. Well, there was no harp on stage, and electric guitars have been part of African music longer than Rokia has been alive.

Rokia looked smaller than I remember, maybe it was the hair, which had grown out straight (that's what happens when you shave your head!) or maybe it was the rigorous touring and leaping about on stage that made her lose weight. The biggest problem though was how do you play rock and roll to a bunch of 60 year old white people who are seated? There was plenty to look at. Stage hands crawled about trying to plug in the likembe during "Zen," but because of the equipment malfunction Rokia ad libbed some vocal parts trying to fill in. Also the jazzy staggered riffs to some songs didn't work as fluidly as on the disc. You sensed they just wanted the audience to get up and start to move, not sit there wondering why the white bass player was the only one on stage with an afro.

Rokia introduced the songs in English. She explained how she had always sung Billie Holliday songs around the house and never thought she would be on stage doing them, but 5 years ago toured as part of a group of women singers, including Nancy Wilson & Dianne Reeves, performing songs made famous by the legendary singer. This explains why her version of "The Man I love" is so derivative but while she can emulate the little vocal traits of her idol it's not necessarily a good idea for a performer (though, come to think of it, Little Richard made a career out of copying Esquerita, and Mick Jagger made millions with his impression of Don Covay). But then things really picked up. A stage hand brought on her Gretsch guitar, which is bigger than Rokia, and she kicked into "Dounia," the Malian blues number which leads off her album. There was a whiff of Ali Farka in her playing but once the rest of the band started in with the atmospherics it really went up a notch. They played the rest of the album, another highlight being "Tounka," which she described as about the migration of young Africans to Europe, who have no prospects at home. That is not the solution, she said, they need to go home and start building their own country. Mamah Diabaté on ngoni was outstanding, the lead guitarist was also exceptional, while the bass and drums added the Led Zep quotient, with Christophe Minck on bass really working out on a few numbers including, as I mentioned, fulfilling his fantasy of leaping off the stage at the final cymbal crash.

There was an encore and the Duchess and I rushed the front where the three or four Malians present were throwing scarves on stage and taking photos. I snuck a few shots (without flash) on my pocket Olympus. Rokia pleaded with the audience to get up, though you could tell she was afraid lest some of them might have a stroke from trying to dance!

Ali Farka Touré in Memoriam


Ali Farka Touré, the great Malian guitarist and songwriter, died from cancer, the first week of March 2006, aged 66. He was a farmer, father of 11, and mayor of his home town Niafunke (50 miles south of Timbuktu in the heart of the desert), as well as a brilliant musician and storyteller. Most people in the West had not heard of him until he recorded TALKING TIMBUKTU with Ry Cooder in 1994. He'd even retired long before then. I knew of him from his albums on the Sonafrique label in the late 70s. On his first North American tour in 1985 I met him before his concert at the Great American Music Hall in San Francisco. I was deejaying at the time, subbing on the African Music Program on KUSF produced by my buddy Papa Freddie. Fred called and asked if I would run the board for his interview with Ali ("Farka," which means donkey, was his nickname). I said I would be delighted. Fred had the idea to do a Downbeat-style audition and play Ali a bunch of records by Wes Montgomery, John Lee Hooker, Muddy Waters, Howlin Wolf, etcetera, and get his reaction. He figured to pitch a softball and play really obvious things that Ali would know so we could catch his delight and spontaneous response.

Ali showed up at the studio with his handler just before the show. He looked splendid in a capacious new blue boubou & Muslim skullcap. The blue of the crisply starched and ironed boubou reflected in his face which had that beautiful blueblack hue of Africa. I was sorry I had not brought my camera to get a photo of us. Like Youssou Ndour whom we had just met and interviewed, Ali was modest and quite humble. True he was largely unknown in the US but he had all the time in the world to accommodate fans like Fred & me. It turned out the handler (who worked for the club, I think) didn't speak French too well and Ali's English was non-existent, so I quickly became the translator. Imagine the scene. Here's Fred and Ali sitting in the studio with headphones on, and there's me in the booth, cueing records, filling the log, answering the phone & running the board -- two turntables and a cart machine which had to be primed with public service announcements and promos (stored somewhat alphabetically in the hallway), monitoring both of their mikes, as well as periodically switching on my mike to translate from French to English and back again. Boy was I sweating! So we put on a John Lee Hooker track that sounded exactly like one of Ali's trademark riffs. "Do you know who this is?" asked Fred. "Connaissez-vous cet artiste?" I queried. "Non, j'ai pas un idee," he replied. I turned up my mike. "No idea, he says." Fred looked bewildered. So it went. Fred made a desultory attempt to get him to say something about American blues and R&B and he kept mum. Stubborn as a donkey, in fact. "What I play is traditional African music," he insisted. American music came from us, not the other way. Yes, we assured him, we weren't trying to argue. We played his music and he talked about the Songhai, Tuareg and Peul and Bambara traditions that converged in his music as I translated on the fly, though most of the time I was also trying to cue the music as Fred ran in and said Play the first track on the red album, etcetera.

Afterwards I was reeling from the concentrated effort. Ali put his large hand on my shoulder. Brother, he said, you are doing a fine job. I too was once a radio technician, and what you are doing, broadcasting African music to the country like this, is a noble calling. I imagined him kicking back at Radio Mali, propping up his cowboy boots on the dusty board, and putting on one of those epic songs that goes for 20 minutes. I smiled. Merci, I said. I didn't have the heart to tell him this was only two hours once a week and furthermore there probably were only a few thousand people who could get reception of this penny-ante college station even if they wanted to!

The next night we saw him in an intimate setting accompanied by Hamma Sankare, his calabash player, in one of the most magical evenings of music in San Francisco. Like so many other occasions, when Oumou Sangare, Cesaria Evora, even Zap Mama, first came to town, we were among the couple of hundred people who saw them, knowing their next visit would be at a zoo like the Fillmore. (I even told the booker at the Music Hall, when she asked me if I had heard of a Cabo Verdean singer called Cesaria Evora and did I think she would sell tickets, I thought she could sell out a week. Sure enough the BMWs were double parked outside.)



Talking Timbuktu is the album most people have and know Ali Farka Touré by. It is excellent. Clarence "Gatemouth" Brown and Jim Keltner, who sit in, are discreet & the mix is crisp, with Ali's bluesy riffs to the fore. The traditional Bambara love song "Diaraby," which ends Talking Timbuktu is probably the standout track from the album, and Cooder actually plucks up the nerve to throw some slide guitar riffs on there as well as overdubbing marimba and some other extraneous things it doesn't need. But people cling to the familiar in a strange environment. It's great that Ry Cooder introduced Ali to a wider audience but his music doesn't need Cooder. There's plenty there in the guitar and calabash, with the simple vocals. His older albums, Radio Mali and Red & Green have a more traditional mix of Malian blues and I find myself singing "Baby please don't go" to his insistent minor sevenths. RADIO MALI (World Circuit WCD044) gathers the best cuts from the two albums on Disques Esperance put out in France in the 70s along with other tracks recorded for broadcast on the radio at home (therefore live studio recordings with no overdubs). The RED & GREEN albums (World Circuit/Nonesuch 79882-2) were also taken from sessions first published in Paris by Disques Esperance, and I believe, recorded there in the early 80s. The Red album signaled his first breakthrough in Europe.



For me, his 1992 recording THE SOURCE (Hannibal HNCD 1375), is his most satisfying, well-rounded album. It teams his haunting electric guitar work with the traditional njarka (Malian one-string fiddle) to great effect. Ali was also a fine njarka player. The guest musicians are really fine, in particular Taj Mahal, who adds sympathetic slide steel guitar to "Roucky."

With name recognition comes Grammy awards, and Ali won a second grammy for IN THE HEART OF THE MOON (World Circuit/Nonesuch 79920-2). This mellow, contemplative album teamed him up with Toumani Diabaté, one of Mali's best-known kora players.

But Ali was a homeboy. He liked to wait for the world at his compound in Niafunke and watch the river roll by to the far off ocean. And in the murmuring rills and ripples he probably caught Muddy Waters humming "I wish I were a catfish, a-swimmin in the deep blue sea..."


[Photo copyright Carlo Spalieviero
from Rokia's website]

ROKIA TRAORE

IN CONCERT
at Ashkenaz, Berkeley, August 3, 2002


The Ashkenaz Club in Berkeley was packed to the walls when Rokia Traoré walked onto the stage at 10.30 pm Saturday night. No one knew quite what to expect. Traoré was being hyped as the "Tracy Chapman of Mali" by the marketers. From her two very mellow albums I assumed it would be a "night in the village" affair, with people swaying in the dark or sitting on the floor contemplating the lovely sounds, so I grabbed a table stage-side when the opportunity arose.

But this was a cat of a different colour: here was a lithe 25-year-old Malian woman with a shaved head wearing what looked like a Yamamoto designer dress in black and white parachute silk. Not your everyday bush-wear. The second surprise was her urbanity. With acoustic guitar she sang a beautiful ballad, showing the full range of her warm voice. Then she promptly explained the lyrics in flawless, poetic English. I was thinking to myself I had never heard such an articulate African when her band walked out, wearing more predictable Malian garb. There was a balafon player, two ngoni players, and a percussionist. (The ngoni is a five-stringed fretless lute.) Two women back-up singers occupied stage right.

For forty minutes they tore up the joint. The sound was impeccable. (Ashkenaz has hired the former bass-player from Fela Kuti's band, and he is outstanding as a board operator.) They varied the pace but kept up a barrage of trancelike Malian rhythms and Traoré's voice soared above it all. The two ngoni players fought and traded licks and twisted notes around, invoking Zoot Horn Rollo and Winged-Eel Fingerling of the Magic Band with simultaneous parts of Sabicas and Segovia. The dissonant (to Western ears) chords showed where flamenco took root. Every rap, plink and thonk on the calabash resonated. The balafon buzzed heartily.

Much as I love Oumou Sangaré and her other peers, Traoré has something extra-special, and it was by far the most outstanding concert I've seen in a long time -- and I've seen four classic shows in the last month alone, three of them by Malians! In fact this brought the music full circle, as we had seen Techno Issa, the latest incarnation of Malian pop and lamented his lack of live percussion, then Super Rail Band, one of the giant outfits, but again missing their brass section, and now the folkies were showing how it should be done.

Traoré, the daughter of a diplomat, is a natural. She is a highly evolved human being, extremely gifted as a singer and songwriter. She studied with Ali Farka Touré and you can hear his influence in her guitar playing. But in addition she is a phenomenal dancer.

After forty minutes the band left the stage but the crowd was howling for more, and the encore, another half hour set, went through the roof with some great energy manifest in dancing and solos as the band members each got a spot. After midnight Traoré returned to the club to sign CDs and there was a line of several dozen people waiting to shake her hand. While the live show buried some of the subtleties of her two albums it was a rare treat and once again we have to thank Ashkenaz for keeping the spirit alive in the Bay Area.
WEST AFRICAN GUITAR GODS

Live in my back yard, Summer 2003

August was bracketed by a pair of West African concerts in the Bay Area that showcased two of the best living guitarists in the world: Sekou Diabaté Bembeya and Djelimadi Tounkara. The Bembeya Jazz concert on Sunday Aug 3 at Stern Grove was perfect; it was a hot day and it went well -- apart from the people milling about and the set-up leaving no ideal point to see, hear or dance. Bleachers had been set up in front of the stage where dancers wanted to go. People sat rapt as if they were in church. At tables, further back, we couldn't see too well but the sound was good. The only distraction was people on cell phones walking past and yelling "Can you hear me now? OK, can you see me? I'm standing by the tables!" It was a great show, a bit too short, but we got to experience the full ensemble and marvel at these guys -- some of whom are older than me! -- dancing and singing and turning it out. Sekou Diabaté (aka Diamond Fingers) even played the tune that combines Franco's "Liwa ya Wech" with Jeff Beck's "Foot-tapper," a remarkable blend. And they did "Yelema Yelemaso," their tribute to Dr Nico with Hawaiian slide. The next night I was privileged to have dinner with the band and get to know them a bit.

Then, on Thursday the 21st, Ashkenaz were winding up their African summer with a set that could have been called Super Rail Band Unplugged. We've been fortunate to see Tounkara every summer in the intimacy of Ashkenaz, with clear sight lines (you can stand five feet from him at the side of the stage if you are so inclined) and excellent sound. Having traded his big hollow-bodied Chet Atkins signature Gibson for a cutaway jumbo acoustic guitar, he was parading those flamenco riffs that mark him as one of the fastest fretmen alive. Accompanied only by calabash, congas and vocalists, he had a stripped-down sound, but it still electrified the crowd.

After a few pints of Guinness, Big Steve expounded his theory of white folks dancing to African music. It has to do with their buried ancestral DNA, he figured. It gets them in a dark corner of their being and causes them to go slack-limbed and spastic. He immediately dubbed this dance "The Leakey," and we began to recognize characteristic moves in the dancers. One guy in a flower shirt danced without moving his feet: with bent knees, he swung his arms. This variation is "The Piltdown." When the band started pulling women on stage it was easy to see the component parts. One woman waved her arms above her head and jerked her head from side to side. I think she's been watching the "Tribal Basics" video, I ventured. No, countered Big Steve, she's a Mormon who went to proselytize in the Islands. Meanwhile a blonde dashed through the crowd in a drunk version of the Charleston, kicking her heels and bouncing like she needed to pee. We moved back out of her way.

When the band cooled down to "Mande Djeliliou," Steve reckoned they had finally listened to me and abandoned Paris and synthesizers to return to their roots. I wasn't the only one complaining all those years, I said. Well now we have to go to Mali and find the last band still using the crappy old synth and broken beat box and do a field recording, he suggested.

Interestingly we could hear the other instruments in the space of the music, perhaps because of our active imaginations, but we knew where the kora part would work, the horn section (Hey let's get Tower of Power over here to sit in!) or the Hammond B3. I voted for Hank Jones, more their speed, but Big Steve insisted Booker T would be the perfect complement to the music. But they really didn't need it. Another fun night in Berkeley.
SUPER RAIL BAND

IN CONCERT at Ashkenaz, Berkeley, 25 July 2002

Almost a year to the day (allowing for jet lag) since their Bay Area debut, the Super Rail Band from Mali flew into town to revisit Ashkenaz and the packed house loved it. It was odd to see the same crowd who had been present last year, looking the same in fact. But then that's Berkeley: if Rip Van Winkle were to show up he'd feel right at home with all the matted hair and antique garb people here affect. But the Rail Band, dressed in their splendid Malian djelabas, were anything but asleep: they were in smoking form. Ashkenaz had ponied up for new Ampeg amplifiers since their last tour as the sound was crisp, and the djembe and congas so well miked you heard every nuanced slap. (The soundboard was run by the former bassist from Fela's band.) Once again Bamba Dembelé was spokesman, resplendent in a mud-cloth robe with crescent moons and stars on it. He seems to have the best English, though it hasn't improved since last year: "Music, music... dancing... good night... very good!" were his main comments.

Off to the side, but in the driver's seat, the great Djelimadi Tounkara ripped out those splintering cascades of runs on his Gibson knock-off. Several guitarists I know stood in awe just watching his large agile hands blur on the frets. A combination of fingering and hammering, he manages to pull off triplets so fast they make Wanda Landowska sound as if she's wearing gloves on those precious 1940 Scarlatti recordings. In fact I couldn't count the ornaments, either audibly or visually, so they might well be quadruplet or quintuplet trills. Whatever way you reckon it, he is the reigning genius of the African guitar.

After a rousing version of one of their familiar hits, they launched straight into the Malian blues, "Mansa." I missed the horn section, but the rhythm guitarist laid down an arpeggiated bed of sound that filled in the organ part while Tounkara soloed. There is a great drifting ambience to the piece and Big Steve and I got into the old argument, Was Tounkara listening to Peter Green in the late sixties? Is that possible? What was Peter Green listening to then? Kora music? You might as well copy riffs from the best, said Steve.

I had a great seat for watching Tounkara but the Duchess was already on the dance floor so I followed suit, as they tore into "Dagna" from the Indigo album, "Super Rail Band de Bamako."

The next "spot the influence" was obvious. As one song stopped and the audience burst into applause, the band did a stop time bridge with the Bambaran equivalent of "hit me one time (BOMP!), hit me two times (BOMP! BOMP!)" and then revved back into full tilt on the tune.

While the music is purely Malian, with the guitars playing in a pentatonic scale, there is still a strong structural connection to the pioneering two-guitar interplay of Nicolas Kassanda and his brother Mwamba Dechaud from the classic era of Zairean jazz. The mi-solo player has to have enough prescience to know when to turn the cadence around and let the soloist fill in the blanks, or pick up the riff the soloist is playing so he can pursue it further.

The show went off faultlessly, with three sets, interspersed with the same damn soukous song, doubtless in anticipation of Kanda Bongo Man's visit. The manager had accidentally left percussionist Lassana Bagayoko at the airport, but he was retrieved in time for the gig. All the more remarkable since he doesn't speak any English and the airport is crawling with lawmen looking for suspicious characters. But the slight, fiftyish Bagayoko looks anything but threatening. Ashkenaz is a great sanctuary away from the madness of the real world. In fact I saw a succinct graffiti in the bathroom: TERRORISTS 'R' US".

As usual, people who cannot dance got on stage and tried to show they could wiggle their fingers and sway their hips at the same time. The Ashkenaz needs a large hook stageside to prevent this dragging out as it did. There was a respite as a young Senegalese man in a red cap got up and really threw his limbs around, but Dembelé was gracious and tolerated the succession of Gong Show graduates who thought they could dance to his djembe.

After the show I got a chance to talk to three band members over plates of delicious West African home cookin. I asked if a new album is in the works, since it has been several years since MANSA. It's finished, Tounkara told me. We recorded it in Poictiers this year, but we still have to mix it, so it will be out in three months. That is, it will be out in Europe on the Indigo Label. Hopefully there will be a simultaneous release in the US so we wont have to wait for the clipper ship around Cape Horn to bring us copies.

I asked Tounkara about his influences. When I was young, he told me, I listened to a lot of flamenco. And he named some classic Spanish guitarists and demonstrated with his vocal chords how he uses flamenco timing in his intros. I asked him about pop influences and we traded names back and forth while he told me that he listened to everything and took it in, creating a mélange of styles. Who are your American influences? I asked him. George Benson was the surprising reply. Tounkara has been with the Bamako band for thirty years. Conguero Lassan Bagayoko has been there since the founding of the band in 1970. In that year the band won the Youth Festival as best band in Mali, he told me. I told him I had the Barenreiter albums of the Best of the 1970 Festival de Jeunesse. His eyes lit up. When Tounkara joined in 1972 he was voted best guitarist in all of West Africa, he added. Pas seulement Mali, dans toute de l'Afrique de l'ouest. In the early seventies the band toured Nigeria and played in Sofia, Bulgaria (being from a Marxist country they had cultural ties to the Soviet states). Mory Kanté sang with the band for nine years, Tounkara told me, and wanted them all to move to Paris, but Tounkara didn't like the French people, or Paris. They are too easily bored, he told me. Not like you Americans who seize on to things passionately. The Super Rail Band are having a great time touring and loving the response they get from audiences here, so there is every hope we will see them again next year.
ISSA BAGAYOGO

IN CONCERT at VIVE LA WORLD, Stanford, Sunday July 14 2002

The blue heavens over Stanford University Sunday afternoon were punctuated by the sound of a thunder crash, but no rain fell. The ticking of a cymbal became audible. There was a full drum kit and a stand of congas on a platform behind Issa Bagayogo but the percussion was not issuing from there. The electronic susurration was echoed by his kamale ngoni as he began singing "Sya," the opening track on his astounding 1999 album. In that song, Issa greets those who stood by him when times were hard. On his first trip out of Mali (after a three-month tour of Europe) he looked out over the sea of white folks doing the compulsory uncoordinated a-rhythmic dancing that characterizes their ethnicity and probably wondered how he had come so far from his village of Korin and what these ghostly melanin-deprived people could be getting out of his music. White kids may not relate to the ngoni other than as an exotic instrument, but they certainly feel the beat of the music.

Another remarkable aspect of this show was that Issa was fronting a band that had been put together at the last moment and had received their visas only a matter of hours before their departure on this tour of the US. It's to Stanford Lively Arts' credit that they got this show: most university booking agents buy into a world music package that means they get Cesaria Evora, Salif Keita, YoYo Ma, the Chieftains, and maybe Koto drummers thrown in for free, if they sign up the whole slate. Sadly, though, Stanford probably lost money on the event. What a pity as they had the perfect ambiance, the outdoor Frost amphitheatre, perfect weather, friendly and helpful staff (No Fillmore "Night of the Living Dead" punks shaking you down) and a good sound system. Furthermore San Francisco could have put this show on for free as it has already played to a huge crowd in Central Park, New York, and several other stops on the road. But that consciousness doesn't exist here. There's Stern Grove, who bravely try it on in the foggy summer, but they don't have the space for a big show and their attempt to get Toto La Momposina here was thwarted by our ever-diligent Dept of Homeland Security who denied her visa. (World music is, after all, deeply subversive.) The fact that the Stanford show was called "Vive LA World" shows the pervasiveness of the Monoculture! Oh, well... Vive la World!

Issa has not yet been co-opted by the world music packagers (though Bonnie Raitt is surely working up the Bambara Blues right now). His sound is still his own though it was odd to hear all the studio parts by Yves Wernert -- programming, synth fills, ambient noise -- coming out of nowhere. Wernert is back in Bamako, concocting other marvels for the Mali K7 label. Not only did Issa have none of his own musicians, it wasn't even the same configuration. No djembe, no acoustic guitar, no calabash. The biggest change from his recorded sound however was an electric guitar, and that musician, Mama Sissoko, is one of Mali's best. He twisted notes and wrung the neck of his black Gibson, reminding me of all the great National Badema albums he has played on. (One of my desert island discs is "Nama" which is a moving 20-minute epic by Kassemady Diabaté recorded by Badema. In addition Sissoko played with National B du Mali, the reformed Maravillas de Mali, and has also appeared on albums with Sekouba Bambino, Kante Manfila, Ramata Diakité and many others).

A suave bass player (Jamy Pedro from La Réunion) stood in the background anchoring the beat while two women singers made spontaneous attempts to move about and fill the stage. But the spotlight was on Issa and his hi-tech-looking ngoni with its silver resonating gourd, curved neck and six pairs of unfretted strings. The drum programming meant that there was no opportunity for jamming but that each song had to be exactly the length of the prescribed program. Despite the simplicity of this arrangement, it went well and soon there was a sea of swirling dancers on the grass.

As the opening act, Issa's set was only half an hour long, but he covered material from both SYA and the follow-up TIMBUKTU and performed one number not on either album which seemed a little unpolished.

After his set I got the opportunity to meet and talk with Issa through his interpreter (Maimouna, also one of his backing singers) as he only speaks Bambara and some French. Emmanuel Nado of KKUP was taping an interview for his radio show "Echoes of Africa" and I sat in, under the trees in the sunlight. Issa said he was enjoying his first tour. It's tiring constantly moving and going from hotel room to hotel room, he admitted, but you forget your troubles once you get on stage and see how much the people enjoy the music. Nado asked if he would keep the name Techno-Issa. Yes, that's the name the people of Mali gave him after the huge success of his first release so he would always be Techno-Issa, he said. (That cassette sold 15,000 copies in Mali.) And now there were many young people following in his footsteps, taking up this style of music which blended traditional African styles with techno. It was a whole mélange. When asked about his influences he cited Ali Farka Touré as an important figure in Malian music. Nado pressed him further and asked about non-African music he listened to. Black Uhuru and James Brown are his favourites, he said.

I told him I felt that Salif Keita's latest album showed that he had even influenced Keita. You really think so? he said, obviously pleased at my assessment.



SUPER RAIL BAND

IN CONCERT at Ashkenaz, Berkeley, July 2001

San Francisco summer of morning fog and evening chill has me longing for the hot sub-Saharan climes, readily conjured up by the insinuant plaints of Malian music and the photos of Malick Sidibé (in the Scalo monograph on his work). But in July Malian music came to me, thanks to Ashkenaz who organized a mini world music festival and brought a lot of exciting acts to Berkeley this summer. I'm still hoping to go to Mali. When I get there, I am heading to Bamako to visit the famous train station and hear the house band that plays in the buffet bar of the station hotel. Their improbable name almost begs a parlor game: "I'm a friend of the porter whose brother is a patron of the buffet bar of the hotel at the train station in Bamako," and so on. To my delight, that buffet bar band (known affectionately as the Super Rail Band) delivered a stunning set of music in Berkeley on July 26th.

Djelimady Tounkara ripped into the opening of "Foliba" and we surrendered our ears, and gradually our bodies followed. The endless glissandi flowed from his fingers and everyone in the club knew they were in the presence of a supreme guitar being. A committee of middle-aged jazz buffs named Steve sitting at the back agreed: this was a band with a concept of music unlike anything they had heard. Though there were no horn players, the guitars filled the air and there were three drummers to add to the excitement. The bongo-playing frontman, Bamba Dembelé, made introductions in his charming fractured English (even uttering the memorable phrase "Very, very music ... thank you!"). The very music kept going and Tounkara barely showed he was getting worked up as he wove into some contorted musical riffs, jumping between kora runs and bluesy power chords.

One of the few African musicians fit to wear the mantle of Nicolas Kassanda, Tounkara demonstrated his fluid technique with traditional Manding melodies. In some ways he was overcompensating for the lack of keyboard and horn parts, which would have given him a breather, but by taking it all on his shoulders, the spotlight was fully on him and he shimmered.

In the second set, one of the two singers, Assitan Keita, wailed an Islamic plaint and the crowd ground down to Muslim time. Everyone swayed slowly on the dance floor aware only of the power of the human voice until the guitar returned to start the feet unconsciously shuffling and we were lost inside the timeless music again.

It's thirty years since the Rail Band was launched with Salif Keita and then Mory Kante as the vocalist. Twenty years ago we heard that brilliant first album on Globestyle, NEW DIMENSIONS IN RAIL CULTURE, and it has been six years since their last album. I am hoping that the departure of the saxophonists is only temporary and they return in full force for another bout soon.