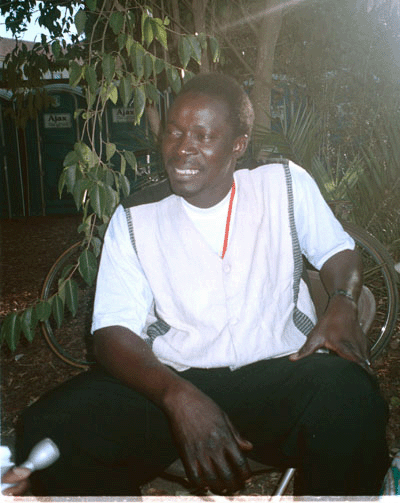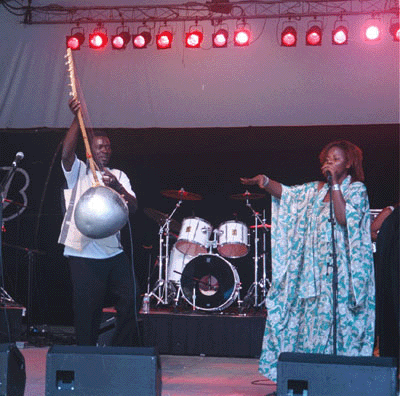 ISSA BAGAYOGO
IN CONCERT at VIVE LA WORLD, Stanford, Sunday July 14 2002
The blue heavens over Stanford University Sunday afternoon were punctuated by the sound of a thunder crash, but no rain fell. The ticking of a cymbal became audible. There was a full drum kit and a stand of congas on a platform behind Issa Bagayogo but the percussion was not issuing from there. The electronic susurration was echoed by his kamale ngoni as he began singing "Sya," the opening track on his astounding 1999 album. In that song, Issa greets those who stood by him when times were hard. On his first trip out of Mali (after a three-month tour of Europe) he looked out over the sea of white folks doing the compulsory uncoordinated a-rhythmic dancing that characterizes their ethnicity and probably wondered how he had come so far from his village of Korin and what these ghostly melanin-deprived people could be getting out of his music. White kids may not relate to the ngoni other than as an exotic instrument, but they certainly feel the beat of the music.
Another remarkable aspect of this show was that Issa was fronting a band that had been put together at the last moment and had received their visas only a matter of hours before their departure on this tour of the US. It's to Stanford Lively Arts' credit that they got this show: most university booking agents buy into a world music package that means they get Cesaria Evora, Salif Keita, YoYo Ma, the Chieftains, and maybe Koto drummers thrown in for free, if they sign up the whole slate. Sadly, though, Stanford probably lost money on the event. What a pity as they had the perfect ambiance, the outdoor Frost amphitheatre, perfect weather, friendly and helpful staff (No Fillmore "Night of the Living Dead" punks shaking you down) and a good sound system. Furthermore San Francisco could have put this show on for free as it has already played to a huge crowd in Central Park, New York, and several other stops on the road. But that consciousness doesn't exist here. There's Stern Grove, who bravely try it on in the foggy summer, but they don't have the space for a big show and their attempt to get Toto La Momposina here was thwarted by our ever-diligent Dept of Homeland Security who denied her visa. (World music is, after all, deeply subversive.) The fact that the Stanford show was called "Vive LA World" shows the pervasiveness of the Monoculture! Oh, well... Vive la World!
Issa has not yet been co-opted by the world music packagers (though Bonnie Raitt is surely working up the Bambara Blues right now). His sound is still his own though it was odd to hear all the studio parts by Yves Wernert -- programming, synth fills, ambient noise -- coming out of nowhere. Wernert is back in Bamako, concocting other marvels for the Mali K7 label. Not only did Issa have none of his own musicians, it wasn't even the same configuration. No djembe, no acoustic guitar, no calabash. The biggest change from his recorded sound however was an electric guitar, and that musician, Mama Sissoko, is one of Mali's best. He twisted notes and wrung the neck of his black Gibson, reminding me of all the great National Badema albums he has played on. (One of my desert island discs is "Nama" which is a moving 20-minute epic by Kassemady Diabaté recorded by Badema. In addition Sissoko played with National B du Mali, the reformed Maravillas de Mali, and has also appeared on albums with Sekouba Bambino, Kante Manfila, Ramata Diakité and many others).
A suave bass player (Jamy Pedro from La Réunion) stood in the background anchoring the beat while two women singers made spontaneous attempts to move about and fill the stage. But the spotlight was on Issa and his hi-tech-looking ngoni with its silver resonating gourd, curved neck and six pairs of unfretted strings. The drum programming meant that there was no opportunity for jamming but that each song had to be exactly the length of the prescribed program. Despite the simplicity of this arrangement, it went well and soon there was a sea of swirling dancers on the grass.
As the opening act, Issa's set was only half an hour long, but he covered material from both SYA and the follow-up TIMBUKTU and performed one number not on either album which seemed a little unpolished.
After his set I got the opportunity to meet and talk with Issa through his interpreter (Maimouna, also one of his backing singers) as he only speaks Bambara and some French. Emmanuel Nado of KKUP was taping an interview for his radio show "Echoes of Africa" and I sat in, under the trees in the sunlight. Issa said he was enjoying his first tour. It's tiring constantly moving and going from hotel room to hotel room, he admitted, but you forget your troubles once you get on stage and see how much the people enjoy the music. Nado asked if he would keep the name Techno-Issa. Yes, that's the name the people of Mali gave him after the huge success of his first release so he would always be Techno-Issa, he said. (That cassette sold 15,000 copies in Mali.) And now there were many young people following in his footsteps, taking up this style of music which blended traditional African styles with techno. It was a whole mélange. When asked about his influences he cited Ali Farka Touré as an important figure in Malian music. Nado pressed him further and asked about non-African music he listened to. Black Uhuru and James Brown are his favourites, he said.
I told him I felt that Salif Keita's latest album showed that he had even influenced Keita. You really think so? he said, obviously pleased at my assessment.