DIP DEM JAH JAH
STANLEY BECKFORD & STARLIGHTS
IN CONCERT at the Concha Acoustica, Salvador da Bahia, Brasil, March 2001
When I first visited Salvador da Bahia in March 1999 I saw billboards everywhere for a concert by the legendary Starlights. It had been the night before I arrived and my grief at missing one of the greatest Jamaican bands was tempered by hearing their music everywhere. From boomboxes & passing cars all over town, you'd hear "Dip Dem Jah Jah" and "Soldering" blaring forth. To my knowledge the Starlights have never toured North America so I was pleased to learn they were coming back to Bahia. It was a free concert organized by the cultural arm of the city government, held at the concha acoustica -- an out-door Greek-style amphitheatre. To get a ticket you simply exchanged cash register receipts at the box office (these are tax deductible by non-profit organizations): this also meant that poor people could go to the show. The show started considerately at 6:45 p.m. so the noise wouldn't keep the neighbourhood awake too late. The opening act was Muzenza: a typical Bahian group comprised of a dozen Axé drummers with a rock combo and, as usual, the sound was muddy. The singers sang off-key probably because they couldn't hear themselves. They also lacked stage presence and just stood clutching their microphones while the drummers swayed about in time to the beat, which had a strong reggae underpinning. They also fell into the trap of doing a wretched ballad: in this case "Ooh baby, I love the way." I went for a drink and had to struggle back from the top of the auditorium to the second row, spilling most of my beer on wildly gesturing dancers, as the Starlights kicked off.
Remarkably this incarnation of the Starlights was entirely Brasilian, apart from the singer, Stanley Beckford, one of the greatest popular artists in Jamaican music, a man who is truly a living national treasure there, and whose career began before the reggae era. In fact the roots of modern Jamaican popular music, which has parallels to calypso, comes out of a storytelling song tradition, known as mento, and Beckford is the living link to this tradition which he renews and keeps vital in his music.
Beckford appeared through the mist of a smoke machine, dressed regally with an African hat inset with cowry shells that looked like a crown. The audience was on the verge of hysteria as "Dip Dem Jah-Jah, Dip Dem," blared forth. First recorded by Beckford in 1976, this mento has a wonderful catchy tune (reminiscent of "Tom Dooley") and an imprecation to the Old Testament Jehovah, as pilgrims come from all over Jamaica with their local characteristics:
Some come from the East like a real leggo beast
Dip them in the healing stream
Some come from the West like a real old mess
Dip them fe cure bad feelings

Some come from the North with them face fulla scorn
Dip them in the healing stream
Some come from the South with them big yabba mout'
Dip them fe cure bad feelings

So dip them, Jah-Jah Jah-Jah, dip them.
I beg you, dip them in the healing stream.
Dip dem Jah-Jah, me say not too deep
Dip dem fe cure bad feelings.

concert photos by Lawrence A. Stanley
Beckford strolled about the stage delivering the song in his high clear voice, with a twinkle in his eye. While the pick-up band didn't have the chops to really rock the rhythm, they acquitted themselves pretty well throughout the evening, apart from a few missed bridges and their inability to dub it or fall out when Beckford tried to signal he was ad-libbing.
No sooner had the excitement of "Dip Dem" abated than Beckford launched into "Soldering" a tongue-in-cheek piece of musical wit about a girl who wants sex but doesn't care for the men who offer it to her. The song was based on an overheard conversation, set to an old calypso:
Soldering a what de young gal want, soldering
Soldering a what de young gal want, soldering

She said she don't want no young man
Cause young man drink too much white rum
She said she don't want no soul man
Cause soul man fast asleep in bed
She said she don't want no dreadlock
Cause dreadlock smoke too much kylie

("Kylie" is another way of saying "kolly weed"; the "soul" man was an "old" man in the original remark.) When the song appeared in 1975 in Kingston it was banned by the radio stations and not only became a smash hit but prompted a lot of copycat versions. Though they didn't understand the words, the Bahian crowd knew all the lyrics and sang along: the massed phonemes leveling out into credible syllables. A back-up singer, who also conducted the band, helped keep the groove in order while Beckford launched into a toast and did a suggestive dance at the edge of the stage.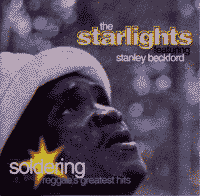 For "Come let me hold your hand," a real horn section of trumpet and trombone kicked in, reinforcing the hymn-like melody. Beckford also scored hits as Stanley & the Turbines, with his wry humour coasting on a wicked backbeat of piano and nyabinghi drums. "Leave me kisiloo" tells the story of a Chinese man who warns his girl to keep away from black men:
A Chinee man from Montego Bay
Come up a town to make a pass day
He was a-crazy over decent girls
Yes and him get one with many a curls
Him said: Gal, I love you to deat'
Free food and money you sure to get
But there's one thing you've got t'understand
You must not ramp with a nigga man

Why oh, why oh, niggaman na trouble me kisiloo!
Why oh, why oh, niggaman na trouble me kisiloo!

The audience sang along enthusiastically on the chorus, knowing the song from the bootleg release that appeared here two years ago as "Starlights Live in Brasil" (actually the studio tracks with applause mixed on). After further adventures, the song ends with the girl in tears, howling in the background after the "businessman" rejects her and gives her taxi fare:
I am begging you a chance Mr Chan,
I try to do better next time!
What, you beg me chance?
Me no need chance, no Chan
I say you pack up your things and go home
I don't want no niggaman come bruck my bone

Why oh, why oh, niggaman na trouble me kisiloo!
Why oh, why oh, niggaman na trouble me kisiloo!
Leave my kisiloo, leave my kisiloo, leave my kisiloo
Niggaman leave my kisiloo

The narrative structure of Beckford's songs links them to tales of admonition and wisdom from many cultures. "Donkey Man" was up next, with its amusing braying sounds. It's about a man whose wife and daughter entertain others behind his back: the daughter ends up with a big belly. The horns came back for another of Beckford's huge hits, "Big bamboo," (adapted from folklore) which borrows the well-known refrain from Lord Kitchener's "Yankee Dollar." Topicality and humour are two of the key ingredients of calypso and, in this, Beckford is closely allied with his counterparts in Trinidad. "Big bamboo" is a thinly veiled allegory about the relations between men and women and the genital connection, variously compared to coconuts and bamboo. Another of my favourite Starlights songs, "Queen of Sheba" came next and gave me a chance to sing the chorus at the top of my lungs while a few people in the crowd near me looked back in amazement at the greyhaired pink man skanking like a rasta.
You're only 16 and look like a Queen of Sheba
You're only 16 and you look like the Queen Esther
Well I ain't got Solomon's gold
I don't know how you get old
Inna me mind -- it's all right

Beckford did a tribute to the Wailers and left the stage for a break while a Brasilian singer came on and tried to resurrect Marley's ghost without success. Although Beckford is in his 50s, he has tons of energy and I hoped he would return for more. I moved up a few rows on the concrete bleachers to get a bit more elbow-room, leaving Sheila (my Portuguese teacher) with another friend. I found a space to dance but kept getting slammed by two shirtless guys. At first I thought they were doing capoeira moves as they were frequently down on the ground balancing on their hands. I soon realized they were blind drunk and liable to ralph on my flip-flops if I didn't shift. Several others nearby were trying to keep them in check with shoves and prods. But I forgot about them when Beckford came back to do "Oh Jah Jah," an orphan's prayer, which got another huge roar from the capacity crowd. The band was cooking now and managed to fall back to bass guitar and percussion for a creditable version in the middle eight.
Beckford's first song, "Wanted Man," which he recorded for Alvin Ranglin's GG Records in Half Way Tree in 1973, came next. He wrote the song while working as a security guard. It has the popular theme of the outlaw, but adds a warning:
You are a wanted man
Running away from the police, dem.

I know they want to charge you for murder
Shooting with intent
Robbery with aggravation
I saw my brother also liberate him gun

What you gonna do
After you done your act sir?
Now what you crying for?
I sure do know that they bound to catch you.

After "Mr Brown" (another song from the rare Stanley & the Turbines album LEAVE ME KISILOO) we were treated to "Memories (are made of this)," a wonderful version of the Everley brothers' hit that was also popularized in the USA by Dean Martin. It located Beckford in his musical era and is doubtless a crowd pleaser in his hotel lounge act. Beckford then announced he was going to do a dance-hall song: a recent number one hit in Jamaica. The band went into a reprise of "Dip Dem," and he ran around stopping the musicians. I thought it was a fake-out like you often see when polished reggae bands pretend to do false starts with "Scrub it, scrub it," and then "Rhythm come forward" one more time. But he intended something different, and did a hard rendition of the tune, with gravelly voice and a shrugging dance to go with it, despite the band's unfamiliarity with the piece. (I often wonder if the gravelly voice of dancehall singers can be connected to the masked voices of Dan rituals in the Ivory Coast. Maybe some ethnomusicologist will enlighten me.) All good things come to an end and we heard the reprise of "Dip Dem Jah Jah" as an encore, this time with the dozen drums of Muzenza adding an Axé flavour to the proceedings. This song about baptism and redemption had the whole blessed crowd feeling they had received the sacrament of reggae.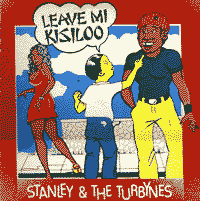 Using my press credentials from last year I talked my way backstage and asked to interview Stanley Beckford.

Dr Rhythm: That was a fantastic show. They love your music here in Bahia. I guess you'd have to say, "You are a wanted man"!

Stanley Beckford: Of course. You know that's my first song that I do for Alvin Ranglin -- "G.G." Ranglin. During those time I used to get 5 cents off each copy of the record, but now I don't even -- it's only when I sing the song that I know I'm really singing the song. But the background of the money: it's not there.

DR: You don't get royalties from Heartbeat?

Beckford: Nothing.

DR: Not even mechanical royalties from them?

Beckford: No. I joined the Performing Rights Society. Nothing. Nothing. Nothing. I don't know which is the company that takes my royalties. For Stanley Beckford, otherwise the Starlights -- right? Believe in me, I don't know. One of the most thing: because of the bad treatment of having run around with G.G. Records, I have to change from him. Then I turned to Barrington Jeffrey. I started to sing for Barrington Jeffrey when I sing the song "Leave my Kisiloo."

DR: I have to ask you, What's a kisiloo?

Beckford (laughing): OK. I don't believe that "kisiloo" should be really published!

DR: It's a racist term?

Beckford: Seen, seen! Well, no. Not really a racist terms. But kisiloo is virgin woman. So if you troubling her kisiloo --Virginia -- that means you troubling I. Seen? So I don't want to put it on the air to say it...

DR: What it really means.

Beckford: OK. You understand? Because in the media people must know what to talk -- how to say it -- and put it together. OK, seen? For Barrington Jeffrey I sing the song, "Kisiloo," that's where me get lost. Nothing.

DR: There's a whole LP.

Beckford: Yeah.

DR: With great songs, like "Africa," "Brown girl" -- one of my favourite songs...

Beckford (singing with Dr Rhythm): "Brown Girl, you're sweet like a sugar!"

(laughter)

Beckford: In Jamaica, always survive. I sing at the Turnover Hotel and the Hilton Hotel. Those three days of the week. And then from there I have to been in the studio. Sometime when you go to the studio there's nothing and you got to go home.

DR: Do you take a band with you, or have a pick-up band in the studio?

Beckford: No, I don't have a band. The studio have a band, seen? -- That's the studio band. Because of that then you find it's very hard. But I must tell you the truth. I'm not gonna show off and big up myself, but in 1980 I won the Festival Song for Jamaica. 1986 I won, 19- what's it?

DR: It's like being King of Carnival.

Beckford: Yeah. Anyway I won four times, one second, and one third. The year 2000 I am the champion again.

DR: That dance hall song you did last?

Beckford: Yeah, just last year. That's last year. I am the champion for the year 2000.

DR: What's the title of the song?

Beckford: "Jamaica Island Taboo." Go like this (sings): "Brrrrung-dung-bing di-ding bung-di-bong... brrring... Wohhh, for me island taboo... Jamaica island taboo. Come one come all let's celebrate. Wave your hand I'll set your foot straight. Let's show the world we are number one, for thirty-eight days we shortly call on, and when you come to the doctor... number one."

You understand? I won; this is my gold medal. And I have three trophies from the Jamaica Cultural Development and the government of Jamaica presented me, you know.

So I been in Brazil more than seven times.

DR: Really?

Beckford: I've been in Rio, the Amazon, Brasilia, Sao Paola, Salvador. What you call this again?

DR: Bahia.

Beckford: Bahia. But I do believe that if I could get some of the money that people steal me, I'd be better off. But of course I haven't get it.

(At this point the manager showed up with well-wishers so we had to end the interview.)