SEPTETO NACIONAL LIVE AT YOSHI'S SF 25 NOVEMBER 2009
We were slurping ramen in Japantown when Septeto Nacional came on the evening news. Channel 7 despatched their token hispanic Don Sanchez to find out what the buzz was about. Cuban band's first US tour in 75 years: A sign of changing times? We had our tickets to the sold-out show and got there early to get seats, only to be thwarted by Yoshi's reservation system, but we made the most of it. There was no deejay we could hear, though something like jazz bubbled up dimly, while the muzak in the bathroom sounded like a hipster's funeral. But we had the company of Lulu & her spouse to keep us entertained. The Duchess is not keen on the shrill out-of-tune vocals identified with Cuba and to my disappointment their aged singer had lost his voice at least two decades ago and no one had bothered to tell him. Not for nothing is he nicknamed "El Raspa." However, the band was on fire. They loved being in San Francisco, which is a true Latin-American metropolis; it's their first US tour since they won a gold medal at the 1933 Chicago World's Fair and they were ready to claim gold again. They kicked off with their award-winner "Echale Salsita" and it was sublime. Augustin Garcia on trumpet got to show off with a burst of "Manicero" but mainly they stuck to their own repertoire, like "Cuatro palomas," & "Consuelate como you," each song counted in by the brilliant tres player, Enrique Collazo. The star however was "El Matador" the bongocero, Francisco Oropeza-Fernandez. They were dressed in brown uniforms like mechanics' coveralls, with a little logo that looked like it said JIFFYLUBE: JOSE, but no doubt had the band's name. Each sported a new hat in varying styles: white snap brim for the vocalist, jaunty straw porkpie for the coro, &c. The bongo player looked most like a mechanic as he engineered the sound from the back seat. Claves and maracas were miked clearly. They didn't try to speak English between songs but kept up a banter in speedy Spanish. The only bad part was the Japanese subway sardine factor: there was no place to stand up and shake let alone dance. Soon there wont be any place left to go in SF! I refuse to go to Stern Grove because of the obnoxious crowd scene, I wont go to the Fillmore because of the sound, and now Yoshi's is pissing me off with their blatant greed. They pack the house, even putting tables in the aisles so no one can move, there's no dancefloor, and they charge a $10 surcharge if you want to book a seat, so if you can't afford that you end up in the back corner or in the attic miles from the stage. Despite that it was a great show and if you get a chance, check out this band on their triumphant first US tour in 75 years.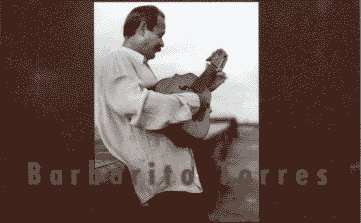 BARBARITO TORRES IN CONCERT
at Slim's, San Francisco, 12 May 1999
Imagine you just put on your favourite music, imbibed your favourite mild intoxicant, lit some candles and got into a warm bath (remembering first to unplug the phone). You lie there thinking, "What could be better?" Well, for one thing you could have your favorite music performed live -- assuming you have a big enough bathroom. Thus it was on 12th of May when Barbarito Torres and his group took the stage at Slim's at 8:15 p.m. The clavé player clocked the beat and the musical machine clicked into gear, seamlessly, as if you had just pressed "play." I closed my eyes and let the musical bath soak my neurons. Within the span of eight bars I woke up, thinking, "Who can I call?" I looked around at the sparse crowd in attendance, many of them I knew as the cognoscenti of local radio who got in free. What a shame: Slim's puts on the best Latin show possible in the most intimate setting -- table seating, great acoustics, etc -- and there's no one there to appreciate it. In fact they'll probably hesitate to book this act again, but someone else will add the magic screamer to the flyers: "As heard on the Buena Vista Social Club" and pack the house with Berber-jewellery-wearing, public-television-subscribing, BMW-driving Berkeley Hills types.
Now I have nothing against the lifestyle of those folks, but I frown on the fact they own exactly one Cuban CD: THE BUENA VISTA SOCIAL CLUB. They go to the record store and look under "Ry Cooder" in the rock section to see if there are any more Buena Vista albums. If they decide to take a chance on Ry's collaboration with Ali Farka Touré instead, their musical horizon shifts 4000 miles east. It's all just "global" to their ears, and they couldn't distinguish Guaguanco from Ouagadougou. If you were to tell them that off the top of your head you could name five albums that were similar in style to THE BUENA VISTA SOCIAL CLUB but musically superior, they would think you were mad. -- It couldn't be that good or they would have heard it. The fact that this CD out-sold all the other Latin CDs of 1998 combined is further proof. If you had the vision, you could go to Havana and round up a bunch of musicians and claim they were the janitorial staff from the fabled club and make a killing: "They swept the floors, they washed the windows, they were outside looking in, but now they've come to play and they're inside looking out, etc." Hype will sell anything. Especially to pseudo-hip people.
But I digress. Barbarito Torres, for sure played on the first Buena Vista album. He's not as famous as Compay Segundo or Eliades Ochoa, but you can see his laoud in a photo on the inside back cover of the Buena Vista booklet and hear him name-checked when he lights into a stinging solo on the second cut. If you can pay attention during that awful busy movie, you see him visiting his luthier. The laoud (it's related to the lute) is a big mandolin, and sounds like a tres only it has twelve strings instead of six. The value of Ry Cooder as a catalyst has meant big bucks for World Circuit to put out some more really top-notch Cuban music, and a higher profile for the old-timers who finally get the recognition they deserve and can now do solo tours and albums like Barbarito Torres' phenomenally-great HAVANA CAFE, just released domestically on Atlantic.
Though the lute is an unusual instrument in Cuba, it fits in where the tres part often goes, Torres's lute playing is beyond comparison. As testament to that, almost any Cuban album of note from the last twenty years that has lute on it, features the playing of Torres. Sure, he has some shtick, like playing behind his back like Jimi Hendrix, but basically this is about the music and his septet, featuring family members and friends is a finely-tuned machine.
On stage they played cuts from the album and mixed in classics from the repertoire of Santiagueran Son. On "Charandon" you could hear the musical bridge to Jamaican Mento with its loping beat. Then they tackled Compay Segundo's classic composition, "Mentiroso." At the back of the stage stood a nervous-looking bald, skinny white guy fiddling with the valves on his trumpet. I decided he was either playing "air trumpet" or his mike was not on, but knowing the generally superb engineering at Slim's, I assumed he was having a touch of stage fright. It was Benny Lynch, a fusion jazz musician who has played with Eddie Palmieri and was brought in to make a musical bridge between Cuba and America, but the band seemed to be shutting him out, or perhaps they were not following a playlist. By the third number he began to feel comfortable and added some classic-sounding "Lonely Bull" fills during the outro.
The old chestnut, "El Manisero" came next and the band swung it for 32 bars then geared up for a scorching jam and Benny showed us his chops. I collect versions of this tune (or did until I had filled three cassettes), but I have to say this was pretty definitive! When they went into my current favorite Cuban song, "Lagrimas Negras," sung by one of the two lady percussionists, I could feel tears rolling down my cheeks (though I couldn't tell what colour they were).
At this point they brought out octogenarian vocalist Pio Leyva. He was wearing two-tone bucks and a red beret, very jaunty and full of shtick. The audience was too blissed-out to be roused up into a call-and-response number and you could see Leyva thinking to himself "I'm dying up here!" He sang the head of an Italian aria. People applauded, so then he sang the opening bars of "Guantanamera" and also got a response: he stopped and took a bow. It was a fake-out, like the Bonzo Dog version of "I left my heart (in San Francisco)" and everyone was laughing. Then he went into "Corazon del Chivo" a classic Son de Oriente, and didn't stop. In fact, when the band stopped he kept going, there was a few moments that sounded like Dub as the drummer and guitarist recovered the beat and then they wound it up tight a second time. You could tell it was not rehearsed and as Lynch began to come forward more and more and add jazz trumpet riffs, the band, in particular Torres and his lightning laoud playing, responded with equally impressive riffing. I don't remember if Leyva sang his most famous song, and his own hit, "Maracaibo," but he must have. I was floating in my hot tub of bliss again.
Leyva went off and we got to hear the tres player, who was also a fine vocalist, sing "El cangrejo no tiene na'." More musical goofing followed as the band played around with some dissonant chords and for a second I thought they were going to do "Turning Japanese," but as it turned out they performed a number which was called "El Chino," or "The Chinese."
Next to be featured was the strikingly handsome bassist who sang a bolero in the style of Beny Moré. It was that good, and the arrangement and harmony were flawless. Torres' band were fully inside the sound, filling Slim's with their perfectly articulated parts so that the audience was also inside the music. It was an incredible experience. I began to realize that Torres' own band are far superior to the Buena Vista Social Club. Partly the problem is in having too many icons in the BV band. It's great that these people are finally getting recognition in their 80s, but it was sufficient to have Pio Leyva (who was featured on the Afro-Cuban All Stars album) as an example of a legend, and let the band show their stuff. Torres' group is not a package of geriatric former stars creating ersatz mambo and rumba, but a vital organic whole, keeping the musical heritage of the beleaguered island vital.
The second set was just as magical as the first and it was an evening I didn't want to end. Things wound down with a ballad and some of the more vocal audience members starting yelling for "El Cuarto de Tula," a song made famous by Cuarteto Patria. I didn't think they'd do two ballads in a row but the band looked at one another, checked the key and proceded to tear it up. A few people danced, but most of us were too astounded by the musicianship and engrossed in watching the band. My friend Lulu, who had started giving a standing ovation at the end of each song, began yelling for "Guantanamera!" I tried to rein her in. "Come on, I remonstrated, we don't want to hear that old chestnut," but it was that kind of night. Pio Leyva came up to the mike and with a twinkle launched into it for real. I have never heard this song performed live and I doubt if anyone else could have taken such a corny number and turned it so flawlessly from a ballad into a rave-up. In fact it was their very ability to throw it all down on the outros of the ballads that made this band so appealing. From a slow opening the temperature rose gradually as the song went into jam mode. My favorite example of this on the album is the brilliant "Pensando en ti." The evening ended with the humorous "Chan Chan," a song about a train, complete with Cab-Calloway-like mouth percussion and lots of percussion solos. Needless to add I went out the next morning and bought a copy of the album and have been playing it non-stop ever since.