Legends in San Francisco: Staff Benda Bilili left to right: Coco Ngambali, Roger Landu, Ricky Likabu, Montana Kinunu Ntunu (drums), Theo Nsituvuidi, Paulin "Cavalier" Kiara-Maigi (bass), Djunana Tanga-Suele

STAFF BENDA BILILI AT SLIM'S
San Francisco, 25 October 2012
Superlatives don't begin to approach how phenomenal this show was. I think SBB may be the hottest new band touring out of Africa at the moment. Yes, some of the oldies still make the circuit but as I said to IJ, Salif Keita may be great live but having seen him five or six times, he was only on fire once. Yes, IJ replied, and for every Salif Keita or Youssou Ndour there are 50 people who are equally incredible performers who don't get to tour. For 90 minutes Staff Benda Bilili tore up the stage at Slim's, a perfect venue for dancing or lounging at the back by the bar, with a great sound mix so you could hear it all perfectly from anywhere in the house.
The front line of the band is five polio victims: four of them wheelchair-bound, one on crutches. The upright members of the band are the backline: bassist, drummer and young virtuoso Roger on satonge. ALL of the instruments are home-made, even the drumkit, which looks like a packing crate with a skin head for the bass drum. Drummer Montana Kinunu Ntunu played on top of the crate; he also had three tomtoms that were hollowed-out logs of different sizes, covered in skin, mounted to the crate with T-brackets, and a couple of different sized cans for cymbal crashes. He also played bull-roarer. The bassist, "Cavalier," was inspired, sounding like 3/5ths Bootsy Collins and 3/5ths Leroy Sibbles with the other 3/5ths his own invention. But the main sound of the band is comes from two guitars and Roger's eerie voodoo-like wailing one-stringed satonge. Loud and live really upped the ante from their two fantastic CDs.
Imagine for a moment some celestial mixing board: one channel has "Liwa ya Wech"-era Franco -- haunting acoustic guitar with two-fingered leads and heartfelt if raggedy vocals. In the other channel is Jimi Hendrix playing "All along the Watchtower" with his tube-screamer on "stun." That's the effect of Staff Benda Bilili live. IJ asked me what effects they were using. It's a contact mike in a tin can, I told him, and those guitars are homemade. Look, the "holes" are painted on! They are solid body; they only look like commercially made guitars because the machine heads are "real," but the necks and bodies are hand-carved.
Seeing SBB live was a revelation because you could distinguish the different vocalists and their styles, also the different guitarists which you can hear on the disc, are now associated with the players. Seeing what each member contributed was important and they all bring equal parts to the group. If you'd said it was a soukous show, I probably wouldn't have gone out. It's folk music but it has been updated to include soukous in its grasp, obviously these guys grew up listening to Franco, but I heard Viva la Muzika in their harmonies, even some lyrics seemed to borrow from popular soukous hits. And they performed a wonderful oldie "Djambula," which I recall from 30 years or more ago, but can't recall who did it originally, though I am thinking Cameroun more than Congo. It's memorable because of the "masked" voice and haunted harmony.
SBB turned it out and the crowd was ecstatic. Their handicap is barely noticeable on stage: I was even reminded of the great shows in the first wave of soukous when Loketo & Arlus Mabele came to town and had three dancers who jumped and spun in unison. The SBB front line were limited to waving their arms and moving their upper bodies, until Djunana, the clown of the group, jumped out of his wheelchair to boogie on the stage. And when they did their James Brown riff, "Get on down, get on down, Sex machine!" in "Je t'aime," you realize how a handicap can destroy your sex life. Otherwise they were just a regular bunch of talented blokes who had got a lucky break and were enjoying the accolades they deserved.
People are always asking me when I going to write my memoirs. I think they are expecting me to write about buying gold in the Congo, but that's not very interesting other than the fact that going to Zaire in 1983 led me to discover my "soul music," and it has played a big part in my emotional well-being ever since. My brain needs Congolese music. Without it I'd probably be listening to Joy Division, Throbbing Gristle and Velvet Underground and clinically depressed! But a part of my biography that I want to bring up here is the fact that in the 1960s I was Assistant Scout Master to a troop of spastic boy scouts. These lads had cerebral palsy, which is different from polio, but were keen to be accepted as normal, even though they were mostly wheelchair-bound. We had to bend the rules to get them their merit badges, like the 15-mile hike -- it's hard to roll a wheelchair along a dirt road in the rain, but we had memorable times camping and teaching them survival skills. The band members have had a similar struggle to survive, and congregated at the zoo in Kinshasa, probably a safe place to be at night, unless the big cats get out. The animateur of the band made wild animal sounds at once point & I wondered if that's where he got them. Call & response with a leopard! But the Congolese landscape is never quiet and in the bush at night there's the terrifying shriek of the tree hyrax, sounding like it's about to be murdered. It's very unnerving.
For me the standout at the show was Coco Ngambali, singer and lead guitarist, though I agree with the critical consensus that teenager Roger Landu is a genius and, as an able-bodied member of the band, the one most likely to go off on his own, or even disappear because he seems young and impressionable and the world tour will undoubtedly go to his head. But hopefully he will escape the Jeremy Spencer fate.
The documentary film about them "Benda Bilili (Look Beyond Appearances)" by Renaud Barret & Florent de la Tulaye has opened in limited release in the USA.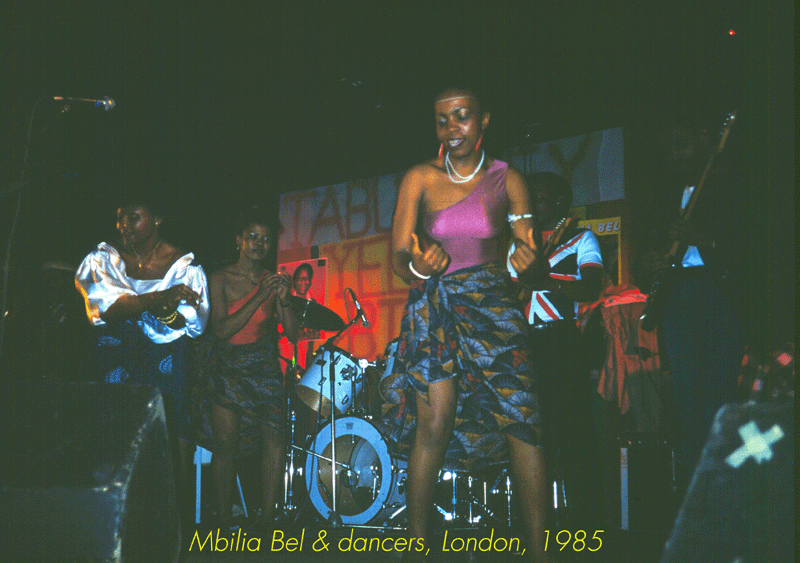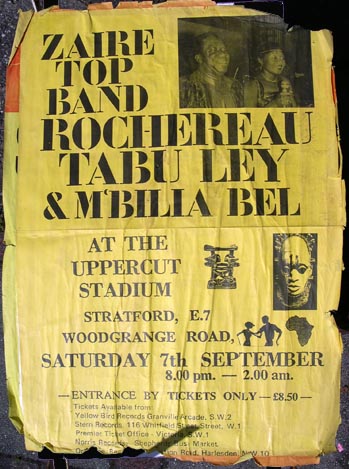 ROCHEREAU & MBILIA BEL IN CONCERT
Uppercut Stadium, Stratford, London, 7 Sept 85
Rochereau and his group L'Afrisa peaked in the early eighties. Partly their success was due to the passionate involvement of Mbilia Bel, first as a dancer, then a singer who ruled the African airwaves in the early eighties with her soaring voice. Trekking through Kenya, Uganda and Zaire I'd hear her voice coming from boomboxes and buy the cassette only to find I'd bought the same tape three times over (hearing different songs on it). The horns were light, the guitar sprightlier than OK Jazz and they made great sparring partners for Franco, the acknowledged king of African pop. In 1985 I was in London and saw a poster advertising a show and quickly talked a group of friends into going. We got there as the doors opened at 8, figuring on getting a table and having a few beers, which we did. The sound system blared African pop as the place slowly filled up with London's expatriate African community dressed for a night out. By ten o'clock there was no sign of the band and we also noticed there was no equipment on the small stage, so probably they hadn't even done a sound check. Maybe they were en route. At 11 p.m. the management came on and thanked everyone for their patience and announced an added attraction, an African fashion show. Soon a series of African women strolled out onto the stage and struck poses. They looked like they had just been pulled out of the audience at random. By midnight people were starting to get irritated, despite the frequent mention that clubs in Kinshasa only get going after midnight and, since it's not safe to walk home in the dark, people dance till dawn. The promoter reappeared. They are here, he said, it won't be long now... Half an hour later he came out and said, Ladies and Gentlemen, please welcome Tabu Ley Rochereau and Mbilia Bel. Everyone got up and rushed to the front as the duo walked out, smiling, hand in hand and took a bow. Then they walked off again. Still no music. Were we being had, and at the stiff price of 8 pounds fifty pee? After all the poster just said they would appear, it didn't say they were going to sing... At one o'clock the promoter reappeared to say there was a technical problem as the rental company had screwed up and double-booked the equipment so they didn't have the amplifiers, but they were on the way at that moment. At two o'clock the bar closed but they had long since run out of beer and people were starting to fall asleep, those still awake were cranky and arguing loudly; the deejay had run out of things to play.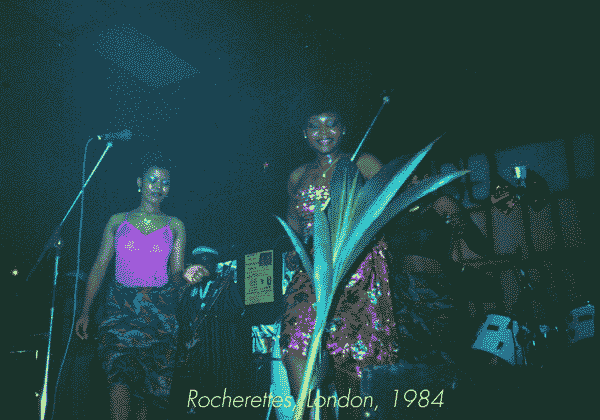 About 2:30 a couple of roadies appeared and began setting up equipment. Everyone applauded and eagerly watched as the two blokes hooked up cables to mikes and plugged in electrical cords.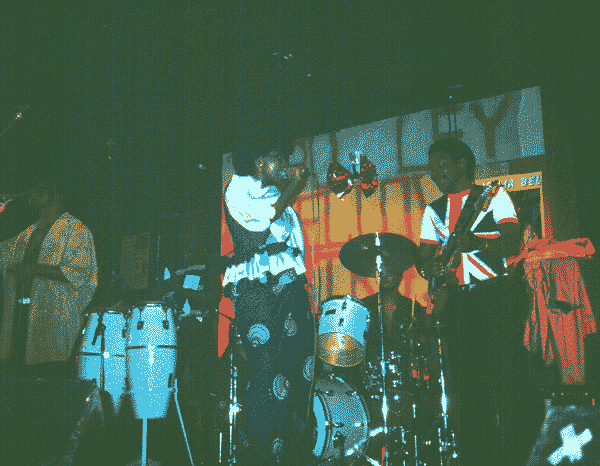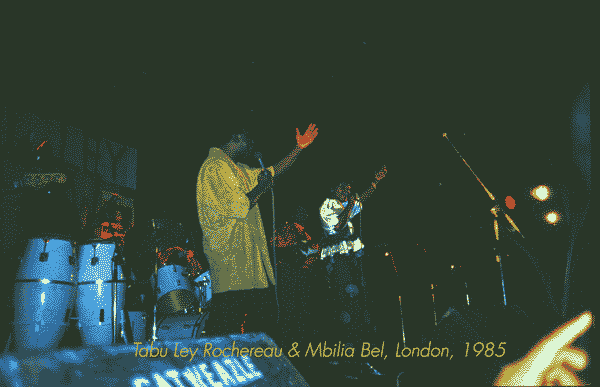 It must have been about 3 a.m. when the band came on. We were quite energized and enjoyed the performance, but staggering out of there at 4:30 a.m. into the cold North London night we all felt sick. We still had to drive 50 miles clear across the city to get to bed. It was raining and we couldn't see out of the windows of the old car. I subsequently saw Rochereau and Bel separately in concerts in Oakland and Emeryville, after their famous split, but at least I could say I saw them back in the day...
LOKETO IN CONCERT
At the KENNEL CLUB, San Francisco, 8 Sept 1989
During the seventies, when Western pop began its tailspin to its current place as background noise for television dancers, political upheavals sent many Africans to the relative security of Europe. French pop music, the lowest form of the art then practiced (next to Egyptian), was quietly supplanted in the discos and dancehalls of Paris by pop music from former colonies in the Antilles, north and central Africa.
Kanda Bongo Man from Zaire made his mark atop the charts. Some of this energy was evident at his show at the Kennel Club two months ago, but many in the crowd felt that Dally Kimoko, on lead guitar, lacked the bite of the originator of KBM's sharp sound, Diblo Dibala.
When Diblo finally took the stage on Friday night with his own band, Loketo, it seemed at first as though it was a mistake to put stellar sidemen in the spotlight. Bad leads sputtered and shorted out, Diblo pounded on his buzzing Fender amp. A new cable arrived followed by Arlus Mabele and two male dancers who hit the stage dancing and singing. Although the band had driven up from San Diego (and were about to drive back to L.A. at the start of a grueling four week tour of North America), they came alive by the third number, "Amour et Souvenir," a song from their new album SUPER SOUKOUS on the Shanachie label about remembering the good times in love. Far from a ballad, it has the same martial drumming and speedy flat-picked guitar work characteristic of the liveliest soukous. And it was during this number that two female dancers came out for the first time (each brief appearance marked by a different and dazzling costume). The band's name, Loketo, is Lingala for "move your hips," and while the audience complied, many were more intent on watching the antics on stage. Arlus Mabele, the lead singer, used his expressive face instead of English. His huge smile beamed further and further till it became a Greek tragedian's mask, one second joyful, the next pained. His accompanying sapeurs -- the dandies -- executed a mock duel, with peacock strut, flexed neck and brandished fist, staggering off balance till they fell down. Pierre Belkos, the more dandified of the two (and like Mabele a singer with solo albums of his own), performed a soccer step mime, then leaped up on the drum kit and swung one leg over the cymbal, barely missing the drummer's wildly flailing sticks.
Wisely, the pace cooled down from the breakneck long enough for Diblo to come to the fore and sing a couple of numbers in his rough voice. The band (who hail from Zaire, Togo, Congo, Martinique and Mozambique) were polished, if a little stuck in a groove from time to time, and Diblo's solos were clear and distinct. Things flagged about halfway through the almost two hour show, but the return of the female dancers and the inevitable crowd who got on stage to shake their hips restored the momentum.
The soukous fans at the Omni last month were astounded by Mbilia Bel's buttock-juggling, and ultimately the most memorable part of Kanda Bongo Man's show was his dancers. Although their talents are less familiar, the tight musicanship of Loketo was more impressive than Kanda Bongo Man's band. The language barrier still prevents the monoglot American audience from getting into a lot of African music but, with the dearth of alternatives, we'll all surely be dancing to the soukous sound in the near future and maybe we'll get to see and hear other great Zairean artists such as Papa Wemba, Four Stars or Sam Mangwana on tour.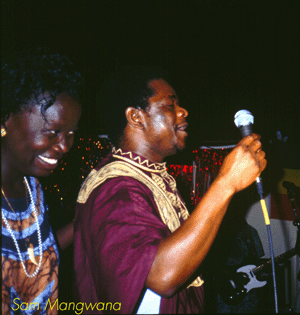 SAM MANGWANA & FOUR STARS IN CONCERT
at Manyatta Club, Oakland, 28 October 1990
An African concert starting at 7:30 p.m. is unheard-of, but by 8 p.m. Sunday night there were definite signs of life and the indication that, indeed, Sam Mangwana was going to play at Manyatta. This seems all the more incredible since for several years, big name African artists have been touring America and skipping the Bay Area, going from L.A. to Seattle or Vancouver. (Notoriously Bill Graham Presents, who control the local club scene, won't back anything that's not a guaranteed sell-out.) Without too much preamble the show got going, and the lights came up on a group of musicians known formerly as the African All Stars and now as Four Stars. They played a couple of complex, technically brilliant though soulless set pieces as a warm up. Not soukous, not funk, not jazz, just flashy noodling. But then Nyboma Mwan Dido, sweet-voiced lead singer of the Four Stars, came onstage and launched into "Ba Relations" from their album DANCE. Jean Papy Ramazani joined him on harmony and the band began to cook. A few "à gauche -- à droit"s and everyone was jumping along with the singers. It was everything I had hoped from the Four Stars concert last year at the Omni and more. Maybe being top of the bill hadn't suited them well but here in the more intimate festive setting of the Manyatta club they felt at home. At that last gig, Bopol Mansiamina had been missing and the sound mix was awful. Here, apart from being too loud, the mix was clear. The angelic voice of Nyboma soared and Syran Mbenza began to hammer out his stinging riffs on lead guitar, his face implacable, even distant, as he stared off into space as if waiting for a bus. Though Bopol Mansiamina remained in the background, on their albums he plays bass and rhythm guitar and his compositional skills have provided the band with some great material. They launched into his "Yo Mukarame," a speedy funk-tinged number, almost a novelty on the records with Parisian accordion (provided by the solid Camile Abanda on synthesizers), that came across live as a hectic dance number. Not having a conga player or percussionist meant a lot of the momentum devolved on the legendary Ringo Moya on drums who laid down a solid groove for each number on his battery. Without dropping a beat the group moved into Bopol's "Marie Jeanne," with more delicate vocals. Touring without a horn section left the bridge somewhat sparse, but Miguel Yamba on bass and Bopol's chunking rhythm left Syran breathing space for some pyrotechnic high register soloing.
This band has been playing so well they were able to seam together great medleys of some of their hits, so after the first of several reprises of "Africa Oyé" we were treated to a Kass Kass medley from Syran's MISTER OH album.
I glimpsed Mangwana's trademark dashiki by the back door so knew he was in the club but it was clear the crowd was thrilled with the Four Stars' performance. The packed house was grooving to the soukous beat and, having whipped everyone into a sweaty frenzy they announced a brief break. Xmas lights sparkled in the mirrors and the Mamba ale flowed as everyone tried to catch their breath.
The deejay made the crass error of putting on the album with some of the songs we'd just heard, but after twenty minutes or so the band returned with Mangwana who sang "Kabi Bi" and "Aladji" from his last real album. I say real album because he has subsequently released an album entitled MEGAMIX, a disco medley reworking of eleven songs over an irritating bomp-bomp drum machine beat. In fact I was afraid that the disco fever would have polluted his creativity and we would get a lifeless gum-chewing club mix of his classics without the space for the guitarists to stretch out as on the MEGAMIX disc.
When I first got into African music in 1982 I began to realize that one of its golden ages had just passed, and the increasing trend towards the Parisian disco sound left me with the sinking feeling I'd missed the boat. For it was in 1975 that Mangwana quit Franco's OK Jazz at the height of their success and formed an experimental group in Abidjan with Dizzy Mandjeku on guitar & another vocalist Theo Blaise Kounkou. Originally called Amida, they aimed to modernize Zairean folklore, but their experiments got nowhere.
Nyboma was interested in Antillean biguine and was also experimenting with its incorporation into Soukous, and he joined Mangwana on a 1976 West African tour. Thus the African All Stars were created, with Lokassa ya Mbongo and Bopol Mansiamina on guitars, later joined by Syran Mbenza, they blended biguine and highlife, creating the first true Afrobeat. The beat is four square with a prominent bass drum. The new sound that was chiefly a mixture of Soukous and Zouk was prophetic for popular African and Antillean music but at the time was so revolutionary that Mangwana himself wasn't sure it worked, especially when he was asked to play cover versions of Zaiko songs at an official banquet. But then in 1978 his song "Georgette Eckins" was covered by Franco and became a huge hit. The sound even influenced Tabu Ley who recorded "Sarah" in the new style. On his travels Mangwana added Kiswahili and English to his vocabulary, and in Kenya incorporated the Luo musical style in his repertoire.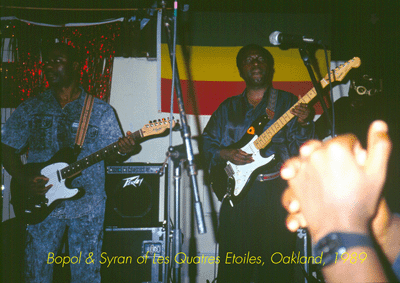 And here in Oakland, fifteen years later the original African All Stars were reunited at the height of their powers. I couldn't believe my luck. Mangwana has the most mature voice in popular Zairean music, a great warmth and control that is reminiscent at times of Beny More; he also has a slight nasal quality to his voice making it distinctive. He also has the unique pedigree of having sung with both Rochereau and Franco, the two giants of modern Zairean music. As a teenager, he was spotted by Tabu Ley Rochereau and drafted into African Fiesta for three years in 1963. He acquired Spanish when Rochereau made him learn the entire repertoire of Orchestre Aragon, the Cuban charanga orchestra. The Cuban influence on Zairean music was very profound in the '60s, and when Johnny Pacheco visited Africa, Mangwana was photographed kneeling at his feet, receiving a benediction! Zairean rumba is true Pan-African music because it incorporates Caribbean music back into African, blending Cuban, Antillean and Zairean music.
In 1968, Mangwana left Afrisa for a smaller combo where he was more than a backing singer, taking with him Rochereau's arranger, Dizzy Manjeku on guitar. Orchestre Festival de Maquisards (The Warriors) mainly came from Shaba province (Katanga) in South-Eastern Zaire. Zaire was in turmoil in the early '60s after the assassination of Patrice Lumumba and the seizure of power by CIA-backed Mobutu Sese Seko, who imposed a military dictatorship in 1965. Mobutu jailed several of the Maquisards as suspected supporters of the Katanga secessionists. Another factor in the attrition of the band was the availability of equipment, and of course, paying gigs in the highly competitive Kinshasa club scene where at any time there are up to 600 active bands looking for a club date. Musicians are considered low caste and the average family of 6 lives on $80 a month.
By 1970 the two main bands were those of the rivals Rochereau and Franco and they were able to pick and choose among the talented newcomers to the capital. Three of the Maquisards' vocalists, Josky Kiambukuta, Ntesa Dalienst & Kiesse Diambu were drafted into Franco's All Powerful OK Jazz. Josky became one of only two members of this huge ensemble to get co-billing with Franco on a sleeve of one of the group's more than 100 albums. So, after several hit singles and three albums, the Warriors fell apart. After another brief stint with Rochereau in 1969, Mangwana defected to the enemy camp and began a fruitful three year period with Franco. This was looked on as treachery by supporters of the old-style rumba groups, of which Rochereau was the main proponent. Mangwana had to have a police escort and bodyguard to keep the angry fans away from him. Nevertheless some of the finest Zairean music was recorded in this period, notably hits like "Azda," a paean to a car dealership in Kinshasa.
In 1979 the "pigeon voyageur," as Mangwana was dubbed, was among the first Zairean artists to move to Paris. In 1982 Mangwana returned to Zaire and joined Franco on stage. The public was ecstatic and Franco gave Sam a new car as a token of appreciation. He recorded ODONGO, which included the smash pan-African hit, "Cooperation," with Franco. In 1988 Mangwana and Franco recorded FOR EVER and LE RETOUR DE PARRAIN CHEZ RHYTHMES ET MUSIQUES. This was more of a gesture than a great musical statement since Franco was dying, but fortunately for us he had created such a huge machine around his sound that it continued without him.
In tribute to Franco, Mangwana sang the moving ballad "Kabaselle in Memoriam," which Franco wrote on the death of Le Grand Kallé, Joseph Kabaselle, in 1982. Adding Franco's name -- Luambo Makiadi -- to the song made it more poignant. But the crowd were howling for the hits and Mangwana obliged them with "Mado," written by Celi Bitshou, which is a classic soukous number, starting with a slow rumba and going into a seben where the tempo doubles. The pulse was throbbing and Syran was shredding handfuls of chords in an incredible display of his talent. Ecstatic fans rushed the stage and pasted money to the foreheads of the musicians. Others grabbed mikes and sang along on the chorus.
To cool off a bit, Mangwana next slipped into the reggae number "Soweto" from ALADJI. After "Vaya Soweto," we were exhorted to "vaya" to different African countries -- and there are a lot when you start counting -- and of course, "vaya Oakland." More money was pasted so fans could get to "vaya Ethiopia," "Cameroun" and "Sierra Leone." If we'd started "vaya-ing to Scotland" or other European countries we would have been there all night. The second set ended with another scorcher, "Matinda," from 1979, a classic of the smouldering Antillean style.
Zaireans are used to all-night gigs. After dark it's not too safe to walk the streets so when the bars close, clubs are packed till dawn. Though it was only 11:30 (daylight savings time) we were fried, and collapsed in our respective spots, while the band took another break. The disco got irritatingly loud when we would have loved a little quiet to compose ourselves or just chat. The balalaika-playing frogs on the curtains seemed to pulse preternaturally.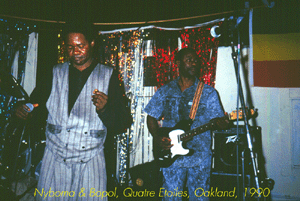 The third set began with Jean-Papy Ramazani in fine voice featured on some Kass Kass numbers. Then proceedings bogged down during the introduction of the band. Someone who didn't speak English too well was pulled out of the audience to translate. Most of us could figure out the elementary French and who was "guitariste" or "chanteur." But the intros were begun a second time and the dancers began to thin out. But when Bopol performed "Helena," the energy seemed to return to the dancers. Again the tight combo segued into some familiar terrain ripping through medleys. Syran still stood implacable, as if phoning in his lightning fast solos. On the whole the Four Stars did better on their own material though they had backed Mangwana before, but Mangwana finally returned to the stage and tried to reinvigorate the crowd with more "Oakland oyé"s. The highlight of the evening was his fabulous version of "I Love You Maria Tebbo," a classic rumba, originally recorded by Groupe d'Oliveira. It was my doing, as I shrieked myself hoarse for the song and got others around me to join in the call. It was performed now with a rolling Antillean bass lilt. When Syran kicked into the bridge he finally smiled, perhaps because the set was almost over and he could hang up his ax, but it was a small epiphany. Sam still hadn't scratched several of his hits but the crowd wanted to hear "Mado" again so he obliged. The final encore was of "Georgette Eckins," his biggest hit. I left confident that no band anywhere in America had achieved such transcendence that night.
KANDA BONGO MAN IN CONCERT
at Slim's, San Francisco, Thursday, May 4 1995
Slim's nightclub in San Francisco was only half full due to a bomb scare, but as I told the ticket taker, if I'm going to be blown up, I want to be dancing to soukous when it happens. This was the third or fourth time I'd seen Kanda Bongo Man, the diminutive star from Zaire who has toured the world for over a decade. His original guitarist, Diblo Dibala, quit the group several years ago, taking his trademark stinging guitar sound to found Loketo, another of the most popular Zairean dance bands. On his last visit I brought Kanda to the radio station for an interview. When I arrived at the motel where he was staying he called out to me to come into his room and emerged from the bathroom, sans culottes. It was quite amusing to see him snappily dressed from the waist up, but without his pants -- but he soon found them.
By the mid-nineteen-nineties soukous became depressingly rote. Once the raw talents from Kinshasa made the trip to Paris they seemed to get caught up in their designer togs and the music became all-too-familiar as a bunch of blokes in leather pants called Didier Malherbe added synthesizer washes to everything, replaced drummers with drum machines, and multi-tracked imitations of Diblo's ringing riffs. The miasma of soukous in its last incarnation turned me off, one of its most diehard fans, after a decade of enjoying the growing popularity of this musical form. For a while my biggest ambition was to see Papa Wemba perform, but when he finally did, as opening act for Peter Gabriel at the Oakland Coliseum, it was so depressing I left before it was over, blaming the managers who try to make a crossover hit out of a fiercely original artist and lose sight of his originality in the process. When Wemba returned in triumph to tout his "crossover" album on the RealWorld label and appeared at the Fillmore doing a feeble version of Otis Redding's "Fa Fa Fa Fa Fa Fa Fa Fa (Sad Song)," I was horrified.
A few years ago I wrote rather grumpily that we were getting tired of Kanda's dance craze, the "Kwassa Kwassa," and he really needed to come up with a new one. Kanda is not only a fine singer but a great dancer as well and he has no end of new twists and turns up his trouser legs, when he puts them on. From the opening notes of the band's rendition of Joseph Kabaselle's classic late '60s "Para Fifi" I knew this concert was going to be different. Before the Man came out, his current band featuring the great Shaba Kahamba on bass (a talented artist with a brilliant album of his own, and like Kanda, a former member of the sublime Orchestre Bella Bella) warmed things up. Instead of the slickly choreographed stage show of the previous KBM tours, here was an event more akin to what the folks in Kinshasa might get: a stripped down band, two guitars, drums and a mercifully inaudible keyboard (supplying the part that ought to be filled by a sax player), and superb harmony vocals. Instead of trotting out the many hits from his "kwassa kwassa" albums with surrogate Dibala riffs, KBM presented a broad variety of songs that had the scratchy feel of his roots: the Bella Bella sound of the mid-seventies. The principal founders of that sound, the Soki brothers died two years ago, a continent and a day apart, and since then there has been an increasing interest in the simpler era of Zairean music when songs were recorded on 45s with an A side and a B side, the slower rumba of the first part giving way to the more exciting seben on part B when the jams were kicked out.
This was such a great show that when Kanda called for four men and four women volunteers to come on stage and do the "Kwassa Kwassa" I was straight up there.