CONGO CLASSICS



ROCK-A-MAMBO & L'AFRICAN JAZZ
SOUVENIRS FROM ESENGO 1957-61 (Planet Ilunga 2XLP)

The legendary Congolese studio band known as Orchestre Rock-a-Mambo (though they played rumbas, cha chas and merengues, I don't know if they ever recorded a mambo) finally gets a reissue. Gary Stewart explains the origin of the name in his book Rumba on the River: it is a pun on the Ki-Kongo word rocamambu, one who looks for trouble. It comes from an African folk tale about a prodigal son who is considered a good-for-nothing, leaves home and works hard to return a success. For his second vinyl reissue, Bart of Planet Ilunga has found some truly rare Rock-a-Mambo and African Jazz sides that were issued on 78 rpm shellac discs in the Congo in the years before Independence (and then reissued, some of them, on Pathé Marconi, like African Memories of 1976 or Columbia EPs, such as Congo Latino, in the 60s and 70s). This music was inspired by early Cuban recordings reintroduced into Africa. When the Africans heard it they recognized the essential truth of it and took it to heart, even adapting simplified or nonsense Spanish lyrics ("Ay yi yi mi nina"). They then took the metronomic clave beat of Cuba and added latitude to it. Over the years I've made my own compilations of this wonderful sound. John Storm Roberts sent me a cassette of some 78s he owned and that got me going on a quest to find more Rock-a-Mambo. You may see my own webpage about them here. Though it's essentially Cuban you'll hear "Lon-dee lon-dee li" from a 50s New Orleans pop song (in "Babalou"), even a quote from "Theme from a Summer Place" (Not on this set but quoted by OK Jazz on "Ah, bolingo pasi" and Les Bantous on "Yaka na Ekala"). [Aside: the famous "lum dee lum dee laa" lyric comes from "Mickey's Monkey" by Smokey Robinson & the Miracles in 1963 -- later than this Rock-a-Mambo version. So who did the original?] There are 14 tracks each from the two featured bands, though the players often broke into smaller groups or brought in a different singer for a session. Nino Malapet and Jean Serge Essous, both horn players, were the mainstays of Rock-a-Mambo, and both left later to form Les Bantous de la Capitale. The clarinet and alto sax entwined with jazz guitar are irresistible. The moody "Baila," the first hit of the group, introduced them with the lyrics, "El nuevo ritmo cha cha cha, la musica bella Mexicana, Santa Maria, ... ritmo Rock-a-mambo, musica Africana, ritmo Mexicano, saca la cabeza"(!) The horns are the lead instrument instead of a singer, there is a chorus, the piano part has been transposed to electric guitars which skitter about. Congas, electric bass and maracas fill out the pulsing beat. This and three other tracks here were included on the rare African Retro vol 5, a great Rock-a-Mambo collection from Pathé in 1977. "Oyé Jacquy," another hit, tells you to to "Oïga Rock-a-mambo, Kalle, oïga cha cha!" "Oye Jacquy" is one of my all-time favorites with its spare pulsing acoustic bass and simple congas and maraca percussion, around which the guitar dances, with the horns punctuating it briefly. Various other persons are enjoined to listen. That's it: "listen to this,"over a throbbing seductive beat. This is the cleanest I've heard these recordings and also the first time I've heard several of them.

"Baila (Dance)," was a cha cha written by Essous and members of African Jazz were brought in on the session. So the first recordings featured the voices of Joseph Kabaselle and Lando Rossignol, later joined by Joseph "Mujos" Mulamba; Nino Malapet played sax alongside Essous' distinctive & unique clarinet, and African Jazz's guitarists Nicolas Kassanda and Tino Baroza played with Roitelet on bass. These members all get name-checked in the songs. The formation of Rock-a-Mambo seems to have been for fun and to indulge a shared passion for Latin music. They wrote Spanish lyrics without much effort ("Yo me muero, ay, yo te quiero" -- yes, really), but every groove exudes joie-de-vivre, or esengo. Eugène Ngoyi ("Gogène") and Papa Noel also played guitar for the band as needed, and the pool of musicians included veteran Honoré Liengo on acoustic bass and "Saturnin" Pandi on congas, as well as Léon Nzambe ("Sathan"), Alphonse Epayo (guitar), Lucie Eyenga (vox), and Maproco (sax). Their first recordings included "Toca mi" (included here), and "Ya Mouele" (which appears to be lost, but may be the origin of the Joe Arroyo song). The young fans thought of them as a continuation of Negro-Jazz, a group that had specialized in popular Cuban dance rhythms. First time reissues here include "Lily Germaine" b/w "Pesa ngai..." (Esengo 4A/B), "Toca mi" (Esengo 11B), "Siempre mi" b/w "Rosignol Cantador" (Esengo 12A/B) and "Mioto ya likolo" (Esengo 131A).

The second disc focuses on African Jazz. I was a little dismissive of Bart's first release of African Jazz on Planet Ilunga since it had all been available on Sonodisc CDs, but for those who prefer vinyl it was a good collection and this time around he has included obscurities that make this worth delving into. Two of the tracks were on Grand Kalle vol 5, which I found on the excellent Worldservice website. While others may be familiar it's great to have a fresh take on this timeless music. I should say they are familiar to me, but may not be as familiar to you! Again we kick off with a namecheck, in the classic "Chauffez African Jazz," and get a nice dose of Docteur Nico's early work on "Leo se Leo" (a real rarity) and "his "Tembe nie" (previously on African Memories). The fourth side includes four cuts by African Rock, yet another formation of some of the same artists on Esengo, including singers Charles Kibongue and Lucie Eyenga.

There are only 500 sets of the vinyl double album. If there's enough demand a digital or CD release may come along. Curiously I looked up Rock-a-mambo on EBay and there's a copy of the Congo Latino EP (which has two songs by Rock-a-Mambo and two by Negro Band) for the same price as Planet Ilunga's double LP. But there's no guarantee that when an EBay seller says record is VG++ that it is anything better than thrashed! So grab this while you can.
African Fiesta National on a record sleeve, courtesy Martin Sinnock
L to R back row: Alphonse Biolo Batilangandi, trumpet - Roger Izeidi, manager - Philo Kola, guitar - Ndombe Opetun, singer - Willy Kuntima (Willy Mbembe), trumpet - Christophe, Sax - Seskain Molenga, drums - Front: Attel Bumba Pierre, solo - Denis Lokassa, guitar accompaniment - Pascal Tabu Rochereau - Karré Muwosso Kasanda, singer - Faugus Izeidi, guitar - Diana Simba, singer - Muena Joseph, bass.

Rochereau in Memoriam

Tabu Ley Rochereau as he was known to his fans was born in Bagata, southwest of Bandundu (then Banningville), Congo, on 13 November 1940 (according to Gary Stewart). He was the only one in his class who knew the answer to a question about French history (who was the general who led the resistance during the Franco-Prussian war?) which was "Denfert Rochereau." The other boys teased him and the name stuck. He sang in a church choir. As a teen he took songs he had written to the leading singer of the time, Joseph Kabasele, who recorded them and invited the youth into the group. His early hits were "Kelya," "Adios Teté," and "Bonbon Sucré." According to Ken Braun he also chauffeured Kabasele around with Patrice Lumumba, leader of the nationalist movement for independence, in his boss' Cadillac. Teté was his wife with whom he had 6 children. He also had 6 children with Jeanne Mokomo, "Miss Zaire 1969," and dozens of children with other women.

Rochereau left African Jazz with Docteur Nico at the height of their fame in 1963 to establish African Fiesta. Two years later the group splintered again into Rochereau's band, African Fiesta National and Nico's African Fiesta Sukisa. In 1966 he recorded the lovely ballad "Mokolo na kokufa (The Day I Die)" which became one of his standards. Several members of Rochereau's band, including Sam Mangwana, Guvano, Diana Nsimba and guitarists Michelino and Dizzy Mandjeku, formed Festival des Maquisards, a further splinter group led by Ntesa Dalienst quit and formed Les Grands Maquisards. African Fiesta National evolved into L'Afrisa International in 1970 as it branched out to play festivals in other parts of Africa. Flirting with pop, Rochereau made perhaps his worst recording when he covered the Beatles' "Let it Be" as "Lalabi," while "Kaful mayay" and "Aon Aon" were big hits for Afrisa. After Authenticité he became Tabu Ley and dropped his first name Pascal. He fulfilled his ambition of being the first African artist to perform at the Olympia in Paris in 1970 and the concert was released on two LPs (The subsequent single CD release left off two smoking numbers, "Salongo" and "Revolution comparaison," that praised Mobutu; see my review below). Impressed with the power of Western pop and R&B, Rochereau added trap drums to his line-up early on, and grew an afro as well as wearing bell-bottoms and James Brown-style stage costumes. Another blistering live show at FESTAC 77 in Lagos was also issued as a double LP. His band was a springboard for other musicians: the key players quit in Abidjan to form African All Stars and singer Pepe Ndombe left to form Afrizam. (The many threads of his lineage are traced in Gary Stewart's book, Rumba on the River.) His shows became spectacles with sexy women dancers, known as Rocherettes.

Tabu Ley Rochereau looks on as Mbilia Bel sings, London, 1985

Among them was a dancer he poached from Abeti called Mbilia Bel, who proved to be a great singer also and boosted his career as it was flagging at the beginning of the 1980s. He devoted all his resources to Bel, as he had fallen in love with her, but then he discovered she was having an affair with guitarist Rigo Star. He caught them in delicto flagrante at the swanky George V Hotel in Paris and apparently chased her through the streets with a pistol. Bel's career rose while his fell. He had one more success when he collaborated with his arch-rival Franco for a tribute album to Kabasele. Rochereau danced delicately around Mobutu, as it would be dangerous for him to do otherwise. However as the Zairois economy was in shambles, he moved to Paris then to the USA and finally settled in Belgium, not returning until after the fall of the dictator, when he was appointed vice-governor of Kinshasa. He did have a later hit when RealWorld Records made a live recording of him, Babeti Soukous, in 1989, which reprised a number of his hits, but his falsetto voice was straining and he never returned to being number one as the next generation of bands, the Clan Langa Langa, changed the style of the music from the older big bands like Rochereau's to stripped down soukous outfits. Rochereau released over a hundred albums, and thousands of singles. The cream of his output was issued in two double-CD sets by Stern's in 2007 as The Voice of Lightness.



TABU LEY ROCHEREAU
LIVE AT OLYMPIA (Syllart 823419)

I have been trying to mentally rehabilitate Tabu Ley Rochereau since for the last 20 years I have had decreasing interest in his music. Lately I get the impression he has been exploiting his former colleagues (now deceased) by licensing their music without due credit or financial recompense. However, the man has a great set of pipes and produced some landmark albums in his heyday. I dug out the two live albums that were the pinnacle of his solo career: Olympia (December 1970) and FESTAC (1977). The abridged Olympia set has just come out on CD. The Olympia in Paris has long held a spell for the Francophone world. When an artist sold out the 2000-seat venue they had made it. Olympia is to the French what Carnegie Hall is to the Americans or the Royal Albert Hall to the British. Rochereau spent a year trying to persuade the promoters he was capable of giving the Olympia his best shot. When he heard that his old boss Kalle had played there he almost croaked, but then word arrived that it was not Olympia but another venue, so Tabu Ley was still on track to be the breakthrough Congolese artist in Parisian society. I don't know whether the album was actually recorded live or done in a Paris studio with applause grafted on. One or two tracks do sound like live recordings as they are muddier than the rest of the album, and the applause seems unrelated to the music, unless it was for dancers. There is also a lot of girls' screaming that sounds like it was recorded at the beach! The original LIVE AT OLYMPIA set launches right into a laid-back jam with fat horn lines called "Moussa." Rochereau sings "Michelino Moussa," so maybe he's singing to his guitarist "Michelino" who took the name Mavatiku Visi during Authenticité. Paul "Pepe" Ndombe joins him at the mike on chorus. Ndombe's voice is very like Rochereau's so it's a weird sort of stereo. This was a frequent ploy of Rochereau: I heard him in concert in the 90s with another singer who sounded just like him. Perhaps it was a way to take a break and have the audience think he was still singing, but of course the danger is the band could carry on without him and sound exactly the same. This indeed happened when right after Olympia the band split and formed Afrizam. This Afrisa 70 group had some of the cream of Congolese musicians in their ranks: Roger Izeidi's brother Faugus on guitar, along with Attel who stayed loyal to the boss. Alongside Michelino we hear the great Denis Lokassa "Ya Mbongo" Kasia on guitar; Joseph Mwena holds down the bass, and "Deyesse" Empompo Loway plays sax. Trumpeter Willy Kuntima, who had come with Rochereau all the way from African Jazz, stayed with Afrisa but died a month after the Olympia gig, in a car wreck. (All this information is gleaned from Gary Stewart's book RUMBA ON THE RIVER as, of course, there are no liner notes on the Sonodisc LP.) "Assambela" starts in the middle with applause and then goes into an extended outro jam: this does sound live. There are a couple of weak moments on the second side of the first album, "Fetiche" and "Riverra," when Tabu Ley thinks he's Robert Goulet, but we can skip over those, because there are two gems on here: "Nalembi" and "Paulina," the latter with some great sax from Empompo. The second volume begins again in the middle of a jam with a technical glitch as the bass is too loud (making it seem more credibly live). "Salongo" praises Mobutu over a choppy repeated riff on dampened guitar strings. "Revolution comparaison" also sings about Mobutu and, with Stalinist thoroughness, these two songs are now purged from the canon and don't appear on the new CD. "Recencemment" (there is no such word in French: sloppy Sonodisc typesetters at work) has a breakdown between the two guitarists that was later developed into a major sensation by Lokassa with Sam Mangwana's African All Stars. This one too is omitted, presumably to get the two volumes onto one CD, unless they mislaid the original tapes. This is followed by another forgettable song "Bavon," a tribute to the young singer, which is preserved. The final side begins with one of Rochereau's greatest ballads: "Mokolo Nakokufa" (again misspelled on the Sonodisc jacket), which means "The day I die," a very haunting melody with great guitar interplay that sets up a jagged counterpoint. One track, "Riverra," appears on both volumes, presumably a screw-up at Sono. The final song "Tika nameka" mentions Roger, Vicky, Bombenga, Dewayon, Franco & Nico: all his contemporaries, probably Rochereau gloating at his triumph. But it is indeed a triumphant set.

FESTAC 77, recorded in Lagos, Nigeria, has a different sound for Rochereau: a bigger band with a load of back-up singers as well as dancers, the Leyerettes. I believe this was a competition where each country sent their top band, so Afrisa was augmented with singers and musicians from other bands to form a National Orchestra. Manuaku and Nyoka Longo appear: they were members of Zaiko Langa Langa at the time. Bopol had recently quit the band, so the leader was Mekanisi Modero. Dizzy Mandjeku shared lead guitar honours. They open with an Isaac Hayes fanfare & the mix is askew at first, so it does sound live. Despite the prevalent sound of era this is not a funk recording, and soon falls back to the dreamy two-part rumba structure with a kick-up at the seben. Rochereau comes on for "Adeito part II" the absolute jump-out hit off this session, but you have to wait till the second disc to hear part I. Though Dizzy and Mekanisi are great guitarists and animate the whole session, neither reaches the heights of Docteur Nico, former leader of African Fiesta before the split with Rochereau. In "Tosa mpia" we get some band members' namechecked. Two songs are credited to Nyoko Longo so I am assuming he wrote them though it sounds like Rochereau singing. Longo is also alive so perhaps this wont appear on CD anytime soon. Afrisa International was one of the top Congolese bands in the 1970s spurred on to greatness by their rivalry with TPOK Jazz of Franco who always had the edge. Their apotheosis was in the early 80s when Mbilia Bel shared the spotlight but at FESTAC and particularly the Olympia gig, Rochereau gave it his all.




LE GRAND KALLE
HIS LIFE, HIS MUSIC (STCD3058-9)

It's not everyday I will drop everything when the mail comes and abandon the afternoon to reading and listening to music. But the much-anticipated two-disc set of Le Grand Kallé (born Joseph Kabasele) from Stern's is a special case, and since it is more book than box I wanted to put my feet up and dig in while listening to these familiar musicians, Nico, Dechaud, Tino Baroza, Vicky, Rochereau, Essous, Malapet, and Manu Dibango, again. Right away I discovered there were African Jazz songs I did not know! In some ways this is like turning back the clock thirty years, to when I discovered this music and found the early pair of African Jazz albums on Sonodisc called Merveilles du Passé vols 1 & 2 (360 142; 143). Those two discs have been much re-edited and re-anthologized but one thing they lacked was any context, and now we have Ken Braun's eloquent and thorough essay explaining the lineage of Jeef Kallé (as his friends called him, shortening both of his names), his various bands, their political machinations and lots of wonderful extra details (He and Patrice Lumumba used to tool around Leopoldville in his Cadillac convertible, chauffeured by young Tabu Pascal aka Rochereau!). In truth we really knew nothing about Kabasele when he died in 1983 (age 52). At that point African music was just emerging on the world scene and two of the Congolese giants, Franco and Rochereau, set aside their differences to record L'Evénement: Kabasele in Memoriam, a wonderful tribute to the great man. But the Sonodisc reissues were not very useful and it was hard to navigate them.


Typical Sonodisc CD package: No liner notes, unreadable label

There's no point in dwelling on Sonodisc's shortcomings, like the Grand Kallé 66-67 CD which has a picture of Nico on the cover though he was no longer in the band! Or their 1961 1962 compilation which also included music from 1968. Sonodisc had no liner notes and even their titles were hard to read and unreliable. Suffice it to say Stern's has now plugged the gap and we have a lasting monument to Joseph Kabasele. The main thing to remark about this compilation is that the sound is fantastic, these songs never sounded so clear. A dozen of the tracks were taken from scarce 78s and 45s owned by a couple of collectors (Vincent Luttman, Congolese music scholar and broadcaster of Radio Renaissance in London, and Michael Kieffer who did the remastering for John Storm Roberts' Original Music label and is an avid 78 collector) and remastered. The packaging is excellent -- that is to say the cover and the book format with CD sleeves tipped to the inside front and rear boards -- however they let the designer run riot with the text and as a result the typography sucks. To say it is unreadable is an understatement. I don't know why graphic designers are allowed to mess around with text like it's a "design component" but there is a display sans serif that looks like Microgramma, set tightly in a too-short measure. At least it's not dropped out of a colored background, but it is still bloody difficult to read even with glasses in strong light! Now, if you are thinking "I already have the best of these songs," then think again. I looked at the playlist and noticed one of my favorite songs, "Para Fifi" is right at the top of the stack. I have it on at least two other compilations, but not this version. This is the earliest recording of the song, which I had never heard before. It has acoustic guitars, congas and even what sounds like a Solovox keyboard wheezing away in the background. It's thinner than the later recording (having fewer musicians and a more primitive studio set-up) but it is wonderful to hear this first state of the song. The compiler, Ken Braun, has also snuck in a classic track from Rock-a-Mambo (a studio band that included members of African Jazz), Jean-Serge Essous' dynamic clarinet-led biguine "Baila!" A rarity is Nico's "Tujala Tschibembe," in which the youngster rocks out on electric guitar with a home-made amp that is very distorted. "This was more than electricity at the service of music," notes Braun, "it was electricity become music, in of all places, the middle of Africa." By 1958 Nico was experimenting with a pulsating sound and the truly electric "Mokonzi ya mboka (Chief of the village)" has a horn chorus as well as bottle percussion and a breakdown to a mutuashi-like dance with ululation. His singing tone on his Epiphone copy almost sounds as if he is bowing the strings. The sequence is great. I am pleased Braun included "Tembe nye (No doubt)" and other gems that might have been overlooked; they take their place alongside the hits, "Table Ronde," "Indépendence Cha Cha," "Jamais Kolonga" and "African Jazz Mokili Mobimbo." The guitar sound of Nico and his brother defined the sound of African Jazz and though Kallé was credited with forming this school of music, in his later bands he sought to recreate this distinctive guitar sound (listen to Jerry Malekani on "Biwela-Biwela" from 1966).

During the struggle for independence many of the Europeans who owned recording studios in the Congo fled, meaning there were no facilities for bands to record and because of curfews no clubs for them to play in. Fortunately an elite band, comprising some of African Jazz and members of the "rival" OK Jazz went to Brussels to serenade the delegates at the Round Table Conference which would lead to independence. While there they hooked up with the Fonior label and cut a dozen classic sides. A year later they returned to Brussels (with the additional "All Stars" singer Vicky and bassist Armando Brazzos who defected permanently from OK Jazz) and laid down 40 tracks in two weeks, pouring out their repertoire with a Belgian drummer and Manu Dibango also joining in. So there is often a disparity between who recorded the songs and who was actually in the band. Willy Kuntima, the trumpeter, would disappear and then reappear, but when he's there Willy's contributions are notable. He was often doubled by Jeef Mingiedi for a really big sound with the twin saxes and occasional clarinet. The only restriction at this point was the record format, 78 was replaced by 45 which gave more room to expound a theme, and in one instance make two recordings: "African Jazz Mokili Mobimbo" was cut at two minutes thirty seconds on the 78, but at 45 rpm it was not merely stretched out: "it was a narrative extended in both words and music." But in general the band just hit the ground running, like in Nico's "Kamulanga," another mutuashi earth-shaker, quite akin to rock and roll. While Mwamba Dechaud had been the band's original leader he was happy to step back and let Kallé become the natural leader and also allow his younger brother to step into the spotlight on his guitar. "Bana na nwa (Black Kids)" by Dechaud shows off Nico's legendary speed and improvisational skills, and it also appears here on CD for the first time. The closest Kallé gets to a Cuban sound is in tracks like "Tika ndeko na yo te (Don't leave your brother)," (which first re-appeared on John Storm Roberts' Sound of Kinshasa LP, with an erroneous attribution): there is a clave beat, but again it's more rock than mambo: even the intro sounds like the start of "Twist and Shout!" As Braun says, it's a sound your mama never heard in old Havana!

Disc one is the heart and soul of this compilation. As Congo is in the center of Africa it borders nine countries and its music made its way out in all directions to become hugely influential. The second disc details the later career of the man who was at the "creation of modern Congolese music," as the CD's subtitle notes but as it contains several different configurations it is less consistent. On Kabasele's wedding day his band failed to appear -- it was almost like being left at the altar! They were in fact on their way to Europe to record without him. The split led to the formation of African Fiesta and caused Jeef Kallé to have to scramble and assemble a new band with Papa Noel and members of Vox Africa, singer Jeannot Bombenga and guitarist Casino, but again they became disgruntled employees doing all the work while Le Grand Kallé made the money. Looking for ideas Kallé went to Paris, on the heels of the now successful splinter group. There he met up with his old pals Essous (who had gone on from Rock-a-Mambo to form Les Bantous de la Capitale in Brazzaville) and Manu Dibango and they formed African Team. As Braun notes there were no major hits from their recording sessions but clearly they had fun making them. Members of RyCo Jazz also sat in and created the stand-out track "Biwela-Biwela." There were some choice cuts still in the old guy, however, and disc two contains three fantastic songs in a row "Moselebende to bolingo," "Mbombo ya Tshimbalanga," and "BB69" which was a hit in the late 60s. But once again, the composer and singer, Matthieu Kouka, felt he had got a raw deal from Kallé and quit, at which point the band collapsed again. Back in Paris Kallé tried to revive African Team adding veterans from OK Jazz as well as former sidemen. "Ko Ko Ko . . . qui est la?" is the gem from this era. However Kallé is now backed by strings and has, to me, the irritating flautist Don Gonzalo on it. The composition of African Team version two is more of a charanga than an African pop group, but it works well. The tunes are boogaloos and the orchestration by Don Gonzalo is more sophisticated than anything in Kallé's previous career, but it is a codicil to his great work from 1951 to 1962 when he really created his own school of music and established a lasting legacy. This compilation is more than a retrospective of his career, for Braun's booklet explains the rise and fall of Kabasele in tandem with an excellent exposition on the vagaries of the country that so dearly paid for independence with the murder of its first leader, Lumumba, by the CIA in collusion with MI5, the British Secret Service, followed by the decades of Mobutu's dictatorship (during which era Kallé fell from favor as a friend of the deposed Lumumba), and then by the ongoing civil wars that are devouring its precious resources.




SOUVENIRS FROM THE CONGO (Planet Ilunga 2 LPs)

There is another recent release of Kabasele's music on 2 LPs, from Planet Ilunga. While it is an elegant package it only includes tracks licensed from Sonodisc that were all previously released on CD. I really don't understand the fetishization of music to the degree of putting out vinyl LPs from CDs. The tracks come from Sono CDs 36503, 36506, 36560, 36561, Merveilles du Passé one and two and Succès des Années 50/60. It occurred to me that Braun had left off one of the great African Jazz cuts, "Kelya," but it is actually the lead-off track on the two-disc set of Rochereau put out by Stern's in 2007, The Voice of Lightness (STCD3027-8). This leads me to conclude that Braun has a bigger vision and is planning more surprises for upcoming releases of Docteur Nico (who started out in African Jazz) and, maybe, if we are lucky, a Rock-a-Mambo box set also.

Update, Bart of Planet Ilunga writes:

"The main intention with the compilation was to give some background on Kallé and l'African Jazz in the liner notes - since Sonodisc failed to do on theirs - and release it in a valuable package with remastering and nice label artwork. I chose vinyl as it's my preferred music medium and most of the l'African Jazz music is rather hard to find on vinyl.

"You are right about almost (if not all) the tracks having been released on CD before. I remastered approximately 2/3 of the tracks on this selection from Sonodisc CDs, but I also remastered some tracks from vinyl LPs on Kabasele's own label (Surboum African Jazz) and from LPs on the African label (360.107; 360.142; 360.143). I also tried to include some lesser known songs - merely early songs - on the compilation, but the sound was not on par with the rest and those were never released on Sonodisc labels. So I decided not to include them.

"So, fetishization it is, and a expensive one, because you barely break-even with releasing on vinyl, spot on your review :-) Keep up the good work! Best from Belgium, Bart"




DR NICO
LES MERVEILLES DU PASSE (1967) (Sonodisc 360159)

Occasionally I review reissues of old favorites here, but was anything ever sadder than this? Look at that cover! The new owners of Sonodisc have finally put their entire catalog up on amazon for download (what goes up must come down). It's only $6.99 to download the entire album, in the usual lame low-fidelity measly bit-rate offered by amazon's cloud player. The good news is that here is the entire LP which came out on vinyl and was later broken up and put on different CDs, omitting four of the tracks. So for the first time (for many listeners) there are 4 classic Nico tracks on offer ("Runeme mama," "Yo soy tu dolor," "Para bailar" & "Impercoque.") The bad news is they don't seem to have done anything to enhance the sound. The opener "Bougie ya motema" is a perfect demonstration of Nico's guitar wizardry, if there was ever any doubt that he is indeed the God of the Guitar. "Para bailar," revived here, is another example of his "dry" style with vertiginous spiraling runs. It's a smoking cover of a Cuban pachanga. I never understood why those 4 songs were left high and dry in the early attempts to market Nico's oeuvre on CD. Randomness can be the only answer. The cha-cha "Runeme mama," also reissued for the first time, is another of my favorite Nico tracks. In my book on Docteur Nico I say that the LP is "an orderly compilation of upbeat material, mainly rumbas in Lingala, but a few pachangas, cha-chas and a bolero in Spanish." From one point-of-view it is the most coherent Nico album issued by Sonodisc. It's by no means the best of Nico's Latin tracks but since the sides are Sukisa singles, from 47a to 53b in chronological order, it does give a more coherent view of the band's repertoire than you get from most compilations that chop and change from different eras. "Yaka toyambana" and "Mwa Kasanda" continue the musical theme of Nico's brittle runs bouncing off the chorded arpeggios of his brother's mi-solo, while the singers' excitement is palpable in the latter. Chantal Kazadi and Paul Mizele are the main vocalists; Nico does whip out the Hawaiian guitar for the lonesome unearthly bolero "Pauline," in which Kazadi calls out to him, "Eh, Nico, Dieu de la guitare!" The horns are in full effect; Chantal's wistful vocals are the perfect counterpart to Nico's laconic lead guitar. For my money this 1967-8 band, African Fiesta Sukisa (mark 1), was Nico's best, far better than the earlier Rochereau grouping in which the rumbas were just copies of Cuban originals: here they became full-blown Lingala dances with the Zairois groove before it evolved into soukous in Verckys' studio. Now they had something to prove, not only were African Fiesta Sukisa better than the other Kinois rumba bands, they had to top Rochereau's splinter group, too. Why are there no liner notes? You're kidding: it's a download. Why is there no photo of the band? Beats me: too lazy to find one. The audience for these reissues is undoubtedly mostly white Europeans and they are exactly the people who want to see pictures of the artist and read something meaningful about their oeuvre. Why didn't Sonodisc just use the cover from the LP for this reissue? Ah, therein lies the rub: Sono used the same cover for three different LPs, so you might well look at it and think you have it already. Believe me, if you don't know it, this (along with a few sessions from their arch-rivals OK Jazz) is the finest music made in the Congo in the twentieth century: too bad it's now reduced to this anonymous dirt pile in low fi. OK, Sono, it's now up to you. I have given you a plug: time to reissue those countless 45s on the African label in your vaults. (Yes, those cardboard boxes of 6" reel-to-reel tapes under the desk, that's them.)




THE WORLD IS SHAKING
CUBANISMO FROM THE CONGO 1954-5 (Honest Jons HJRCD40)

As promised, when they started mining the EMI archives, Honest Jons has issued a handsome set of early Congolese adaptations of Cuban tunes. The booklet has wonderful old B&W photos of nightlife and a finely turned essay by Gary Stewart to set the mood. These recordings were made after the Second World War on a direct-to-disc machine by Belgians who released 300 78s in the Olympia African series. I first encountered some of them on the Vogue LP, KASONGO! and from that album we have four tracks reprised here, including "Moni moni non dey" by Adikwa Depala, a sprightly cover of the "Peanut Vendor" of Moises Simon and truly a seminal disc in the reAfricanization of Cuban music. Apart from the Latin sounds, documented on the GV compilation OUT OF CUBA, the mid-50s Leopoldians liked Cab Calloway, Guy Lombardo, Maurice Chevalier and an Italian hit called "Anna." Though guitar, violin and bass joined the native percussion it was common to hear these songs played on likembe, or thumb piano. Plus there's a wild buzzing chorus of kazoo-like gourds. "Klim" by Jean Mpia sounded familiar, then I recognized the song was adapted into "Mais mais oui, mais mais non," also known as "Tozo na Bozo," by Moniania Augustin found on the LP "Stars des Annees 50." The sound is pretty thin, but this new compilation makes a nice bridge to that Stars of the Fifties disc as well as the slightly later material collected on the BANKOLO MIZIKI compilations and the two volume ROOTS OF RUMBA ROCK on Crammed. Honest Jons also has issued AFRICA BOOGALOO, subtitled "The Latinization of West Africa," but as it includes several heavily anthologized cuts, I may forego the package, and just download a couple of MP3s.
Wendo, in memoriam

by Vincent Luttman


Transcript of broadcast 2nd August 2008 -- homage au Papa Wendo Kolosoyi

On Tuesday 29th July 2008, the last of the founding fathers of Congolese popular music, Antoine 'Wendo' Kolosoyi, or Papa Wendo died in Kinshasa aged 83 years.


Victoria Bankolo Miziki at Ronnie Scotts, London, Autumn 2002

Papa Wendo was born in the then-Belgian Congo's Bandundu province in 1925. His mother was a singer and his father a hunter. His father died when he was aged just seven. For the next two years he was raised by his mother. However, tragically, at nine years of age, he was orphaned, when she also died. From then on, the boy was raised and schooled by Catholic missionaries. For Wendo the mission was an unhappy place and he left aged just twelve or thirteen. His first employment was on the riverboats, ferrying both people and freight between the busy Leopoldville docks and the towns and settlements scattered along the banks of the mighty Congo River.

At the age of 16, he settled in Leopoldville (now called Kinshasa), the capital of the then-Belgian Congo, there he began a career as a middleweight boxer, but after about three years he decided to end his career in boxing, returning once again to the riverboats. In his free time Wendo would sing and play guitar, a skill acquired during his time with the missionaries, and later refined on the riverboats. Wendo himself once said he 'gained his interest in music from his mother' and the his turning point was when, after her death, she came to him in a dream, telling him 'music was his way forward'. Also, when working on the boats, during a trip to Brazzaville, Wendo witnessed a performance of the musician Palo Kamba and his orchestra called Victoria-Brazza. Wendo became a fan and inspired by this, decided to create his own orchestra in Leopoldville, which in homage, he named Victoria-Kin.

In 1945, Wendo and Victoria Kin began recording for the Leopoldville based Olympia label. The sound of these early orchestras was heavily percussive, using traditional instruments, such as drums, marimbas and thumb pianos alongside an occasional guitar, and of course, call and response vocals. Throughout his career, Wendo's compositions were simple songs, their lyrics celebrated the joys, heartbreaks and complexities of urban life. This is what gave Wendo his charm, and compositions such as 'Nafuti yo mbongo' (I gave you money) and 'Bokilo mabe' (literally bad in-law or bad relative) clearly show how everybody could relate in some way to the sentiments he expressed.


Young Wendo, from NGOMA THE EARLY YEARS, 1948-60 (Popular African Music)
In 1948, Wendo joined another label called editions Ngoma. That year, he scored a huge hit with 'Marie Louise', a simple love song, sung for the sister of his friend and musical collaborator, guitarist Henri Bowane. It was a slightly different musical style from his previous recordings and the song brought him both big success and big problems, all because of its sheer musical beauty, which the Kinois public found absolutely irresistible. 'Marie Louise' importantly championed a new era in Congolese music, where people danced differently from before, where unlike the older social dances, men and women now danced as couples. In this new social dance known as the 'rumba', the women majestically and sensually swayed their hips, and this brought Wendo big problems.

The Catholic Church began complaining bitterly about the 'immorality' of the rumba, and with all this furor, gossip soon began to spread. Wendo was proclaimed to be the devil incarnate, with people saying; 'when Marie Louise was played near to Leopoldville's Gombe cemetery, the dead would rise from their graves to dance', 'the song is so seductive it turns schoolboys into drunkards', and the song 'tempts even missionaries toward evil'. So basically, the church saw the popularity of 'Marie Louise' as provoking public disorder, and the gossip particularly, had to be stopped. Enough was enough. The church implored the colonial authorities to do something about this and eventually they did. An order was issued for Wendo's arrest and imprisonment. Fortunately, Wendo discovered this in time, leaving Leopoldville for a few months and exiling himself to the far away city of Kisangani in the east of the country.

Eventually, the outcry died down and Wendo returned to Leopoldville. However to show justice had been done, the colonial authorities still arrested Wendo, forcing him to spend a few weeks in prison. But of course, all this fuss could only enhance his success. Through the song 'Marie Louise', Papa Wendo kick-started the modern popular music of the two Congos into being, and such is the importance of his role in these first formative years, that today the era is known as 'Tango ya ba Wendo' (the time of Wendo), meaning, when Papa Wendo led, and everybody else followed. However, although Papa Wendo had started the ball rolling, within just a few years, the music scene advanced rapidly. Soon a plethora of ensembles and orchestras were playing in ever more sophisticated styles and so, by as early as the mid 1950s, although still holding its own, Wendo's musical style was already considered to be a little 'passé'.

In 1954 the Ngoma record label then decided to team Wendo up with two of the labels other big stars, namely, Leon Bukassa and Manuel Olivera. Thus the trio BOW was born. The trio BOW or Bukassa-Olivera-Wendo enjoyed immense popularity across the Congo especially after undertaking several tours of its provinces. The trio's members also continued to release records under both their own names and as the trio BOW, right up to the close of the decade. However as the 1950s drew to a close, Papa Wendo's career seemed pretty much done, electric guitars had displaced the acoustic and although hailed as a visionary and a pioneer of Congolese pop, it seemed Wendo had been consigned to the dustbin of music history aged only 35.

The 30th June 1960 importantly heralded Congolese independence from Belgium. Unfortunately what followed, was a colonially contrived disaster of monumental proportions. Finally after five years of political turmoil and brutal civil war, in late 1965, a coup d'état was staged, leading to the beginning of a new political era known in Congo as the first republic. An essential part of this new republic was a strategy to reunite Congolese across the vast nation. This included bringing forth the artists who had previously challenged the boundaries of colonialism through their music. Thus Congolese politicians approached the bandleader Rochereau Tabu Ley asking him to assist in resurrecting the career of Wendo Kolosoy. And so Papa Wendo briefly joined Rochereau's orchestra African Fiesta National as a featured singer. Here he rerecorded a number of his old compositions for Rochereau's label 'Editions Flash'. Unfortunately however the collaboration did not last long, since after offending the Congolese President -- Joseph Desiré Mobutu -- Rochereau found himself and his orchestra suspended. Furthermore the orchestra then suffered from a series of defections by key musicians. Poor Wendo found himself to be the least of Rochereau's mounting problems, and sidelined, he quickly slipped back into obscurity.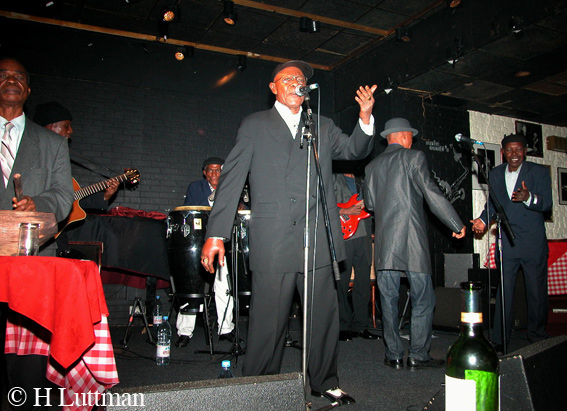 In 1968 to add insult to injury, Rochereau recorded a song called 'Mokitani ya Wendo' or the Successor of Wendo. This song drew musically from the distinct composition style Wendo had formulated and as it climbed the charts, becoming a massive hit, poor Papa Wendo was outraged, complaining: 'How can he claim to be my successor -- when I am still alive?' Musically, little more was heard of Wendo until 1973, when in another nationalist propaganda drive, this time for political and social 'Authenticity', the Zairian leadership commissioned a 2 volume 4LP set entitled 'Bankolo Miziki' (music of the ancestors). Here Wendo contributed new recordings of eight titles across the four LPs. Also, with the launch of the 'Bankolo Miziki' initiative, all of the old musicians spread across the four discs, enjoyed a career revival, performing at some of the cities top nightspots including the Intercontinental hotel and the OKAPI. Furthermore the musicians also received the accolade of the country's top political and business figureheads in regular attendance at their shows. The revival of these older musicians under the auspice of 'Authenticity' also included a weekly TV show screened across the nation, where popular artists of the era such as Wendo performed live.
Furthermore, the president of the Zairian State, Mobutu Sese Seko, promised a whole bundle of other initiatives to help the 'elder' musicians re-launch their careers. But ultimately as with so many other things he promised, he failed to deliver anything. Thus Papa Wendo was once again relegated to the sidelines and as the country's economy now began to rapidly fall apart. Wendo returned to the shadows, continuing work with his orchestra Victoria-Kin, and undertaking performances at small social functions such as weddings and funerals, whenever asked. The next time Papa Wendo commanded a big stage was not until 1983, following the death of the first state proclaimed 'Grand Master' of Congolese music, Joseph Kabaselle. Held at Kinshasa's grand 'Palais du Peuple', Wendo performed two songs including a duet with Henri Bowane of the song 'Marie Louise'.
However the previous year, he also had enjoyed another brief revival, when he was invited to record two of his compositions with Papa Wemba and the orchestra Viva La Musica. The collaboration was billed as the 'meeting of the two Papas', but unfortunately, once again, the taste of success for Wendo was to be a bitter one, and not long after the release of the two songs, he appeared on national TV complaining that that he had received no payment whatsoever for these works. With the 1980s of course, also came the worldwide interest in African music, and European documentary filmmakers visited Kinshasa regularly in order to tell a sanitized version of its musical history to foreign audiences. Thus Wendo appeared for about two minutes in the 1987 BBC series 'Under African Skies' where he plays an acoustic guitar and gives a small interview sitting on the steps outside his small home. With the 1980s also came new problems, and Wendo continued in his role of educator or moralizer to the people with the song 'Marie', where he warns listeners to be careful of the new sickness called SIDA or AIDS. In 1989-90 a Belgian documentary film crew visited Kinshasa with the specific intent of documenting Papa Wendo's history. The documentary film titled 'Tango ya ba Wendo' (in the time of Wendo) appeared the following year, as did an excellent accompanying CD of music from the film titled 'Nani Akolela Wendo'. Although the film received some promotion in Europe, sadly it was a missed opportunity for the world to realize Wendo's importance.
Finally in 1997 former President Mobutu Sese Seko fled and Zaire was no more. Under the leadership of Laurent Kabila the country became the Democratic Republic of Congo and perhaps unsurprisingly, Papa Wendo again resurfaced. This time apparently, on account of President Kabila's fond childhood memories of his parents dancing to Wendo's music. And so once again Wendo was brought forward as a living monument to the music of the ancestors, and in 1998, aged 72, along with a small group of musicians from his Victoria Kin orchestra (now renamed 'Victoria Bankolo Miziki'), he began to tour outside of the DR Congo for the first time.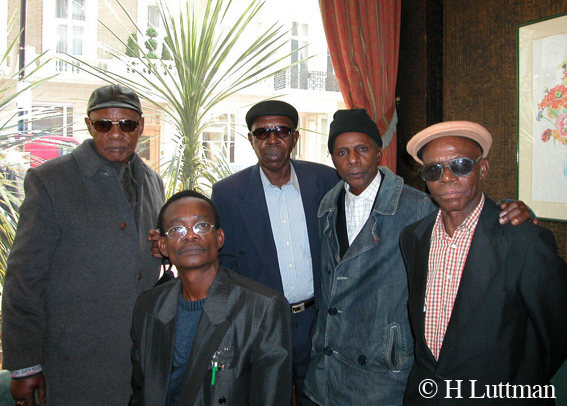 Victoria Bankolo Miziki. From Left:
Papa Wendo - Vula Kiankatu Missy - Albert Emina - Mukubwele Nzoku Bikunda - Munangange Joseph Maproko
| | |
| --- | --- |
| | In 1999, Label Bleu records (France) released Papa Wendo's second CD titled Marie Louise. Alongside the new recordings of classic Wendo hits, the selection also surprisingly included a homage to the recently deceased Congolese singer Pepe Kalle. In a way it seems ironic that the father of Congolese modern music should be paying tribute to a man so many years his junior, but it shows the beauty of Papa Wendo's work and how the 'Rumba Congolaise' crosses over so many generations. |
| | Touring also began to take greater prominence and in 2000, as well as making regular appearances at European world music festivals, Wendo, aged 75, gave his debut performances in the USA. In 2002 Wendo also recorded his third CD titled Amba (Marabi records, France), and one Sunday night that autumn, he finally made his London debut at Ronnie Scott's jazz club in Soho. That same year, Wendo began collaborations with a group of younger musicians named the Rumbanella band, and a number of recordings featuring Wendo appeared on their CD entitled El Congo Kin-Brazza (Marabi records). But age and a tough work schedule began to take their toll, and in 2004, already suffering from severe arthritis in his hands, Wendo Kolosoyi suffered a stroke whilst resting between tours in Europe. This left him unable to stand unaided and also with a partly paralyzed face, yet still he continued to perform. |
| | Also in 2004 a European production team visited Kinshasa to begin work on another Wendo documentary, titled On the rumba river showcasing Wendo's story alongside performance footage of his group. It debuted in European 'art' cinemas late last year, but although it carries English subtitles, sadly, has yet to find a UK distributor. That said an excellent soundtrack CD from the film is already available. Shortly after finally returning to Kinshasa in 2005, Papa Wendo was again admitted to hospital, and after a long period hospitalized, he found himself unable to meet the costly treatment fees. Also to compound his problems, whilst in hospital his home was burgled and most of his possessions stolen. However the government intervened asking Kiamwangana Mateta, head of the DRC musicians union, to organize a benefit concert to raise funds for Papa Wendo's welfare. Thus his costs were met and all seemed (at least temporarily) happy. |
In 2007 Papa Wendo was once again hospitalized in Kinshasa, and rumors spread that he had died. In fact, such was the strength of the rumor, that at a church in Wendo's neighborhood, a memorial service was held. But Wendo wasn't dead and when he heard about this, he discharged himself from hospital, insisting to be taken straight to the church to dispel the rumors in person. Thus Wendo arrived at the church and as he entered, mass panic erupted, the congregation believing that his ghost had appeared. And then the ghost spoke: 'Papa Wendo Akufi Te!' (Wendo's not yet dead) he proclaimed.

Reflecting back upon Wendo's long career, it seems wonderfully ironic that Wendo, the man who all those years before, it was said could raise the dead, might one day be viewed himself as the living dead. I wonder if 'Marie Louise' was playing when he entered!

And so on Tuesday 29th July 2008, Papa Wendo finally departed from this life aged 83 years. For many years in his beautifully melancholic composition 'Liwa Ya Wendo' he had foretold of his death. Finally it had become a reality.

Farewell to Congolese music's most famous father.

Vincent Luttman is one third of the team behind Nostalgie Ya Mboka, a unique radio programme focusing upon the older musics of the two Congos, broadcast in English, Lingala and French on Saturdays 1.30-2.30 p.m. GMT London wide and streamed worldwide via www.resonancefm.com.
Photos of Wendo at Ronnie Scott's, Autumn 2002, by Hisano Luttman

THE GOLDEN SOUND OF CONGO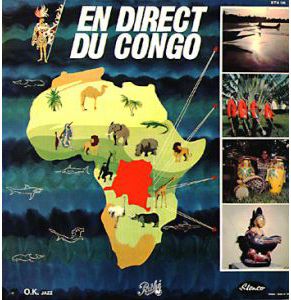 The other day as I was driving her to the airport, the Duchess said the nicest thing. "I miss hearing your Congolese oldies," she said, "You should have a satellite radio station of nothing but Congolese oldies!" (We were listening to a tape of the classic Pathé-Marconi album EN DIRECT DU CONGO.) "What a great idea," I said, "There's plenty of niche markets out there, but honestly, I think my dee-jaying days are over." Ten years of Tuesday nights devoted to the celestial airwaves: I did my bit for the cause. I used to joke that I was North America's first African oldies deejay and often did a two-hour show of nothing but African oldies. No one complained. But how much could I play before it got repetitious? A quick guesstimate says I have at least 650 hours of Congolese music. I could put it all on shuffle and go for about a month without repeating! But since that is not going to happen, I decided to put together more discographies of my favourite Congolese bands.
There are three main families of Congolese music: Generation Kalle, Generation Franco & Clan Zaiko Langa Langa. The latter is generally available. There are excellent discographies of the Zaiko splinter groups in Ronnie Graham's WORLD OF AFRICAN MUSIC VOL 2 (BLP Research Associates, 1992). With a little effort you can find music by Verckys & Veve, Bella Bella of the Soki brothers, Empire Bakuba of Pepe Kalle & Papy Tex, Zaiko Langa Langa and their offspring, African All Stars (including Theo Blaise Kounkou), Pamelo Mounka'a, Les formidable Quatre Etoiles, & Papa Wemba & his various Viva la Musica brands.
I have reviewed the RETRO collection of Verckys, as well as Nyboma's & Wemba's retrospectives on Stern's, on the Congo2 page, here I will discuss the older branches.
GENERATION KALLE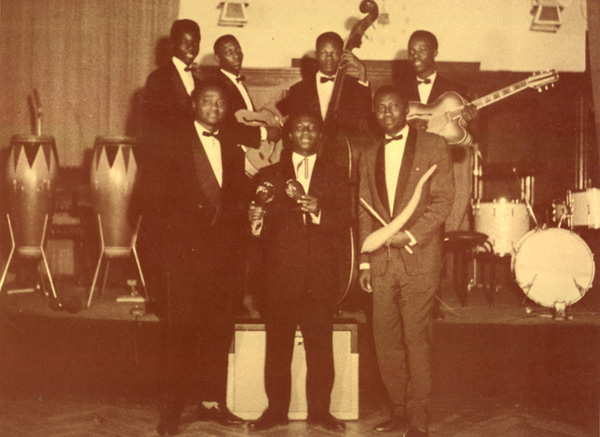 Back row: Petit Pierre, Dechaud, Brazzos, Nico; Front row: Vicky, Roger, Kalle
Joseph Kabasele (1930-83), "Le Grand Kalle" [front right with gourd guiro], is the central figure in the rumba Congolaise. His band African Jazz and later African Team spanned the era from the Belgian colony of the late nineteen-fifties to the Independence movement of the mid-sixties. Tino Baroza was the lead guitarist (with his brother Dicky on rhythm), but eventually the young teacher of auto mechanics, Nicolas Kassanda wa Mikalayi, and his brother Mwamba Dechaud became the instrumental focus. They pioneered the mi-solo guitar style which is the key characteristic of all Congolese pop. The brothers' sympathy & intuition led to a "one-mind" approach that fed riffs back and forth between them. Echoes of the Nico-Dechaud style can be heard from Angola to Zimbabwe, with major exponents found in the guitar bands of Mali and Guinea. Great early songs of African Jazz, "Para Fifi," "Jamais Kolonga," "Essous Spiritou," "Cococo ... Qui est la?" "Loboko na litama," are heard on GEFRACO AMCD01, though the source was obviously a much-played LP. There were six Sonodisc CDs: 36560 & 36561 Succès des Annees 50/60 included "Kelya" and "Ambiance Kalle Catho," Ruphine Missive (CDS36582) included the material sung by teenage Tabu Ley Rochereau. The period 1958-60 is covered on 36503, which includes "Bacara," "El que siembre su maiz," (Miguel Matamoros' class-A Cuban son) and "Table ronde," and on Volume 2 of Merveilles du Passé (36506) which has "Moselebende to bolingo," "BB69," and other hits. Interestingly "Africa Mokili Mobimba" is on many compilations but none of the individual African Jazz CDs. It was the lead track on Sonodisc LP 360 142 Merveilles du Passé volume 1.
African Jazz was the nursery for a whole sound which led to a great studio band, Orchestre Rock-a-Mambo that included a rotating roster of Kalle's performers, including Kabasele himself, Lucie Eyenga, Rossignol, Nino Malapet, Papa Noel, the young Wuta Mayi, and Lemy. Adou Elenga, one of the elders, and composer of "Maria Tebbo," returned from Angola to help set up the new band. This interchangeable pool of talent was associated with the Esengo label. Albums, EPs and singles were released on Pathé-Marconi & Columbia and are now very hard to find. Typical merengues and cha-chas were heard on the Hit Parade Africain series and the album AFRICAN MEMORIES. Rock-a-Mambo was the mother of Bantous de la Capitale, which also included a splinter group from OK Jazz, thereby uniting the two main styles of Congolese rumba across the river in Brazzaville.

courtesy of Bolingo.org

The other great bands of this era are the moody Cercul Jazz of Franklin Boukaka, Vedette Jazz, Orchestre Conga of brothers DeWayon (Paul Ebengo) & Johnny Bokelo, which later split into Cobantou (DeWayon) & Conga Succès (Bokelo), and the Negro Band led by Max Massengo, who adopted folkloric rhythms on the guitar but kept a latin influence in the horns. Their clarinet and sax leads dominated the sound of the 60s. From their base "Chez Faignon" in Brazza they took Paris by storm in 1968, appearing on television and cutting the classic album A TOUT CASSER ("Everything crash") and twenty other tracks in a marathon session.

But the most amazing development of the era was the splinter group African Fiesta which broke away from Kalle in 1964, led by Nico, with Rochereau on vocals. Esengo had released singles by African Jazz Nico and a group called African Rock, which sounds like another hybrid of Rock'a Mambo. Dr Nico's catalogue is currently out of print, apart from the material put out by Rochereau in a questionable deal with Sylla. Nico's daughter has the master tapes and licensed the Josky/Nico set that came out in 2006. She may have unreal expectations of the tapes' worth, or she may be reluctant to deal with the sharks in suits that want to rip her off. Meanwhile the tapes are probably decaying in the humidity. Similarly Kalle's heirs have leased some stuff in the recent past, but I presume if you have read this far without saying, What the hell is he talking about, then you are hip enough to buy any Nico, Kalle or Franco you come across.


Photograph copyright 1973 by Eliot Elisofon, National Geographic


FRANCO & OK JAZZ

From his first gig with Watam, a folkloric troupe, to his nearly three decades of dominance of African pop music, there was always something special about Franco Luambo Makiadi, who was born July 6, 1939, the son of a woman who ran a doughnut stand in the market in Kinshasa. He started out on a home-made guitar that was bigger than him, but he finally outgrew the Congo itself. He created a picking style that involved two notes on both hands, so he was fretting a chord with his left hand and plucking a two-note lead with his right. It seems like a simple idea, given the finger-picking that developed all over Central Africa in imitation of likembe patterns, but Franco created a distinctive sound that involved inverting the riff, dragging the tempo and locking into a pattern that sends listeners into a trance. For this reason his fans are always patiently awaiting his moment in any given song. At first he was just one of a number of artists, like Johnny Bokelo and DeWayon, who offered a harder alternative to the laid-back sound of the Grand Kalle school (and, frankly, les mélomanes kinois were getting a little tired of the endless cha-cha-cha), but gradually OK Jazz swept all before them, absorbing other bands, and Franco himself stifled any stirrings in the ranks, leading inevitably to splinter groups as talents like Verckys abandoned ship to forge their own careers. Franco's catalogue is currently in abeyance but I hear all that is soon to change, maybe this year (2007). There's plenty of hungry mouths to feed in Kinshasa so the ex-wives need to agree on their cut. There is a 2-volume set in print, which barely scratches the surface of his 3000+ songs. Franco's great songs are legion. Typically there's a long exposition with vocals and chorus and then a horn section that punctuates the proceedings. About 6 minutes into any given number the seben starts with a tempo change and the guitar interplay intensifies. Here are some of my favourites:

"Ah, bolingo pasi" is an early number, sung by Vicky Longomba, that shows the connection to the rumba style of African Jazz. You can hear it on the RetroAfric CD Originalité. African rumba is very different from its Cuban counterpart: check out Franco's version of Eddie Palmieri's "Café" and tell me it doesn't surpass the original. I love the songs of the late 60s that have talking intros. "Finga Mama Munu" begins with Franco & composer Mujos shooting the sh*t, then they launch into this great number, complete with a sax solo by Verckys. It's on the Rough Guide to Franco. I first heard it on the LP The Sound of Kinshasa (Original Music OMA 102) -- an excellent introduction to the roots of the Congolese pop sound though likely to bias you towards African Fiesta.

When Franco died in 1989, Sam Mangwana was on tour with Les Quatres Etoiles. I caught them at the Manyatta, an African club in Oakland. The audience wanted to hear "Mado" (written by bass-player Celi Bitsou) one of Franco's great songs from 1971, and the band played it twice. (It's also on the Rough Guide to Franco.) Franco didn't have a great singing voice, he always struggles to stay in tune, but his rough delivery is distinctive. In "Mado," sometimes called "Infidelité Mado," he & Youlou Mabiala sing in harmony about unfaithfulness and suffering, and many people acquired some Lingala from memorizing the lyrics (my transcription):

Oh Mado, motema
Pasi mingi ye
Muasi ngai na lingi
Aboya ngai na makasi
Na kozonga mboka na boyi to kutana na Mado
Yo na mobali na yo bosimbana maboko


This short song contains several of the best Franco solos on record.

That night Mangwana & his all-stars also performed "Liwa ya wech," the sad ballad written by Franco in memory of a fan of OK Jazz, Francois Wech who died in the 60s. Sam had been in OK Jazz a couple of times, and his presence always spurred them on to some of their greatest music. In the early 80s he sang on "Azda" (the song about the VW dealership in Kinshasa), "Assitu," "Mabele," "Inoussa," and many others. Mangwana sang on a surprisingly great number of OK Jazz songs. You can hear him on "Nkoma mbanda na mama ya mobali ngai" (CD35 571), in a duet with Franco, and then in the late 80s material, which I find less compelling. Franco fans will argue with me, but after his band became so big it could go on without him, it was less interesting. He also added synthesizer and syn-drums which give it a dated sound. Personally, I like the late-70s through mid-80s period.

An absolute classic is "Cinq ans ya fabrice (Five years in the making)" found on CHEZ FABRICE A BRUXELLES (Edipop 027 1983). It's a formula he used often: the band percolates along while Franco declaims his lyrics. There is a chorus and a bright guitar arpeggio but the attempted break-out is suppressed (though you know it's coming). Franco keeps going, reminding you he's the boss, extolling record stores, bringing in a bunch of seemingly irrelevant data to invoke another chorus, until finally he rips out his double-finger lead, but then there's a second double-fingered lead, who is who here? It's awesome, like twin Francos playing twin-fingered leads, one in each channel. It's hot.

Equally stunning from the early 80s is "Mouzi," also known by its full title "Liyanzi ekoti ngai na motema," composed and sung by Ntesa Dalienst. There's a rolling quality to this 15-minute workout, again helped by ticking percussion and a percolating backbeat leading to a multiple-pronged attack on the guitars. It's on A PARIS VOLUME 1 (FAN 003) as well as A PARIS VOL 2 (Makossa M23377), and BEST OF FRANCO (Rhythmes & Musiques RM890). It also appears on two CDs: EN COLERE VOL 2 & BEST OF DALIENST VOL 2. On the first album it is followed by another smoker, "Youyou" by Ndombe Opetum (ex-Afrisa & ex-Afrisam), which has a florid descant by Franco that is picked up by the two-part horn chorus, then he fills in extra notes & they glide out in a sublime haze. A ballad by Franco and another from Simaro round out the LP which is one of the most satisfying all-round.

Another Franco composition which is perhaps less well-known but is a personal favourite is "Loboko," a 15 minute jam that was also released as a 45 and scored a pan-African hit in 1980.

"Mobali aboyi na ye kako" also clocks in at 11 minutes. It came out as the lead cut on a Ghana pressing of 360.129 most of which was gathered on CDS36598. One channel seems off in this, perhaps a manufacturing flaw. But there is a lot of echo, so maybe the engineer was trying out something novel. It also appears, in disguise, on the CD Franco & OK Jazz EN COLERE VOL 2 1979-80 (CDS 6862). It's the third track, which is listed as "Nakomipesa na nani?" I have not found this actual track anywhere, but the third track on this CD is definitely "Mobali aboyi na ye kako." Despite Sonodisc's typical screw-up mis-labelling and duplicating it, this track is a gem.

One of the pinnacles of OK Jazz was the return of Sam Mangwana in 1982 which led to ODONGO (EDIPOP 17, voted album of the year in 1982 and winner of a special Maracas d'Or), another of the best all-round OK Jazz sessions. It is now scattered about and someone (Günter?) ought to gather the bits and do the definitive album, including the after-hours set by Sam Mangwana and a core of OK Jazz with guests from Bobongo Stars. Parts of this session came out on Canta Moçambique on Popular African Music vinyl LP13. "Faute ya comerçant" and "Liwa ya niekesse" are on the PAM LP. Another version of "Faute ya comerçant" and "Zala sportif" can be found on OK Jazz CDS 6854. The big blockbuster, popularly known as "Co-operation," appeared on CDS 6860, along with "Loboko na Litama." It is also as the lead cut on GOLDEN AFRIQUE VOLUME 2. The incongruously titled Sam Mangwana album THE VERY BEST OF 2001 (BMP00158-2) included "Canta Moçambique" (originally titled "Moçambique oye") and "Marabenta" with the same band, including Dizzy Mandjeku and Empompo Loway. On the PAM album this last cut is called "Vamos para o campo." Glad we got that sorted. Sam also shows up on the back of a Rhythmes et Musiques album FRANCO JOUE AVEC SAM MANGWANA (RMU850), singing "Awela-Awela," a hot number by Mpudi Deca (It's erroneously listed as A2), and this is followed by "Aziza" on the B side (also mis-labelled).

Not to place too much importance on Mangwana, he was a huge success in and out of OK Jazz. In addition to his group Les Maquisards, he was also in Vox Africa of Jeannot Bombenga. Vox Africa was a super-group of the late 60s that also included the great Papa Noel on guitar. Noel had been in African Jazz, Rock-a-Mambo & Les Bantous de la Capitale. Other great vocalists, Ndombe Opetum, Ntesa Dalienst and Youlou Mabiala fronted OK Jazz.




EDIPOP

From 1980 to 1986 Franco took control of his own record production and distribution and created 30 albums which were released on three labels: Edipop, for OK Jazz releases, and VISA and Passeport which were for up-and-coming talent, though the VISA series also featured recordings by Celi Bittsu and Dewayon. Much of this material never made it to CD and is now very sought-after as it is some of the best music to come out of Zaire in the golden age of rumba Congolaise. Like their leader, OK Jazz was huge, swallowing up other bands, like Les Maquisards, and poaching talent from other bands, even Afrisa of Rochereau. Among the singers in this golden age were Wuta Mayi, Josky Kiambukuta, Ntesa Dalienst, Madilu System, Kiesse Diambu and Malage de Lugendo. Gerry Dialungana, "Gege" Mangaya, Dizzy Mandjeku and Papa Noel are among the guitarists. Plus there's a huge horn section. The whole band seems to turn on a dime, waiting for him to throw a new riff at the sound. The atmosphere is electric, then Franco cuts through it like a hot wire though cheese. (Yes, probably that soft Vache Qui Rit stuff they eat in France, but it is still razor sharp.)

By the late 80s Franco was billed as the Balzac of Africa as he launched into a series of album-length soap operas criticising Zairois characters. TRES IMPOLI was a real scorcher. Bass-player Deca [far left] does a high-pitched cracked woman's voice on the phone for "Mamou," which always gets a laugh. In the late years, Josky and Madilu were the lead singers for the band. Ntesa went solo and put out one of the classic grooves of the soukous era: "Dangara," on DEF001, with another stunner, "Belalo" on the A side. He teamed up with Josky for the SANS FRONTIERE album which had his hit "Selengina" on it.

When Franco died, age 51, in 1989, Justus M. Kasoya in Nairobi assembled 10 half-hour LPs that were put out as the IN MEMORIAM series on Polygram Kenya. These collected many great Franco singles, including "Mado" which has been anthologised many times (on at least 4 LPs and 2 CDs). Some of the IN MEMORIAM albums were straight reissues of Sonodisc albums, i.e. volume one was Editions Populaires (360.053, 1974). Volume 5 was a reissue of Authenticité vol 1 (360.070) while vol 6 was a reissue of Authenticité vol 4 (360.078). Earlier Polygram albums (Ten Years Ago and Fifteen Years Ago vol 3), came out as IN MEMORIAM volume 8, and IN MEMORIAM volume 7. Curiously the A & B sides were reversed on the reissues.