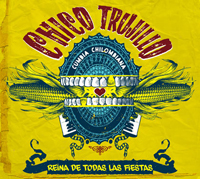 CHICO TRUJILLO
REINA DE TODOS LAS FIESTAS (Barbes Records BR0039)
If you asked me who Chico Trujillo was, I would reply without hesitation, a Colombian accordeon player. But get beyond the stereotypes and things are not what they seem, which is often the case with Barbès records. Chico is not a he but a them. They play cumbia -- so far so good -- I got it half right. But they are from Chile and there's barely any accordeon on here! They started out as a ska/punk band outside Valparaiso when they decided to expand their repertoire to some old Chilean and Colombian cumbias, for fun. When they went on tour to Europe they found the crowds in Berlin liked their cumbia set and their pan-Latin approach that infuses Argentinean rock as well as Mexican ranchera music into the blend. For their new album they decided to explore the carneval music of Northern Chile and invited a big (30-member) brass ensemble Banda Wiracocha to collaborate on some tracks, with an impressive wall of sound. A few well-placed guests give a lot of variety to the album. There's piano, accordeon and poppy organ, plus guest vocals from two Chilean Hiphop bros from the Bronx, an Argentine pop star and a Chilean rocker singing Calixto Ochoa's evergreen "Playas marinas." The title translates as "Queen of the parties" and it is an engaging set that will make your party rock.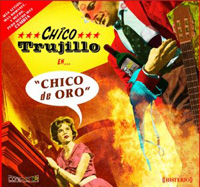 CHICO TRUJILLO
CHICO DE ORO (Barbès Records)
Ah, just what we need. Funky cumbias with a psychedelic tinge! Remember when Barbès put out that smoking ROOTS OF CHICHA album? Well, that was just the tip of the rapidly melting iceberg. Chico Trujillo is a band from Chile. They heard the ROOTS CD and thought, hmmm, old Peruvian cumbias, wait 'til they hear us. Now they have signed to the label and for their tenth anniversary are coming on tour to the USA. Consequently Barbès has become your one-stop shop for hot cumbia. Chico T's backbeat and off-kilter accordion make you feel you are dancing but the floor is tilting like on a boat, and while your glass is swaying the liquid is not coming out. Maybe you need a refill. They are very accomplished and romp through their repertoire with great horn counterpoint to the vocalists. There's a ska uplift to track 8 (I am listening on my Walkman -- yes, 20th century tech rules -- so I don't know the name) and the horns are wonderfully punctual. When it slows to a ballad, Track 14, there's two acoustic guitars and what sounds like jawbone scraper percussion. The disc ends with a live encore, really smoking, complete with breakdown to the drums and a wildly enthusiastic audience. Definitely an act to catch, and an album to acquire.