I guess "Olhe O Ghandy Ai" is going to win best song. Ivete and her band really tore up the Avenue with it! (Fabulous band; Daniela's band is weaker.)

Friday night: Cheiro de Amor (Smell of Love), you'll be glad to know, is sponsored by Hall's (of Mentholyptus fame, yup). Followed by Olodum. Interesting (uh) how the TV doesn't spend much time with the likes of Olodum, Ile Aiye and the ghetto-swing pagode bands (some of which are pretty darn good live) and concentrates on the, um, white, rock-oriented artists. Whereas the radio focuses on the swing and black artists. Right now Muzenza is on, doing a tribute to Bob Marley in their lyrics -- if he were alive, he'd be 60 tomorrow. The music is samba-reggae (good rhythm).

Terrasamba played some very good stuff, including a song probably titled "Solteiro am Salvador." I have the list, though, of what's in the running for best song: "Coraçao" by Rapazolla (a bit wet), "Olha o Gandhy Ai," "Ceu da Boca -- Chupa Toda" by Psirico (that's pee-sireeko) (I don't know the song), and "Maria Capirinha" by Carlinhos Brown.
Friday
Carlinhos Brown is on the street in a wide-brimmed white hat with red feathers, red cape, white sunglasses (Miles Davis-ish), and -- his underwear. (Well, black briefs.) The feather is wrapped around the hat, then extends up for about 2 feet. Ah -- the cape is red on the inside, black on the outside. Red socks, white sneakers; good music.
Last night I watched the Escolas de Samba for a bit. Mangueira, the most famous one that Alma Guilliermoprieto wrote about in Samba, had the oldest participant -- a little old lady 104 years old (she was already ancient when Samba was written 17 years ago!!). She was pushed along in a big comfy poltroon (wheels underneath, I assume). She was carrying a black doll, which was 76 years old! The singer Jamelao, who is famous (he's only 91), wore pink sports jacket and trousers, bright green shirt. (Mangueira's colors.)
All the costumes were so fantastic, with almost hallucinagenic detail. There were fire-breathing dragons on the Salguiro presentation and real fire eaters. The baianas looked like giant lampshades, wearing white costumes made from miles of material.
The rain was terrible last night, but people really stood (danced and walked) for it. By midnight, it was really pissing down rain (in the middle of Daniela's presentation with a good band). It's rained on and off all day and is chilly (24, 25 C), but still a lot of people out.
That band, Jammil, which had a hit song for years, called "Lanca, Lanca" before being banned as a crime last week ("inciting" inhalation of butyl nitrate or whatever lanca perfume is), performed an instrumental version of it, letting hundreds (if not thousands) of fans sing the words, encouraged actually by the TV announcer for TV Band (Bandeirantes). Very courageous, actually. You could see him trying to hold back his emotions, then profusely thanked the audience and TV afterward. (He has still to go to trial for this "crime" -- apologia do crime.) :(
Best song I heard so far this YEAR was Olodum doing "Egito" ("Egypt"), which is their theme this year. (You know -- cradle of black culture, right? Nefertiti, Cleopatra, Egypt.) Excellent song, though.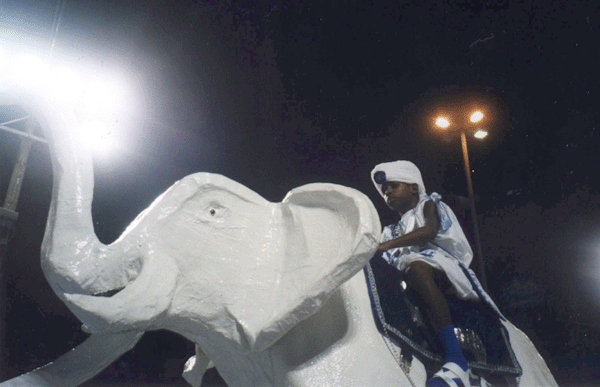 FILHOS DE GANDHY
Salvador da Bahia Carneval 2000

Zeca & I run into Arto Lindsay in Pelourinho and stop to chat though he doesn't know who we are. He's on a float tonight in Barra, but we are already going to miss the two we wanted to see: Timbalada with Carlinos Brown and Olodum, who are kicking off at 4 p.m. There are some great costumed revelers walking about. We take photos and stop mid-afternoon for fries and a beer. Drum and brass bands parade by. There's one with an Indian theme. But instead of being topless the women have ludicrous giant foam rubber bras that look really ugly.

After the light goes we decide to try to walk to Barra, about 7 kilometres from Praca da Se. We catch up to the tail end of the Filhos de Gandhy bloco. This is a huge bloco of several thousand participants (founded as a pacifist society in 1949): all black men and all seemingly very tall and sombre. They wear all white, with turbans and blue and white beads, have banners of Gandhi-ji and even an old guy in wire rim glasses who looks like the venerable one. A boy rides on a white plaster elephant, and another rides a wooden camel. They are very popular, these Zillions of serious black Gandhi-ites spraying perfume, all in blue and white. They are spotless (sponsored by Brilliante soap "They have the whitest clothes for peace!"). Look like militant pacifists: we'll bring you peace, so watch it! But actually they break up a fight. Some of them even have pacifiers in their mouths. Too much! It's safer inside the Gandhy cordon than out. The streets are full of pipoca. Fights break out, six military police (called Atomic Ants because of the way they look in their riot gear) rush by carrying an unconscious woman over their heads, her arms flailing behind her.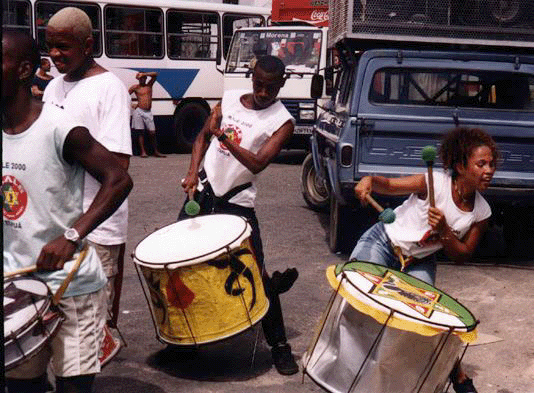 After weaving through that we get into the Ara Ketu bloco with the whiter kids inhaling Lanca perfume (ether and lemon scent). They are smashing about drunk and stoned. I push one guy, the third one to crash into me from behind, and the guys on the rope point out me as the person who pushed him, he turns round glaring and I stare him down. We fight our way through three blocos, including Cheiro de Amor, and get to the main square at Campo Grande where the hotel is. We are finally free and start walking towards the road to Barra but, by Gad, the pervasive Harmonia do Samba we can hear is live and there they are: coming at us from the other direction.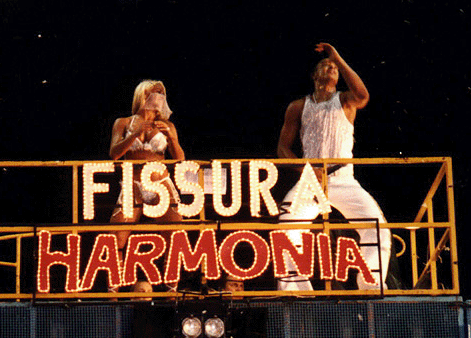 We have actually got into the eye of the hurricane. All around us the roads are full of trios and millions of partying fools just getting revved up. No escape! But Zeca knows the tunnel. We go down the Escada do Xixi (Staircase of Piss) -- named for obvious reasons -- and jump on a bus to Barra.
We find George's apartment feeling confident walking through the crowd after enduring the hundreds of thousands of people we just navigated for four kilometres, and he lets us up to the fourth floor where we see Ivete Sangalo, Daniela Mercury, Raca Pura and finally Terra Samba.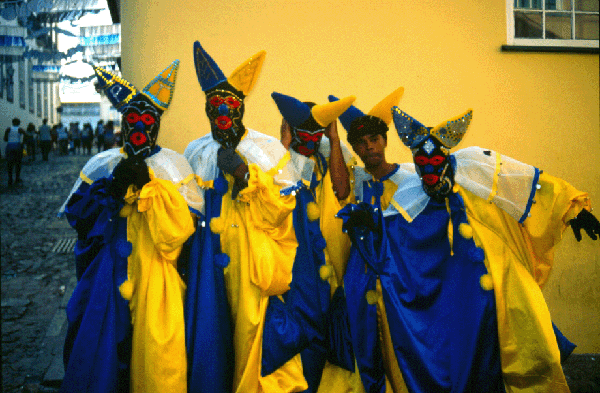 These are the blocos where the kids do this silly thing of stopping until there is such a huge crush they can't breathe, then they sprint the fifty yards that just opened up in front of them inside the cordon, screaming and waving their arms, and stop again. It looks impressive from above. We are hoping to get Terra Samba's hit on film but instead they sing "Ana Julia" which sounds a lot like a bad Elvis Costello song. Luisinho wants us to go down and get on the Daniela Mercury float and get our picture taken with her. Her float is the only one with computerized lights, which are blinding. She also has an electronic billboard on the front advertising her new CD. She's live on tv, Luisinho turns it on and wants to turn it up though she's just outside the window. Daniela is down with the homies -- or so she'd have us believe. She has the two women singers and ten drummers from Ile Aiyé on her float but they are past us up the street when she gets them up to do her best song, which features them. We watch it on tv instead. We get home and turn on the tv and the Gandhys have just made it to the end of the parade in Campo Grande. It's taken them several hours to get there and they are still looking sombre and walking along, not dancing, spraying perfume on the crowd.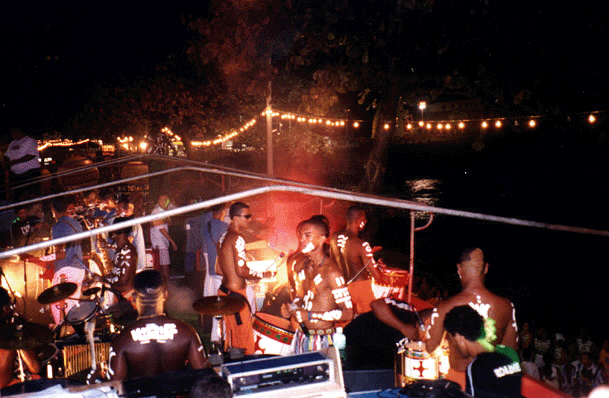 TIMBALADA
Salvador da Bahia Carneval 2000

More waiting about at the press office. They were having a seminar on racism in the blocos, which is interesting but moot. There are two reasons that only white people are in the Ivete Sangalo bloco, for example. First, her music only appeals to them (it sucks), plus only the upper class kids can afford the high price of her bloco. Similarly the twenty-something white kids don't get Afoxéé music so that's why Ile Aiyé has only black members.

We get to Timbalada's float at the appointed hour. But the band hasn't shown up. Luisinho says only the British are punctual. Where did you get that idea? I ask. From their railways which always run on time, he says. We go to a few other trucks to enquire about riding there. Make an appointment, they all say. We get a few phone numbers. The band arrive in their famous trademark white body paint. We find the manager Pete (an odd name for a woman but it's pronounced Peachy) -- she says we'll be allowed on once they've started. The excitement builds, the band starts, but we are still not allowed on so we are walking alongside the door. After two reggae numbers the band gets into gear and we are allowed onto the top of the float. There's a smoke machine which makes it hard to see the singers and dancers at the front of the float through the glare of the lights, but we are only a few feet from the ten drummers who are going nuts. The sound is not so deafening as we are right behind the sound board. Luisinho knows two of the dancers, but they are not the near-naked black girls of last year: they now have two frizzy dyed-blonde bimbettes in grass skirts. It takes half an hour to get to the Farol, the starting point, but by then the band has already gone through four or five numbers to the delight of the pipoca below dancing on the sidewalk.

One of the official songs of carnaval this year is "Zorra" by Timbalada. It's the Batman theme, quite clearly. Just as Chiclete com Banana have a song that is their version of "La Bamba." I keep hearing quotes from other pop songs. There's a snatch of "Baby Elephant Walk" on the new E o Tchan CD, but I think that is a deliberate hip reference and not a crib.

It's really exciting being up in the air floating over it all as if in a dream. Girls in apartment windows have banners telling the band they love them and scream and dance as we crawl by at turtle's pace. The cops put their fingers in their ears. A lot of smart people (like us) are wearing earplugs: you can still hear perfectly. Along Avenida Oceanica there are huge floodlights. We have to duck and push some overhead electrical cables out of the way. Behind us are the thousand people who joined the bloco, all wearing the orange shirts with bright lettering, waving their arms in unison to the songs. The band do their hits really well but are not so good on the official songs and in fact fall apart a few times. If it wasn't for the ten drummers pounding out the beat they'd be a pretty mediocre band.

After a couple of hours we are kicked off to make room for more press people. We've already passed the hotel with the Margaret Menezes costume party and can't get back there. We reconnoître and decide to just drop back to the following bloco -- Ara Ketu -- and try to get on there to the end of the circuit, but they are not letting any more press on the roof. They are playing a wretched ballad. A girl strokes my hair. Their fans are drunk and also sniffing ether mixed with lemon scent which they spray on rags and inhale, so they are thrashing about wildly. They seem pretty aggressive and obnoxious, so we weave our way through that mass of people to the next bloco.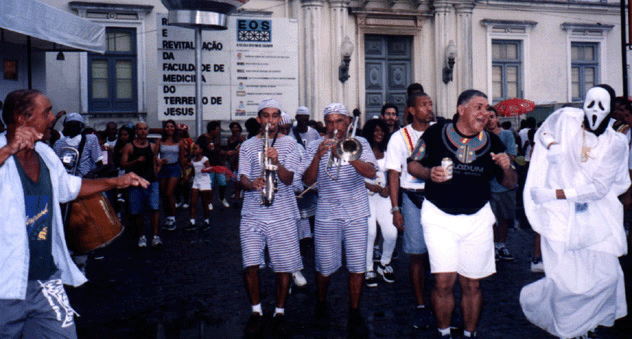 The band are not very good but we get on the roof and pretend to be filming them, while in fact the cameraman is shooting crowd scenes to use later and cut into the Timbalada tape. Luisinho insists on staying inside the rope on the street because it's safer than the sidewalk but the only nasty behaviour we witness is from drunk whites in the bloco. The pipoca just want to party and keep to themselves.
What happens in Brasil for fun would be declared a riot in America. The powers that be would consider it a national emergency and call out the national guard. There is pandemonium in the street, though there are flying squads of cops everywhere. Whenever a fight breaks out they grab the combatants and handcuff them. The handcuffs are attached to a baton which is pressed against the offender's neck, causing him to twist his arms high in the air behind him and bend forward. It looks positively medieval. On Ash Wednesday all the drunk and disorderly who were arrested during carnaval are let out of the holding cells and the trios go down to the prison to serenade them coming out. It's the last musical act of carnaval.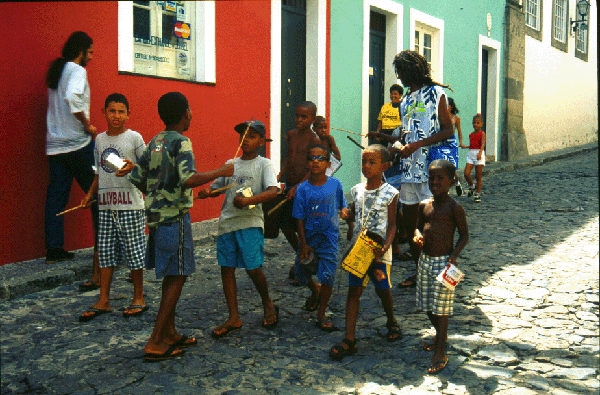 OLODUM IN CONCERT
Zellerbach Auditorium, UC Berkeley, 1999
I count on CAL Performances to book good acts into Berkeley. However I'd prefer to be standing in Pauley Ballroom, where you can move about, than sitting on the mezzanine of Zellerbach Auditorium when an act of the calibre of Olodum from Salvador da Bahia, Brasil, appear. They started out as a social club in a poor section of that beautiful city that sticks out into the South Atlantic. Soon they were in demand as a drum-&-dance troupe and of course turning it out annually to celebrate the onset of Lent.
What can you do when eight drummers start pounding out the Axé beat? Get up and move. And that's what half the audience did at Zellerbach. It was the most out of control I've ever seen that sedate hall and the ushers didn't even try to get people to sit down. The band made the most of their three singers and two dancers; the horn players and guitarists were drowned out, but it didn't matter. It also didn't matter that they did some very feeble reggae cover versions because the audience was up for anything. At one point a woman was pulled out of the audience to dance on stage and she knew all the moves and was a credit to her race (one that is usually ridiculed for its lack of rhythmic coordination).
Did they do their hits? I don't know; I assume so. Every song was met with a huge cheer and arms waving in the air. At ten o'clock the band showed no sign of flagging and suddenly strobe lights were going off. A stage hand walked on stage and said something to the singer, the music stopped and there was an announcement. "This is an emergency: please leave the building!" No one panicked. Everyone filed out, laughing and smiling as fire-engines raced up Telegraph to see what was up. They'd missed the real fire.