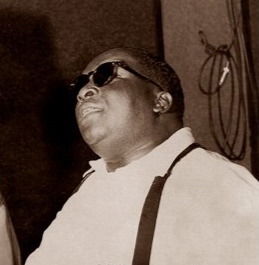 "There is no more vehement nor energetic spirit than Shàngó. When a devotee is mounted by the spirit of Shàngó, he charges three times, head leaning, spinning like a ram, towards the drums. Then he opens his eyes to abnormal width and sticks out his tongue, to symbolize a fiery belch of flames, and raises his thunder-axe on high and clamps his other hand upon his scrotum."

- Fernando Ortiz, Los Bailes y el Teatro de los Negros en el Folklore de Cuba (Havana, 1951, p. 235)
Arsenio Rodríguez was born Ignacio Loyola Rodríguez Scull on 31 August 1913 in the village of Güira de Macurijes in Matanzas (Some sources say 30 August 1911 but he himself had written to the registrar to correct his birth certificate). His family was of Congolese descent, his grandfather having been brought to Cuba as a slave. He was the fourth of 17 kids in a poor family who worked the sugarcane fields. Arsenio studied traditional drumming and percussion. At age 7 he was kicked in the head by a horse which caused the loss of his eyesight. He started writing songs in 1928; in the 30s he moved to Havana to seek work as a musician. In 1937 Casino de la Playa's singer Miguelito Valdés recorded two of his songs: "Bruca manigüá," (TCD003) and "Ben acá tomá." Casino de la Playa recorded four more Arsenio compositions in 1938: "Yo son macuá," [MLN55004] "Fufuñando," [MLN55004] "Yo soy gangá," and "Se va el caramelero." [MLN55004] This last track is also collected on TCD037, and Rodríguez can be heard for the first time on record, playing tres as guest soloist. Valdés and his pianist Anselmo Sacasas moved to the USA in 1940 and were hugely influential, perhaps most notably on Desi Arnaz who modeled his style on Valdés, even adapting his trademark song "Babalu."
From his guest spot with this big band, Rodríguez had the idea of turning the typical sextet into a conjunto by adding a second trumpet and a piano. Later he added a third trumpet and a tumbadora (a big conga drum). In 1940 he made his first recordings under his own name: "El pirulero no vuelve mas," (referring back to his hit "Se va el caramelero") and "Yo 'tá enamorá." This number is described as an afro: an early example of the roots-based music Arsenio introduced to Cuban music from his deep love and study of his Congolese heritage. In 1942 he had a massive hit with "Como traiga la yuca" which the public rebaptised "Dile a Catalina" from the first line.
Arsenio moved to Miami but (not surprisingly) didn't like it; then to New York where he was more at home, and he continued to record sporadically though his groups lacked the cohesion of his conjunto in Havana. The original band broke into two with Chappotín leading one group and the rhythm section regrouping as Conjunto Modelo [TCD-059]. Arsenio was never to return home, and died in obscurity on 30 December 1970 of pneumonia, in Los Angeles, California.
There are out of print albums and many 78s not included in this list, but my aim is to help buyers avoid duplicating material in their collection, so I have focussed on CD reissues. The essential discs are the Tumbao Classics series for the Cuban material. The New York period is well served and some of the TICO reissues (those that are not plagued with bad sound) are also crucial. P-VINE in Japan does a great job of remastering many of the originals.
The CD tracks are listed according to title / style / composer / year recorded & Tumbao catalogue number for duplicates.

Arsenio seated in the midst of his band in the 1940s.
His brother "Quiqui" sits next to him; on the front right
sits Marcelino Guerra and at the front left "Kako."
Musicians:
Nilo Alfonso, bass (1942) replaced by Lázaro Prieto
Israel Rodríguez "Quiqui", tumbadora (Arsenio's brother)
Miguelito Cuni, vocals & maracas
Pedro Luis Sarracent, vocals and clave
Marcelino Guerra, coro and guitar (ex-Septeto Nacionál de Ignacio Piñeiro)
Antonio Suárez "Papa Kila", bongo
Ruben Calzado, first trumpet
Benitin Bustillo, second trumpet
Adolfito, piano (replaced by Lino Frias)
Arsenio Rodríguez, musical director, tres
personnel changes: Oscar Velasco "Florecita" trumpet
Ruben Gonzalez, piano
Lili Martinez Griñán, piano (1946)
Chappotín, trumpet (1949)
Jacinto Scull, vocals
Alfredo Armenteros "Chocolate", trumpet (1950)

1946-50
MONTUNEANDO
con Arsenio Rodríguez y su conjunto 1946-50


label: Tumbao Cuban Classics TCD 031 1993
Sound: generally great
Liner notes: bilingual (average)
Recorded in Havana, 1946-50. You can share the excitement that electrified Cuba in the late 40s on these grooves: sparkling piano from Lili, strong vocals from Arsenio's cousin, René Scull, blasting trumpet counterpoint from Chocolate and Carmelo, and of course masterfully understated solos from Arsenio on tres. The essentials are on this disc. On the classic bolero, "La Vida es un sueño" (composed by Arsenio after he was told by a New York eye specialist that he would never see again), they strive for a big band sound, even adding a glockenspiel solo (Lili?).

1. Dame un cachito pa'huelé (son montuno) AR 1946
2. Chicharronero (son montuno) Luis Martinez 1946
3. Semilla De Caña Brava (son montuno) Luis Martinez 1946
4. Juventud Amaliana (son montuno) AR 1946
5. El Reloj de pastora (son montuno) TCD017 AR 1946
6. Canta, Montero (bolero son) AR 1946
7. Cangrejo fue a estudiar (son montuno) AR 1946
8. Adivínalo 1947 (guaguancó) J.L. Forest 1947
9. Lo que dice usted 1948 (son montuno) Jesus Guerra 1948
10. La Vida es un sueño (bolero) AR 1948
11. El Cerro tiene la llave (guaracha) F Noa 1948
12. Esa China tiene coimbre (son montuno) AR 1948
13. A Belén le toca ahora (guaguancó) AR 1948
14. Me Boté de guaño 1949 (son montuno) A. Armenteros
15. Aquí como allá 1950 (afro-son) AR
16. El Rincon caliente (son montuno) AR 1950
17. Juventud de cayo hueso (guaguancó) AR 1950
18. Kila, Quique y Chocolate (son montuno) AR 1950

Musicians include:

Carmelo Alvarez, trumpet
Alfredo "Chocolate" Armenteros, trumpet
René Scull, vocals
Arsenio Rodríguez, tres
Antolin "Papa Kila" Suárez, bongos
Felix Chappotín, trumpet
Carlos Ramirez, guitar & coro
Felix Alfonso, conga
Lázaro Prieto, bass
Luis "Lili" Martinez, piano
Estella Rodríguez (?), vocals on "Aquí como allá"




1946-51
DUNDUNBANZA

Label: Tumbao TCD-043 1994
Sound: fair/good
Liner notes: Max Salazar (English/Spanish)
More essentials, recorded in Cuba, 1946-51, with at least four classics: "Dundunbanza," "No me llores mas," "El tabernero," and "Los sitios hacere."

Dundunbanza (guaguancó) AR 1949
No Me Llores Mas (son montuno) Luis Martinez Griñán 1949
Tengo Que Olvidarte (bolero son) Jacinto Scull 1946
Llevatelo Todo (Son montuno) Luis Martinez Griñán 1949
Vuelvo A La Vida (bolero) AR 1950
Pueblo Nuevo Se Paso (guaguancó) Luis Martinez Griñán 1949
El Tabernero (bolero) Rafael Ortiz 1948
No Puedo Comer Vistagacha (son montuno) AR 1950
Me Siento Muy Solo (bolero) AR 1948
Ta Benito eh (afro) AR 1950
Soy Tu Destino (bolero) Isolina Carillo 1948
Los Sitios Hacere (guaguancó) Silvio A. Pino 1949
Mi Conviccion (bolero) Luis Martinez Griñán 1947
Deuda (bolero-son) Luis Marqueti 1946
El Rumbon De Luyano (guaguancó) Lázaro Prieto 1950
En su partir (bolero) Jacinto Scull 1949
Guaragui (son montuno) AR 1951
Pobre mi Cuba (lamento guajiro) AR 1951
Con un amor se borra otro amor (son montuno) AR 1950

Musicians include:
Felix Chappotín, trumpet
Alfredo "Chocolate" Armenteros, trumpet
Carmelo Alvarez, trumpet
Arsenio Rodríguez, tres
Luis "Lili" Martinez, piano
Carlos Ramirez, guitar & coro
Lázaro Prieto, bass
Felix Alfonso, conga
Antolin Suárez (Papa Kila), bongos
René Scull, vocal
Estela Rodríguez, vocal on "Ta benito, eh"

also Arsenio Rodriguez y su Conjunto, 1947-1948: El Ciego Maravilloso

(Cubanitas CUB-903 1976)
Salsoul CD (1996):
1. Semilla De caña Brava TCD-031
2. Adivínalo TCD-031
3. Aquí como allá TCD-031
4. Mi conviccion TCD-043
5. Canta, Montero TCD-031
6. Esa China tiene coimbre TCD-031
7. Ta Benito eh TCD-043
8. El Rincon caliente TCD-031
9. Soy tu destino TCD-043
10. Deuda TCD-043




1957
Sabu Martinez
PALO CONGO


Label: Blue Note LP 1561 1957. Reissued by Toshiba-EMI in their series of Blue Note facsimiles in the 1990s.
(CD: Blue Note 22665) Reissued 2000
Sound: Great
Liner notes: Detailed, in English by Hsio Wen Shih
An almost purely traditional Afro-Cuban album with Arsenio cutting loose on "Rhapsodia del maravilloso." There are many legends about this album. One is that Sabu (who had played with Diz, Bird, Monk and others) was asked to do a Latin jazz date but none of the "jazz" musicians showed so they went ahead and did a roots album with the rhythm section of Arsenio's band: his bassist Evaristo Baro and his wife Sarah and Willie Capo who also sang with Arsenio, along with Arsenio's brothers Caesar and Quique on congas. The only other person at the date, Mosquito, knew Sabu and Arsenio through the Miguelito Valdés connection. Another story has it that Blue Note deleted the album early on because of poor sales and it disappeared, one copy changing hands for $300 at one point.
Side A:
El Cumbanchero
Billumba-Palo Congo
Choferito-Plena
Asabache
Side B:
Simba
Rhapsodia del maravilloso
Aggo Elegua
Tribilin cantore
Musicians:
"Sabu" L. Martinez, conga, bongo and vocals
Arsenio Rodríguez, conga, tres, and vocal
Raul "Caesar" Travieso, conga and vocal
Israel Moises "Quique" Travieso, conga
Ray "Mosquito" Romero, conga
Evaristo Baro, bass
Willie Capo, vocal
Sarah Baro, vocal




1960s
Candido Antomattei
Candido con Arsenio Rodríguez y Estrellas

CD (Faisan 512), Reissued 1995
Sound: poor
A showcase for Candido who sang coro and played guitar with Arsenio since his Havana days. Recorded in Puerto Rico, New York & Havana. Arsenio is not on all tracks.

tracks:
"Bruca manigüá," AR (TCD003)
La Tumba Brava by Lili Martinez Grinan
Hay Fuego En El 23 AR (Sabroso y caliente)
Anabacoa by J. Ramirez (TCD-031)
Sigue Asi Tu Destino by R. Seijo
Tumba Y Bongo AR
No Se Si Ahora by Candido
El Lechoncito by Candido

Musicians include:
Arsenio Rodríguez, Tres
René Hernández, Piano
Adalberto Santiago, Vocal
Yayo "El Indio," Vocal
Miguelito Quintana, Vocal
Guito Kotright, Vocal
Manolo Morales, Vocal
German Llobrat, Vocal
Juancito Torres, Trompeta
Chocolate Armenteros, Trompeta
A. Camacho, Trompeta
Tomas Rodríguez, Trompeta
Polito Huerta, Bass
Jose "Buyu" Mangual, Bongoes
Martin Quiñones, Conga
Patato Valdés, Conga
Luis Quevedo, Piano
Tito García, Tres
Manolin Goicuria, Tres
Candido Antomattei, Vocal




1968
PATATO & TOTICO

Label: Verve V/V6-5037
Producers: Teddy Reid & Pete Spargo
sound: Excellent
Liner notes: Detailed discussion of Santeria and the Yoruba Lucumi cult, but including this statement: "The sound accompanying a number of these songs, like an old out-of-tune piano is not a piano at all, but the Tres Guitar played skillfully by the master musician, Arsenio Rodriguez." On "Nuestro barrio," Totico quotes "Los sitios hacere" but Arsenio is a bit tentative and it is almost like he is being coaxed into soloing. On "Agua de la caer" Arsenio quotes Miguel Matamoros' "El Huerfanito."

tracks:
Mas que nada
Ya yo e
Ingrato corazon
Que linda va
Nuestro barrio
Side Two:
Agua que la caer
En el callejon
Caridad malda
Rezo abacua
Dilo como yo


Musicians:
Carlos "Patato" Valdés, conga, percussion
Eugenio "Totico" Arango, Vocal
Arsenio Rodríguez, Tres
Israel "Cachao" Lopez, Bass
Papaito, Sticks
Francisco "Panchin" Valdez, Sticks
Hector Cadavieco, Vocal
Mario Cadavieco, Vocal
Juan "Curba" Dreke, Vocal
Tony Mayari, Vocal
Virgilio Marti, Vocal